You have a chocolate cake recipe you're dying to try — but one of its ingredients is liquid butter flavoring. You don't have any and aren't sure you want to buy it just for this one cake. What do you do?
Easy answer: Learn to substitute for butter flavoring. Read on to find out how.
What is butter flavoring?
Butter flavoring is concentrated liquid that mimics the rich, creamy taste of butter without the added fat and calories. It's made from a blend of natural and artificial ingredients. One of those ingredients is diacetyl, which provides that distinct buttery taste.
Butter flavoring is available in liquid, powder, or spray. It's commonly called for when the dish requires butter's flavor and creaminess — but it's impractical or unhealthy to use actual butter. Butter flavoring can be easier to work with than real butter and it has less fat and fewer calories.
Recipes that use butter flavoring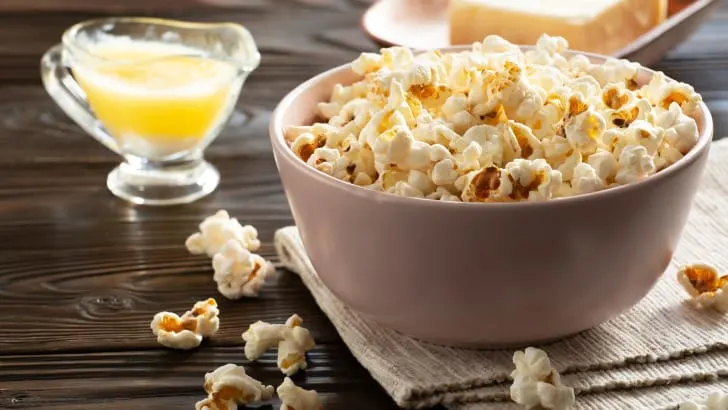 You'll see butter flavoring used in recipes for:
Baked goods
Frostings and icings
Sauces and gravies
Popcorn
Seasonings
Substitute for butter flavoring 6 ways
1. Real butter
Real butter is an obvious choice. Substituting real butter for butter flavoring adds fat and calories to your dish, but it's the only stand-in that delivers that true buttery taste and texture.
You'll want to melt the butter and measure the same amount the recipe recommends for butter flavoring.
2. Coconut oil
Sale
Amazon Brand – Happy Belly Organic Unrefined Virgin Coconut Oil, 15 Fl Oz (Pack of 1)
This product was previously a Solimo product. Now it's part of the Happy…
Our certified organic coconut oil is made from fresh coconuts sourced…
Each jar is cold-pressed, unrefined coconut oil that is Non-GMO Project…
With a neutral taste and aroma, our coconut oil is ideal for sautéing,…
The oil will melt at temperatures above 75 F (24 C) and solidify again…
Coconut oil has a similar texture to real butter, so it makes a reasonable substitute for butter flavoring. The downside is that coconut oil is high in saturated fat.
Note that coconut oil does have a distinct flavor and it will change the taste of your dish. Only use coconut oil if the recipe's main ingredients play well with coconut. As an example, you could use coconut oil successfully in a chocolate cake recipe. Coconut oil is less tasty in savory herb dishes.
To substitute coconut oil for butter flavoring, first melt the coconut oil. Then use the same measurement of coconut oil that the recipe recommends for the butter flavoring.
3. Olive oil
Pompeian Smooth Extra Virgin Olive Oil, First Cold Pressed, Mild and Delicate Flavor, Perfect for Sauteing and Stir-Frying, Naturally Gluten Free, Non-Allergenic, Non-GMO, 16 FL. OZ., Single Bottle
SMOOTH EXTRA VIRGIN OLIVE OIL: Expertly crafted by The Olive Oil People,…
SMOOTH, DELICATE TASTE: Pompeian Extra Virgin Olive Oils are ideal for any…
100% FARMER CRAFTED: Quality from The Olive Oil People since 1906.
IMPORTED, FIRST COLD PRESSED EXTRA VIRGIN OLIVE OIL: Certified for…
COMMITTED TO QUALITY: Pompeian Smooth Extra Virgin Olive Oil is Naturally…
Another healthy fat, olive oil has a rich, fruity flavor that works well in savory dishes like pasta and vegetables. I personally like olive oil in sweet baked goods like muffins and cake, too. But that's not a universally accepted substitution — since olive oil does not taste like butter at all.
Blog Chef $$-saving tip: Get coupons and discounts fast with Capital One shopping. Try it now.
Still, you can sub in olive oil in the same measurement as butter flavoring. To be conservative with baked goods, use a lighter olive oil rather than extra virgin varieties.
4. Nut butter
JUSTIN'S Classic No Stir Gluten-Free Almond Butter, 16 Ounce Jar
Includes one 16-Ounce Classic Almond Butter Jar, made with only two…
Keto-Friendly, Certified Gluten-Free, Non-GMO Project Verified, Kosher,…
Our nut butters, snacks, and confections are made with the highest quality,…
Try our other delicious almond butter flavors – Honey, Chocolate Hazelnut,…
Just like the first batch Justin Gold whipped up in his home kitchen, our…
You can also try a creamy almond, peanut, or cashew butter as a butter flavoring substitute. The high fat content of nut butter delivers a nice richness to sauces and baked goods.
You'll use the same measurement of nut butter, but you may need to add more of the recipe's main liquid if the mixture seems too dry.
5. Yogurt
For a creamy, tangy flavor, try substituting plain yogurt for butter flavoring in cakes, muffins, and quick breads. You can also make this substitution in sauces and dips.
The yogurt measurement will be the same as the recommended amount for butter flavoring.
6. Mashed avocado
Avocado is packed with nutrients and has a nice richness to it that can stand in for butter flavoring. Avocado is less sweet than butter flavoring, so the taste of your dish will change somewhat. The flavor is most compatible with dishes that have a nutty component. Try it in baked goods or mashed potatoes!
To make this substitution, mash your avocado first. Then use the same measurement of mashed avocado that your recipe recommends for butter flavoring.
Butter flavoring FAQs
Is butter flavoring the same as butter?
No, butter flavoring is not the same as butter. While it is designed to mimic the taste of butter, it is a separate ingredient that does not contain actual butter. Butter flavoring is usually used as a substitute for butter in recipes to reduce the amount of fat and calories.
Is butter flavoring safe to consume?
The safety of butter flavoring has been a topic of debate in recent years. Some studies have linked the consumption of diacetyl to respiratory problems in workers at popcorn factories.
Diacetyl appears in many food products other than butter flavoring, including margarine, candy, and baked goods. The amount used in food products is generally considered safe for consumption.
Still, the health concerns may encourage you to avoid consuming more diacetyl than you need to — which would be a good reason to substitute another ingredient for butter flavoring.
Can I use butter flavoring in place of butter in recipes?
Yes, you can use butter flavoring as a substitute for butter in baked goods, popcorn, sauces, and seasonings. Butter flavoring does not have the same texture or nutritional profile as butter, so you may need to adjust your recipe a bit.
Where can I buy butter flavoring?
Butter flavoring is widely available in grocery stores and online retailers. Look for it in the baking aisle or near the popcorn products. Some common brands include LorAnn, Watkins, and McCormick.
Is butter flavoring the same thing as butter extract?
No, butter flavoring and butter extract are two different things. Butter extract is made from butter, so it's not diary-free. Butter flavoring has no actual butter and is dairy-free.
Last update on 2023-06-19 / Affiliate links / Images from Amazon Product Advertising API