Have you scoured the internet for easy leftover turkey recipes? I have, and it's an interesting journey. I found a lot of clever, sophisticated, and probably very delicious recipes. You know, things like turkey fricassee, turkey curry, turkey cacciatore, turkey and cranberry pie, and so on.
These turkey recipes sound amazing, but let's be clear. After cooking all day on Thanksgiving, do you really want to write out another a massive grocery list so you can whip up another elaborate meal — just to use those leftovers? You might say yes, but I say no.
On the days following Thanksgiving, I want comfort foods and I want my meals to be easy. No complicated cooking techniques, no fancy ingredients. No exotic flavors. Just simple dishes that showcase the flavor only roasted turkey can deliver.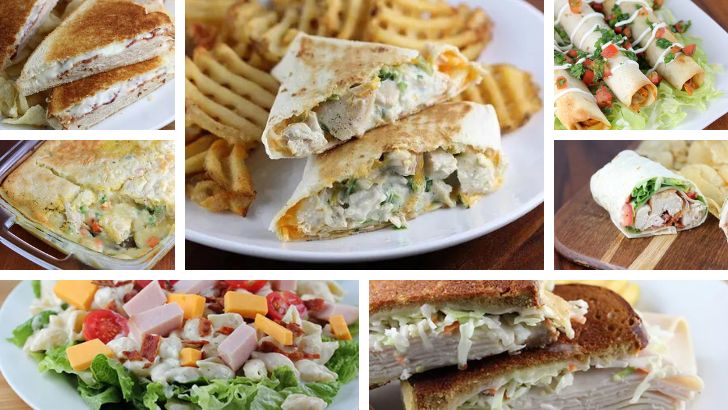 If you're with me, here are eight easy comfort foods you can make with your leftover turkey.
8 leftover turkey recipes
1. Chicken bacon ranch tater tot casserole
Yep, you read that right. Chicken bacon ranch tater tot casserole — or, in our case, turkey bacon ranch tater tot casserole. With that list of ingredients, how could it not be fabulous?
This recipe uses frozen tater tots, leftover turkey, sour cream, cream of chicken soup, dry ranch dressing mix, bacon, and cheddar cheese.
If you don't have sour cream (or don't like it), sub in plain yogurt instead. And if you need an alternative for the cream of chicken soup, try this homemade version from The Kitchen Community.
2. Crispy turkey wraps
This recipe is technically for chicken wraps, but you can easily swap out the cooked chicken for leftover turkey.
The wrap consists of turkey, celery, cilantro, mayo, sour cream, and cheese. Stuff those ingredients into a tortilla, fold, and grill in pan. The end result is crunchy, creamy, and satisfying — with a bit of freshness, too. Just what you need to recover from your Thanksgiving Day celebrations.
3. Baked turkey taquitos
How about turkey and cheese taquitos that are baked, not fried? These have a great crunch, plus you can modify the spices to suit your palette. If you don't like spicy food, skip the chili powder. Or, double the chili if you're craving some spice after all that gravy and mashed potatoes.
Even better, you can whip up a batch of these taquitos in about 30 minutes.
4. Easy French onion turkey casserole
Noodles, cheese, turkey, and a thick sauce. Those are the four of the six ingredients you need to make this easy casserole dish. It has crunch and creaminess, possibly the perfect combination for a hot dish you'll enjoy on a cold fall evening.
You can prepare this dish in about five minutes and then relax while it bakes for another 35 minutes or so.
5. Turkey pot pie bake
If you have Bisquick in the pantry, making this turkey pot pie casserole may be a no-brainer. It's easier than making individual pot pies, but just as delicious. Plus, there are some vegetables involved, so you can feel good about that.
You'll make this dish in a 9×13 casserole dish. The preparation involves layering ingredients and popping the whole thing in the oven for an hour.
6. Simple club pasta salad
This next option is a riff on the club sandwich, made with pasta instead.
You can use the ingredients outlined in the recipe — bacon, cubed turkey, cheddar cheese, and cherry tomatoes. Or, you can modify the salad based on what you have on hand. No cheddar? Try Swiss instead. Want to get rid of some cucumbers? Throw them in!
The salad is fairly rich, so it works well atop a bed of Romaine or iceberg lettuce.
7. Turkey Reuben sandwich
You will be tempted sometime after Thanksgiving to make a cold turkey sandwich. And that's OK if that's what you want. But if you want something more satisfying, try this turkey Reuben. It uses rye bread and prepared coleslaw, along with thousand island dressing.
If you don't have rye bread, you can substitute a different bread. You'll miss that signature rye flavor, but you'll still have a pretty good sandwich on your hands.
8. Turkey grilled cheese with bacon
I guess there's a theme here, because several of these recipes combine leftover turkey with bacon and cheese. I mean, if it's a combo that works…
The difference-maker in this sandwich, though, is the homemade sauce. A mix of mayo and ranch dressing complements your bacon, turkey, and cheese sandwich perfectly. After making this, you may never be satisfied with a plain-old grilled cheese again.
None of these suit your cravings? No problem — there's a secret to finding tons of easy leftover turkey recipes. Search for any dish that asks for cooked chicken or rotisserie chicken. Often, you can use your turkey instead of the chicken. And, bonus, you may find that some of your favorite chicken recipes taste even better with oven-roasted turkey.