Sausage and Herb Stuffing Recipe

If you are looking for a delicious stuffing recipe for the holidays, this one is perfect. I prepared this sausage and herb stuffing for Thanksgiving this year and it was a big hit. What makes this stuffing so amazing is the use of fresh herbs such as sage, rosemary and parsley and the use of sweet Italian sausage. This recipe uses pre-made stuffing cubes to help save time and makes this dish easy to prepare. Onions, garlic and celery are sautéed in butter and the added to the bread cubes along with various ingredients. The sausage is cooked in the same skillet as the celery and onion mixture. Once the ingredients are mixed with the stuffing cubes, the dish is placed into the oven and baked until golden brown on top. The top of the casserole should be brown and crunchy. Enjoy.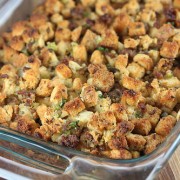 Sausage and Herb Stuffing
Ingredients:
8 cups (14 ounces) store bought stuffing cubes
½ cup unsalted butter
1-1/2 cups diced yellow onion
1 cup diced celery (about 3 stalks)
4 garlic cloves (finely chopped)
1lb bulk sweet Italian sausage
2 ¾ cups low sodium chicken broth
1 large egg (beaten)
1 tablespoon fresh chopped rosemary
1 tablespoon fresh chopped sage
¼ cup fresh chopped parsley
½ teaspoon salt
½ teaspoon ground black pepper
Directions:
Preheat the oven to 350 degrees F. Grease a 9 x 13 inch baking dish with butter.
Place the stuffing cubes into a large bowl. Melt the butter in a large sauté pan. Add the onions and celery and cook over medium heat for about 8 minutes, stirring occasionally or until the vegetables are soft. Add the garlic and cook for about 2 minutes more. Add the vegetable mixture to the stuffing cubes in the bowl.
Make sure to scrape any of the remaining vegetables from the skillet. In the same skillet, cook the sausage over medium heat for 8-10 minutes, while breaking up into chunks with a spatula or spoon until browned and cooked through. Add the sausage to the stuffing cube mixture.
To the stuffing and vegetable mixture add the chicken broth, beaten egg, rosemary, sage, parsley, salt and pepper and mix until the bread is soft and moistened. Transfer the stuffing to the prepared baking dish and bake for 65-75 minutes, uncovered, until deeply golden brown and crispy on top.