If you're craving a decadent dessert, these peanut butter chocolate brownies will do the trick. They're creamy, rich, and sweet. Like a Reese's peanut butter cup, without the mass-produced mouth feel. Just don't make these PB&C brownies for anyone who's watching their weight.
How to make peanut butter chocolate brownies
These brownies have three layers: a chocolate brownie, a peanut butter cream, and a drizzle of chocolate on top. Let's walk through the process.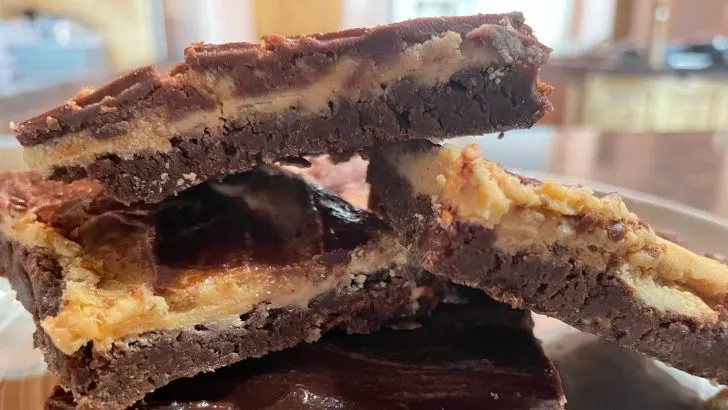 1. Make chocolate brownies
Set out a stick of butter to soften.
Heat your oven to 350 degrees F (177 C). Then prep your baking dish. These brownies do stick a bit, so you can either grease the heck out of your dish, sprinkling some flour over the top. Or, you can line the dish with parchment paper. I like the parchment paper route better. But that, of course, requires you to have parchment paper on hand.
To make the brownie batter, start by adding these ingredients to a small saucepan:
2 oz unsweetened chocolate
½ oz semisweet chocolate (you can use chocolate chips if you have them)
½ cup butter
Place the saucepan over low heat. Stir the chocolate butter mixture until it's melted and smooth.
Then, beat two eggs with 1 cup sugar until fluffy. Next, mix in 1 teaspoon of vanilla. You'll then add:
½ cup flour
½ teaspoon salt
The melted chocolate butter mixture
Stir to mix well, but don't overmix. Pour the batter into a prepared 9×13 baking dish. Bake in your heated oven for 20 minutes. After 18 minutes, jab a toothpick in the middle. If the toothpick comes out with batter smear on it, they're not done yet. If there are small brownie chunks on the toothpick, they're done. If the toothpick is clean, they're overdone.
Pull them out when done and let the whole dish cool off.
2. Make the peanut butter frosting
The peanut butter layer is made of peanut butter, butter, and powdered sugar. Don't be counting calories here!
Add ½ cup creamy peanut butter to a large mixing bowl. To that, add ¼ cup of softened butter, which is half a stick. Mix those two ingredients with a hand mixer until it's smooth. Then add 1 ½ cups of powdered sugar, ½ cup at a time, mixing again between each. At this point, the frosting should be crumbly.
Mix in 2 or 3 tablespoons of cream or milk and you should have a nice, smooth frosting. Stick your finger in the bowl and give it a try.
If the brownies are cool, spread the peanut butter frosting evenly over the top. Place the whole dish into the refrigerator and leave it alone until the frosting is firm.
3. Make the glaze
Here's where you can choose your own peanut butter chocolate adventure. If you want a chocolate swirl situation over the top of your brownies, melt 2 oz of semisweet chocolate with 2 tablespoons of butter.
If you want a thicker layer of chocolate over the top, double those measurements.
Melt the chocolate and butter in a saucepan over a low heat while stirring. When it's smooth, drizzle it over your chilled brownies. Swirl or spread it out gently with the back of a spoon or a frosting spatula.
Once the last layer of chocolate cools, you can cut and serve.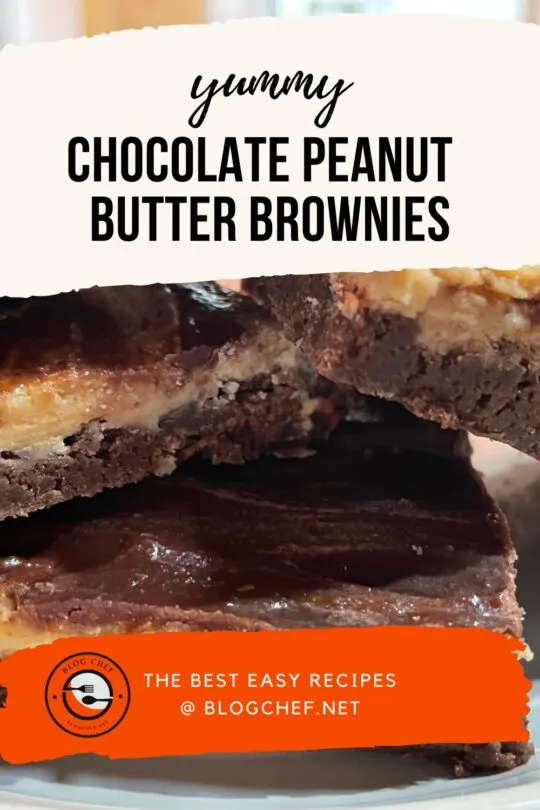 Why make peanut butter chocolate brownies
Here are five reasons why you'd make these decadent brownies:
You love the peanut butter and chocolate combo.
You want to treat your sweetie with special dessert.
It's a rainy day and you're bored.
You offered to bring dessert to the next family gathering and you want to outdo your brother-in-law's locally famous apple pie.
You need a gift for a friend with a sweet tooth.
What to drink with peanut butter chocolate brownies
If coffee or milk sound too boring, try these fun drink pairings with your super sweet brownies:
Peanut butter chocolate brownie FAQs
Do I need to make all three layers?
No, you don't! If you just want the brownie, you can do that. You can also leave off the last layer of chocolate to save yourself some time and ingredients.
Can I use crunchy peanut butter?
I wouldn't. Your peanut butter layer won't have a smooth frosting consistency with crunchy peanut butter.
Can I use almond butter instead?
Yes. You can also use almond milk in lieu of the milk or cream in the peanut butter frosting.
Can I use chocolate chips for the semisweet chocolate?
How well do these brownies keep?
Wrap them tightly in plastic wrap and keep them in the refrigerator. But eat them quickly. They will dry out after a few days.
Yield: 24 brownies
Peanut Butter Chocolate Brownies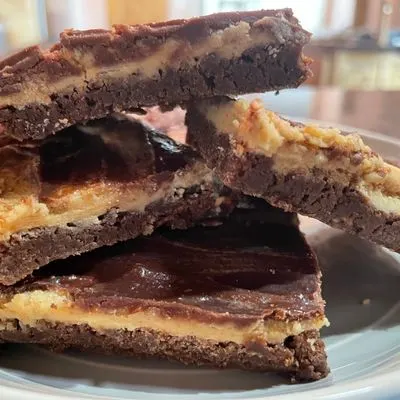 Decadent chocolate brownies layered with peanut butter frosting and chocolate!
Ingredients
Brownies
2 oz unsweetened chocolate
1/2 oz semisweet chocolate
1/2 cup butter
2 eggs
1 cup sugar
1 teaspoon vanilla
1/2 cup flour
1/2 teaspoon salt
Peanut Butter Frosting
1/2 cup creamy peanut butter
1/4 cup butter, softened
1 1/2 cup powdered sugar
2-3 tablespoons milk or cream
Chocolate Glaze
2 oz semisweet chocolate
2 tablespoons butter
Instructions
Set out 1/4 cup butter to soften.
Pre-heat the oven to 350 degrees. Prepare a 9x13 baking dish.
In a small saucepan melt semisweet and unsweetened chocolates and butter over low heat. Cook until mixture is smooth. Set aside and allow the mixture to slightly cool.
In a medium bowl, beat eggs and sugar until light and fluffy and pale colored. Mix in 1 teaspoon vanilla extract. Add flour, salt, and melted chocolate mixture. Stir to mix well.
Pour batter into a greased 9x13" baking dish. Bake in the oven at 350 degrees for 20 minutes (do not overbake). Check the brownies with a toothpick. They're done when the toothpick has crumbs on it.
Remove from the oven and allow the brownies to cool.
While the brownies cool, make the frosting. In a mixing bowl, add peanut butter
and butter and beat until combined and smooth. Slowly add powdered sugar (1/2 cup at a time). The mixture will become crumbly.
Blend in cream until the mixture is fluffy and has reached your desired
spreading consistency. Evenly spread over brownies and chill until firm.
To make the glaze- melt semisweet baking chocolate and butter in a
For the glaze, melt semisweet baking chocolate and butter in a
saucepan until smooth. Drizzle over the brownies and spread or swirl gently with the back of a spoon.
Notes
If you want a thicker chocolate glaze over the top, you can double the glaze ingredients.
Nutrition Information:
Yield:
24
Serving Size:
1
Amount Per Serving:
Calories:

200
Total Fat:

12g
Saturated Fat:

6g
Trans Fat:

0g
Unsaturated Fat:

5g
Cholesterol:

35mg
Sodium:

131mg
Carbohydrates:

21g
Fiber:

1g
Sugar:

17g
Protein:

3g
Nutrition information isn't always accurate.