Creole Fried Shrimp Recipe

These creole fried shrimp are delicious to serve for dinner any night of the week. The shrimp are coated with an egg and spice mixture and then rolled in a combination of flour, cornmeal and various seasonings. The shrimp are fried in hot oil after being breaded. For the best results, I would recommend using a deep-fryer but you can fry the shrimp in a deep pot as well. Once the shrimp are fried they are served with a sriracha dipping sauce. If you can get shrimp that are already peeled and deveined that would be a lot easier because they will be ready for breading with minimal effort. Some good options for sides would be rice or fries. Enjoy.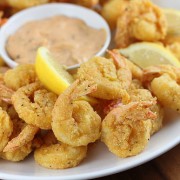 Creole Fried Shrimp
Ingredients:
20 jumbo shrimp (peeled and deveined)
1 egg (beaten)
1 tablespoon hot sauce
1 tablespoon mustard
2 teaspoons creole seasoning
2 teaspoons ground black pepper
2 teaspoons garlic powder
2 teaspoons onion powder
pinch of cayenne pepper
cooking oil (for frying)
lemon
Corn Flour Batter-

1 cup cornmeal
1 cup flour
2 teaspoons creole seasoning
1 teaspoon ground black pepper
Dipping sauce-

1 cup mayonnaise
3 tablespoons Sriracha
1 tablespoon soy sauce
1 teaspoon ground black pepper
Directions:
To prepare the dipping sauce—in a medium bowl combine mayonnaise, sriracha, soy sauce and 1 teaspoon ground black pepper. Chill until ready to use.
In a large bowl combine egg, hot sauce, mustard, 2 teaspoons creole seasoning, 2 teaspoons black pepper, 2 teaspoons garlic powder, 2 teaspoons onion powder, and a pinch of cayenne. Add the shrimp and mix well to coat.
In a freezer bag combine cornmeal, flour, 2 teaspoons creole seasoning, and black pepper.
Heat oil in a deep-fryer or a large pot to 350 degrees F. Dip shrimp into the corn flour and coat well. Place shrimp into the hot oil, being sure not to overcrowd the pan (you will need to do this in about 2-3 batches). Cook the shrimp in hot oil for 3-4 minutes or until golden brown and fully cooked. Drain on a plate lined with paper towels.
Squeeze lemon juice over hot shrimp if desired. Serve with the dipping sauce.