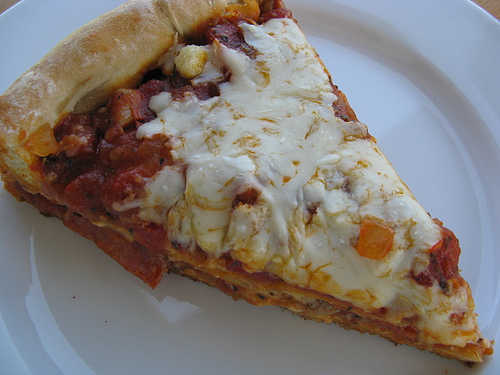 For weeks now I have been craving the deep dish, and tonight I had to satisfy that craving. Deep dish pizza aka Chicago-style pizza is, in my opinion, one of the best ways to make pizza. Loaded with tons of cheese, chunky tomato cause, and loads of toppings – what could be better? Tonight for the filling I went with Italian sausage, pepperonis, green peppers, and mushrooms… it was simply amazing. Basically, you could make just about any kind of pizza with a deep dish and if you have never tried to make a deep dish I think it's time to give it a try. In this article, I will explain 2 simple ways to make a deep dish pizza. Using a deep dish pan would be the best but I will explain how to make a double crust deep dish pizza in a springform pan or how to make a deep dish pizza in a cast iron pan. Two different methods, both equally delicious. Enjoy.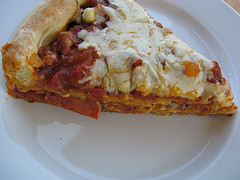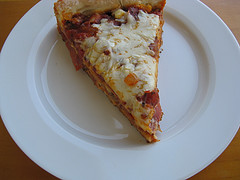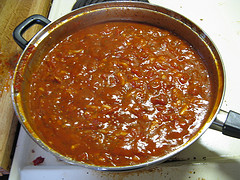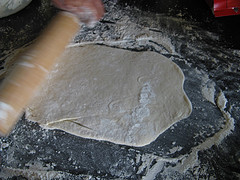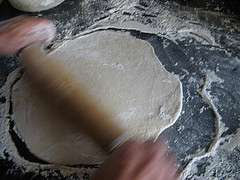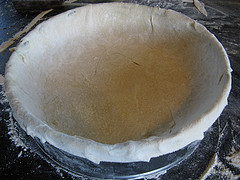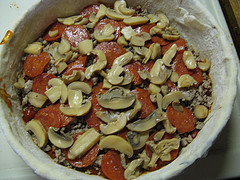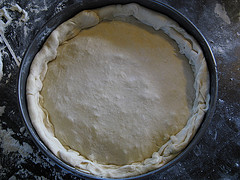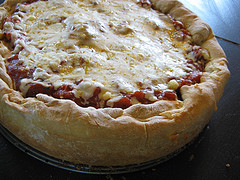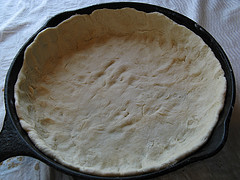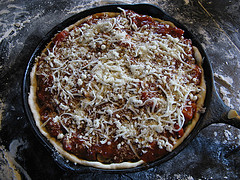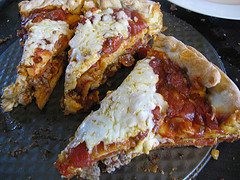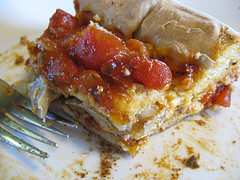 Print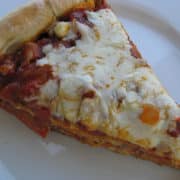 Deep Dish Pizza Recipe
---
1

–

2

packages of your favorite pizza crust (homemade or store-bought, 2 packages for springform, 1 package for cast iron pan.)
Sauce –


2 tablespoons

olive oil

2 tablespoons

garlic

1

28 oz can plum tomatoes

3 Tablespoons

tomato paste

½ cup

onion (minced)

1 ½ teaspoons

basil

1 teaspoon

oregano

½ teaspoon

salt

1 teaspoon

sugar
2 teaspoons red wine
Filling –

1

lb Italian sausage (cooked)

1

package pepperonis

1

can sliced mushrooms

1

onion (sliced)

1

green bell pepper (sliced)

1/3 cup

parmesan cheese

1 ½

lbs mozzarella cheese

1 tablespoon

cornmeal
---
Instructions
To make pizza sauce – sauté garlic in olive oil for 30 seconds. Add canned plum tomatoes, tomato paste, minced onion, basil, oregano, salt, sugar, and wine and mix well. Simmer for 20 minutes or until sauce thickens.

Lightly grease a 10" inch springform pan or a cast iron pan (I will be giving separate instructions for each

).

Deep Dish Pizza with a Spring Form Pan –
Roll out 3/4 of pizza dough in a flat circle so its 3-4 inches bigger than the springform pan (all the way around). Place into springform pan letting it overhang the edges.

Spoon in half of the sauce, then the Italian sausage, green peppers, mushrooms, and onions. Top with half of the mozzarella cheese. Roll out remaining pizza dough and place on top of the filling. Crimp the edges together including the overlapping crust.


Baking in the oven at 400 degrees for 25 minutes. After 25 minutes remove pizza from the oven and add remaining sauce and remaining cheese to the top half. Bake for an additional 10 minutes or until the crust is golden brown.  Let cool before cutting.
Deep Dish Pizza with a Cast Iron Pan –
Press pizza dough onto the bottom and about 1 ½ inch up the side of a cast iron pan (don't press all the way to the very top of the pan but close).

Layer crust with cheese, sausage, pepperonis, mushrooms, onions, green peppers, and sauce. Add additional cheese on top of sauce if desired.


Bake in the oven at 400 degrees for 30 minutes or until crust is golden brown. Let cool 10 minutes before serving.

and the end result…

Tags: cooking, recipes, food and drink, recipe