Manhattan Meatballs Recipe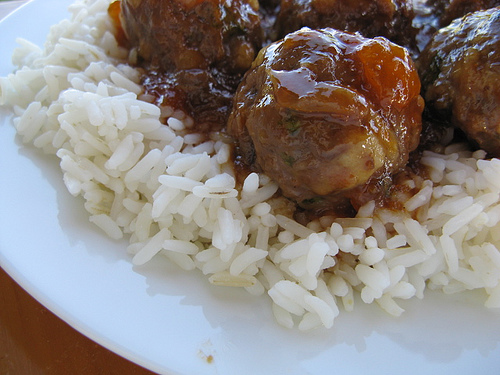 Manhattan meatballs, do they come from New York? I don't really know a lot about these meatballs but they were great! The meatballs themselves had great texture and flavor and I definitely found the sauce to be a bit interesting. The sauce is nothing more than a simple combination of BBQ sauce and apricot preserves. The combination gives the sauce a tangy, sweet and slightly smokey flavor. The meatballs were very moist due to the use of soft breadcrumbs instead of dry. For browning you have two options – you can either brown in a pan on the stove top or brown in the oven before transferring to a baking dish. I prefer the oven method myself as it saves time and is less work. I served these meatballs on top of white rice. Enjoy.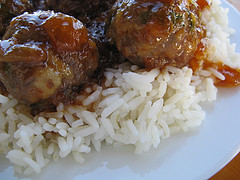 Ingredients:
1lb ground beef
½ cup onion (chopped)
2 cups soft breadcrumbs
2 eggs
2 tablespoons fresh parsley (chopped)
2 teaspoons salt
10 ounces apricot preserves
2 tablespoons margarine (if pan frying)
½ cup barbecue sauce
 
Cooking Instructions: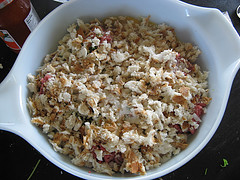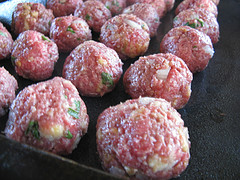 Step 1: In a large bowl combine beef, crumbs, onion, eggs, fresh parsley and salt. Mix together and shape into meatballs.
Step 2: Brown meatballs in margarine in a pan on the stove top or put on a baking sheet and brown in the oven at 350 degrees to save time.
Step 3: Once browned place meatballs in a casserole dish.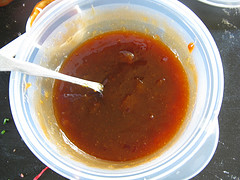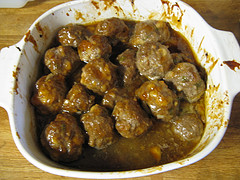 Step 4: In a bowl combine barbecue sauce and apricot preserves. Pour mixture over meatballs and bake in the oven for 45 minutes at 350 degrees.
Tags: cooking, recipes, food and drink, recipe