Crab Rangoon Recipe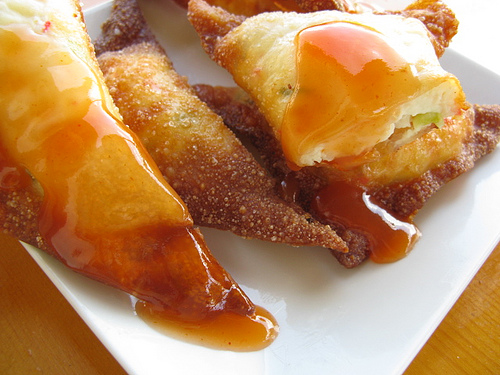 I eat Crab Rangoons nearly every time I go to the buffet – they are definitely one of my favorite things to eat there. One problem I have is the crab Rangoons at some buffets don't even have crab in them, just cream cheese. In my honest opinion they still taste good with just cream cheese and green onions though but the buffets shouldn't have them labeled as "Crab Rangoon" if there is no crab in them. So if you don't eat seafood or you don't like crab meat then just leave it out. Crab Rangoons are fairly easy to make, if you're making a large batch taking time to stuff and fold them all might take awhile.  These are typically cooked in a deep fryer but if you don't have one apparently you can bake these as well although I have never tried it. Most crab rangoons are just cream cheese, crab, and green onions. I add a little soy sauce and garlic powder for more flavor. Serving with Sweet and Sour Sauce for dipping is a must. If you need a great recipe for sweet and sour sauce it can be found within my sweet and sour chicken article or you can buy a jar of it from the store. Enjoy.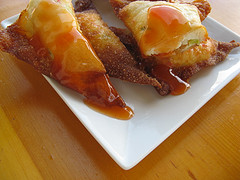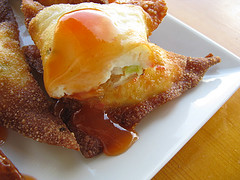 Ingredients:
12 ounces of cream cheese (at room temperature)
50 wan ton wrappers
1 cup imitation crab meat (or canned)
2 green onions (minced)
¼ teaspoon garlic powder
½ teaspoon soy sauce
1 egg (beaten)
oil (for frying)
Cooking Instructions: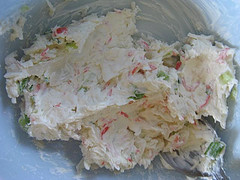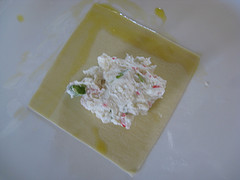 Step 1: In a bowl cream the cream cheese, soy sauce, green onions and garlic powder. Stir in the crab meat (if using imitation crab it should be chopped into pieces).
Step 2: In a separate bowl beat 1 egg. Lay out a wanton wrapper so it forms a diamond shape and place 1 teaspoon of filling just below the center of each wrapper.
Step 3: Brush the opposite corners of the wanton wrapper with the egg mixture. Fold over the edges of the wrapper to form a triangle and seal tightly.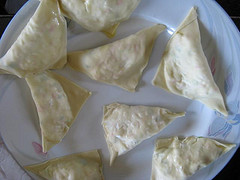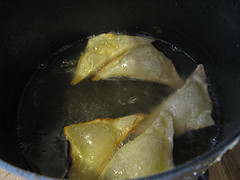 Step 4: Deep fry in batches at 375 degrees for 2-3 minutes or until golden brown.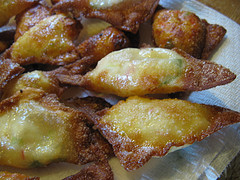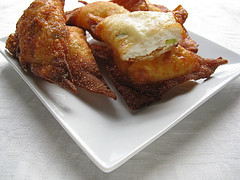 Tags: cooking, recipes, food and drink, recipe