Easy Enchiladas Recipe

If you are looking for an easy way to prepare chicken enchiladas, this recipe may be just what you need. This recipe uses store bought enchilada sauce and a mixture of sour cream and cream of chicken soup to create the sauce. The chicken is shredded and then mixed with ingredients such as green onion, taco seasoning and lime juice. You can use leftover cooked chicken or cook it yourself and then shred it. Another good option would be to use the meat from a cooked rotisserie chicken. There are various types of cheeses that will work in this recipe such as cheddar, Monterey jack or Mexican cheese blend. Toppings include black olives and green onions. Some other good choices for toppings would be sour cream, salsa, lettuce and tomato. Enjoy.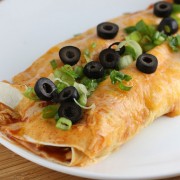 Easy Enchiladas
Ingredients:
2lb boneless skinless chicken breasts
1 (10.75 ounce) can condense cream of chicken soup
1 ¼ cups sour cream
¼ teaspoon chili powder
1 tablespoon butter
1 small onion (chopped)
1 (4 ounce) can chopped green chilies (drained)
1 (1.25 ounce) packet taco seasoning mix
1 bunch green onions (chopped and divided)
1 cup water
1 teaspoon lime juice
½ teaspoon onion powder
½ teaspoon garlic powder
5 (12 inch) flour tortillas
3 cups shredded Mexican cheese blend
1 (10 ounce) can enchilada sauce
1 (6 ounce) can sliced black olives
Directions:
Preheat the oven to 350 degrees F. Line a baking sheet with aluminum foil. Place the chicken breasts onto the baking sheet. Place into the oven and cook for 25-30 minutes or until the chicken is fully cooked (the internal temperature has reached 165 Degrees F.). Shred the chicken breasts using two forks. Set aside.
Meanwhile, combine cream of chicken soup, sour cream and chili powder in a saucepan. Bring to a simmer over low heat, stirring occasionally. Turn off the heat and keep warm.
Melt butter in a skillet over medium heat. Stir in the onion and cook until the onion is soft. Stir in the shredded chicken, chopped green chilies, taco seasoning, half of the green onions, and water. Simmer for 10 minutes. Stir in lime juice, onion powder, and garlic powder. Simmer for an additional 10 minutes.
Stir 1 cup of the soup mixture into the skillet with the chicken mixture. Spread the remaining soup mixture onto the bottom of a 9x13 inch baking dish.
Fill each tortilla with the chicken mixture. Sprinkle Mexican cheese blend over the chicken filling and fold the tortillas, reserving half of the shredded cheese for topping. Fold over the tortillas and place seam-side down in the prepared pan.
Pour the enchilada sauce evenly over the enchiladas. Top with the remaining shredded cheese. Sprinkle the remaining green onions and sliced black olives over the cheese. Place into the oven and bake at 350 degrees F. until the filing is heated through and the cheese has melted (about 25 minutes).