Garlic Ginger Chicken Recipe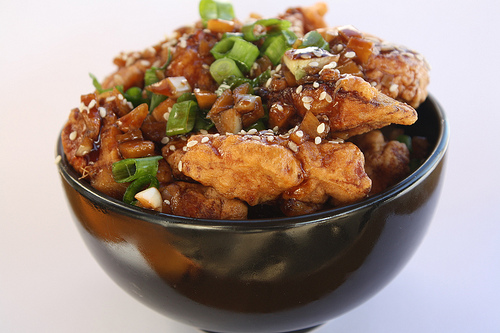 If you didn't already guess from the picture, here is another amazing Chinese recipe, garlic ginger chicken. Just like the name says, this dish gets a lot of its flavor from fresh garlic and ginger. The chicken bits are coated with a batter and then fried in the deep fryer until crispy. The sauce is very simple, just basically rice wine, soy sauce and sugar. If you want to add a little heat to this dish, you can add some dried red pepper flakes. This is a very easy recipe that takes little time to prepare. Enjoy.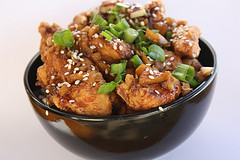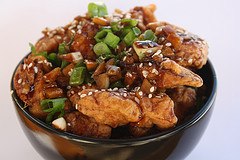 Ingredients:
1lb boneless skinless chicken breasts (cut into 1" chunks)
4 tablespoons rice wine
1 tablespoon soy sauce
1 egg
1/3 cup cornstarch
6 garlic cloves (minced)
4 tablespoons fresh ginger (minced)
Sauce-
6 tablespoons soy sauce
6 tablespoons rice wine
3 teaspoons sugar
1 bunch green onions (sliced)

Cooking Instructions: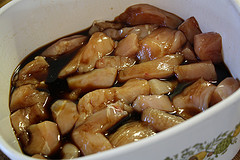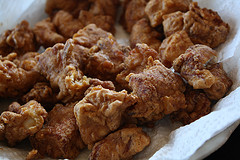 Step 1: Add chicken bits to a large bowl. Add soy sauce and rice wine. Marinate for 30 minutes. Add in the egg and cornstarch, stir and blend until the chicken pieces are coated with a batter.
Step 2: Heat oil in a deep fryer for 375 degrees. Fry chicken in batches for 4-5 minutes or until golden brown a crispy. Drain on paper towels.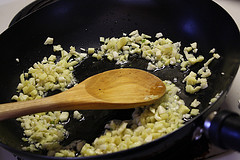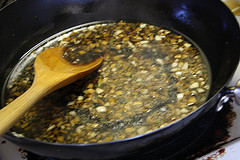 Step 3: Add a couple tablespoons of oil to your wok or frying pan. Add garlic and ginger and stir fry for 15 seconds. Add soy sauce, rice wine and sugar. Stir and bring to a boil. Coat chicken bits with the sauce, top with green onions and serve.
(Makes 2 Servings)