Green Chicken Enchiladas Recipe

If you are looking for a delicious chicken enchiladas recipe with a homemade green sauce, this dish is perfect for you. In this recipe, shredded chicken is rolled in corn tortillas and then topped with a homemade green enchilada sauce, Mexican crema and cheese. The green sauce is made from scratch and uses ingredients such as tomatillos, chili peppers, onion, garlic and cilantro. Preparing the sauce does require a little bit of effort but it is so much better than using the canned stuff from the store. I like to serve these with rice on the side. Enjoy.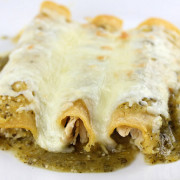 Green Chicken Enchiladas
Ingredients:
9 tomatillos (husks remove and rinsed)
½ medium white onion
1 serrano chile pepper
1 yellow chile pepper
2 garlic cloves
½ cup fresh cilantro leaves (loosely packed)
Salt and ground black pepper (to taste)
¼ cup vegetable oil
6 (6-inch) corn tortillas
2 boneless skinless chicken breasts (cooked and shredded)
½ cup Mexican crema (or sour cream)
1 cup shredded Monterey jack cheese
Directions:
Preheat the oven to 350 degrees F. Place the tomatillos, onion, serrano chile, yellow chile, and ¾ cup water in a medium heavy saucepan. Cover and boil until the tomatillos turn an olive green color (about 10 minutes). Transfer the tomatillos, onion and chiles to a blender. Add the garlic, cilantro and blend until smooth. Season with salt and pepper.
Heat oil in a small skillet over medium-high heat. Fry the corn tortillas, one at a time until golden but still pliable (about 10 seconds per side). Transfer to a plate lined with paper towels to drain.
Put the tortillas on a work surface. Divide the cooked shredded chicken evenly among the tortillas and roll up like a cigar. Spread 1/3 cup of the sauce onto the bottom of a greased 9x13 inch baking dish. Arrange the enchiladas, seam-side down in a single layer over the sauce in the baking dish. Pour the remaining sauce over the enchiladas.
Drizzle Mexican crema over the sauce and the enchiladas and sprinkle cheese evenly on top. Place into the oven and bake until the cheese melts and starts to brown in spots (about 30 minutes). Serve immediately.