Here's another crowd-pleaser, perfect for game-day fun: Grilled chicken sliders recipe with white barbecue sauce. The best part? No marinating required. Simply mix up your sauce, grill your chicken, and assemble your sliders.
Grilled chicken sliders recipe: Prep steps
1. Heat your grill
Start by greasing the grates of your grill. Light those briquettes and get your charcoal grill nice and hot. You can also use a propane grill but you'll miss out on that charcoal flavor.
2. Make the white barbecue sauce
The white bbq sauce in this recipe differentiates these sliders from traditional BBQ chicken sliders.
Mix 1 cup of mayonnaise, 1 tablespoon of prepared horseradish, 1/2 teaspoon each of salt and pepper, and 1/4 teaspoon each of paprika, garlic powder, and sugar. I used avocado mayonnaise because I like it better than the standard variety — but either will work.
Whip up the sauce and dab a clean finger in to taste. Adjust as needed. If you like things spicy, add a dash of cayenne pepper to the mix.
Separate out 1/4 cup of the sauce. Place the rest in the refrigerator while you cook your chicken breast.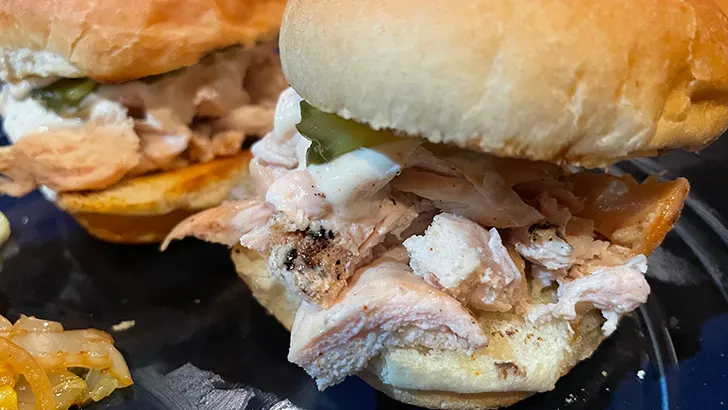 3. Grill two chicken breasts
Grill the chicken breasts on one side for 7 minutes. Flip and baste with some of the sauce you held aside. Let it grill for another minute or two, then flip and baste again. Repeat that process until the chicken is fully cooked. This usually takes 5 to 7 minutes after the first flip.
Lightly oil or butter your slider buns and toss them on the grill while your chicken grills. You want them nice and toasty. Keep close watch so they don't burn.
The cooked temperature of chicken is 165F. Use an instant-read meat thermometer so you don't have to cut your chicken open to check for doneness. Cutting it open lets all the juices run out and your chicken will be dry.
Shred chicken and assemble
Remove the chicken from the grill and let it rest for 5 minutes. Then shred or chop it into pieces.
Stack the grilled, shredded chicken on your toasted slider buns, then top with sauce and pickles. That's it!
What do I serve with grilled chicken sliders?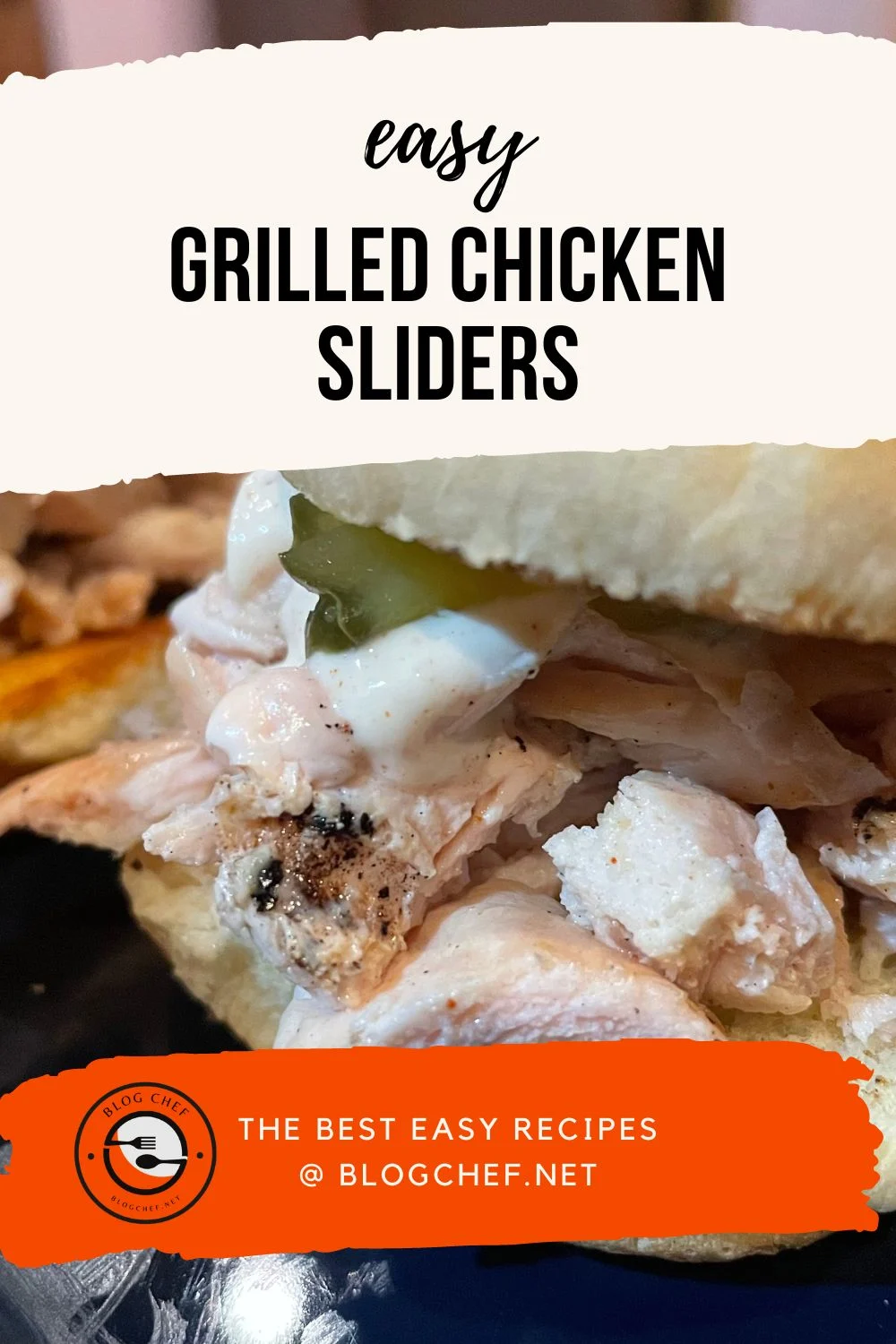 You can serve grilled chicken sliders with fresh vegetables — carrot sticks, cucumber slices, celery stalks, or cherry tomatoes. This will give your guests something crunchy and refreshing to enjoy between bites of the chicken slider. Other options are potato chips, french fries, macaroni salad, coleslaw, or even a simple green salad. (I served these with braised napa cabbage with a bacon shallot sauce.)
Definitely serve these sliders with extra sauce on the sauce. The white sauce is so tangy and delicious, the eaters in your house will want more!
How long does it take to cook chicken on the grill?
This recipe uses chicken breast, which you can usually cook on a hot grill in 12 to 14 minutes in total. The time will vary depending on the thickness of the chicken, the heat of the grill, and the starting temperature of your chicken.
How do you grill chicken without drying it out?
Admittedly, it's easy to dry out chicken on a grill. Other recipes rely on brining or marinating to keep the chicken juicy. This one uses a baste, but no brine or marinade.
Use these tips to keep your grilled chicken juicy:
Start with fresh, quality chicken.
Grease the grill grates.
Make sure your grill is hot.
Use a meat thermometer to avoid over-cooking.
Let your chicken rest for 5 minutes before you shred it.
See more chicken grilling tips at the ChefWorks blog.
Can I use chicken thighs?
You can use chicken thighs. Grilled chicken thighs have a lovely flavor. Your sliders will be richer and more fatty, which will be very satisfying with your white BBQ sauce.
Can I use leftover rotisserie chicken for these sliders?
You can use leftover rotisserie chicken. Your reheated chicken may be dry, though. You know what that means — more BBQ sauce!
To minimize dryness, try wrapping your chicken in foil and reheating in the oven at a low temperature. You can also put it on a skillet at medium-low heat and cover it.
Can I use canned chicken for chicken sliders?
I wouldn't use canned chicken in this grilled chicken slider recipe. The texture and flavor won't be what you want. In my opinion, canned chicken is only good for a mayonnaise-based chicken salad.
Yield: 4 Servings
Grilled Chicken Sliders Recipe with White BBQ Sauce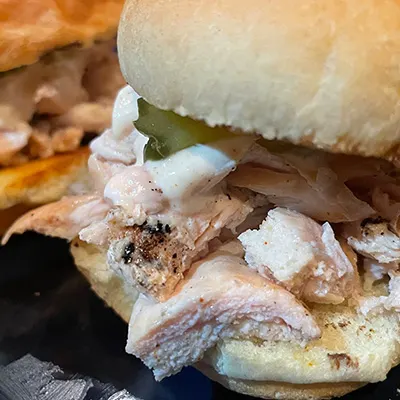 Whip up this crowd-pleasing sliders dish for casual parties and game-day celebrations. You don't need to marinate the chicken ahead of time. Simply mix up the sauce, grill the chicken, and assemble your sliders.
Ingredients
Alabama White BBQ Sauce
1 cup mayonnaise
2 tablespoons apple cider vinegar
1 tablespoon prepared horseradish
1/2 teaspoon salt
1/2 teaspoon black pepper
1/4 teaspoon garlic powder
1/4 teaspoon paprika
1/4 teaspoon sugar
Sliders
Dill pickle slices
6 slider buns
2 boneless skinless chicken breasts
Instructions
In a medium bowl combine mayonnaise, cider vinegar, horseradish, salt, pepper, garlic powder, paprika, and sugar. Mix well.
Separate out 1/4 cup of your Alabama white BBQ sauce. Place the rest in your refrigerator until Step 6.
Lightly grease the grates of an outdoor grill. Heat to medium-high heat. Cook the chicken for 7 minutes. Flip and baste with the white bbq sauce. Turn the chicken frequently, basting with the bbq sauce on both sides for 5-7 minutes more until the chicken has reached an internal temperature of 165F.
Let the chicken rest for 5 minutes.
Shred or chop the chicken.
To assemble the sandwiches, place the chicken onto the top of the bottom of the buns, drizzle with the reserved white BBQ sauce and top with dill pickles.
Nutrition Information:
Yield:
3
Serving Size:
1
Amount Per Serving:
Calories:

800
Total Fat:

60g
Saturated Fat:

10g
Trans Fat:

0g
Unsaturated Fat:

48g
Cholesterol:

99mg
Sodium:

1196mg
Carbohydrates:

30g
Fiber:

3g
Sugar:

5g
Protein:

33g
Nutrition information isn't always accurate.