Someone in the comments called this Red Robin garlic Parmesan fries recipe "absurd" recently. Or maybe she was labeling me as absurd. I'm not sure, exactly.
In any case, I decided it was time to remake these garlicky fries and double-check the measurements. The complaint was that the recipe recommended too much Parmesan, to the point that it overpowered the garlic. Looking that the recipe without making it, I wasn't convinced — still, I owe it to you all to fix a recipe that's off.
After tinkering a bit, I did adjust the measurements from the original. My take was that the original recipe had the right amount of cheese, but way too much butter, too much garlic, and not enough parsley. Given those changes and the previously mentioned feedback, I've nicknamed this Red Robin knock-off dish Absurd Fries — a Blog Chef original which copies a Red Robin original (see, more absurd by the second)!
I also added a few clarifications:
Use fresh garlic. Minced garlic out of a jar will not have the same potency, nor will any type of dried garlic.
Use 22 oz of potatoes. The original recipe specified "1 bag," which isn't very helpful.
Start with raw potatoes or a bag of frozen fries — your choice. I included instructions for making these from raw potatoes in case you're so inclined (I was, so that's what's documented by the photos).
Why make Absurd Fries
Red Robin garlic Parmesan fries are a hit with garlic-loving party folks. Serve these alongside any grilled meat, including cheeseburgers, or make a double-batch and put them out on a tray for game day. They will get gobbled up fast, thanks to the rich butter, salty Parmesan, and herby parsley combo. Oh yes, and the garlic.
You could also do a Red Robin themed menu by serving these fries with Red Robin Bonsai Burgers or a Royal Red Robin Burger.
Know that these fries pack a big garlic punch (yes, even with the adjusted garlic measurement). If you're sensitive to garlic mouth the next day or a lingering scent of garlic in your kitchen, use less garlic.
Ingredients for Red Robin garlic Parmesan fries
Here's what you need to make these fries:
22-oz bag of frozen steak fries OR 3-4 medium sized yellow or Russet potatoes (if you have a food scale, measure out 22 oz.)
1/4 cup butter
1 tablespoon fresh garlic, minced
1 tablespoon fresh parsley, minced
1/4 cup Parmesan cheese, grated
I like starting with raw potatoes vs. frozen. The flavor and texture of your fries will be better and it's not too much extra work.
How to make these Absurd Fries
Here are the steps to make these Red Robin copycat fries!
1. Bake the potatoes
Whether you're starting with frozen or fresh potatoes, heat your oven and prepare a baking sheet. Follow the package instructions for frozen fries and skip to the next step. For raw potatoes, heat the oven to 400°F or 204°C. Cover a baking sheet with aluminum foil.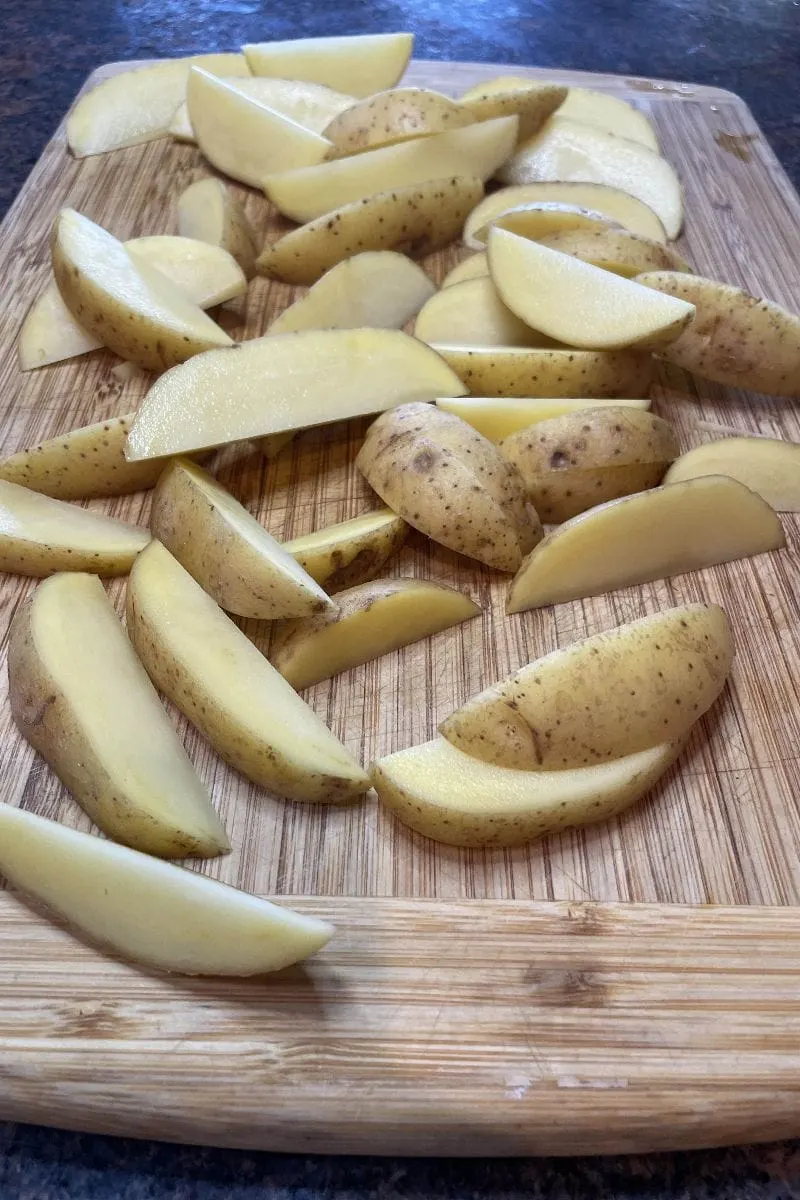 While the oven is heating, you can wash and slice raw potatoes. I like to cut each potato into 8 wedges by slicing them in half the long way first. Then half them again down the long side. Now you have 4 big wedges. Angling your knife slightly, cut each quarter in half from the middle of the curved outside edge to the center.
Next, place the wedges on the baking sheet. Drizzle some olive oil over the top and (optionally) add a dash or two of salt. Massage the salt and olive oil into the potatoes with your hands.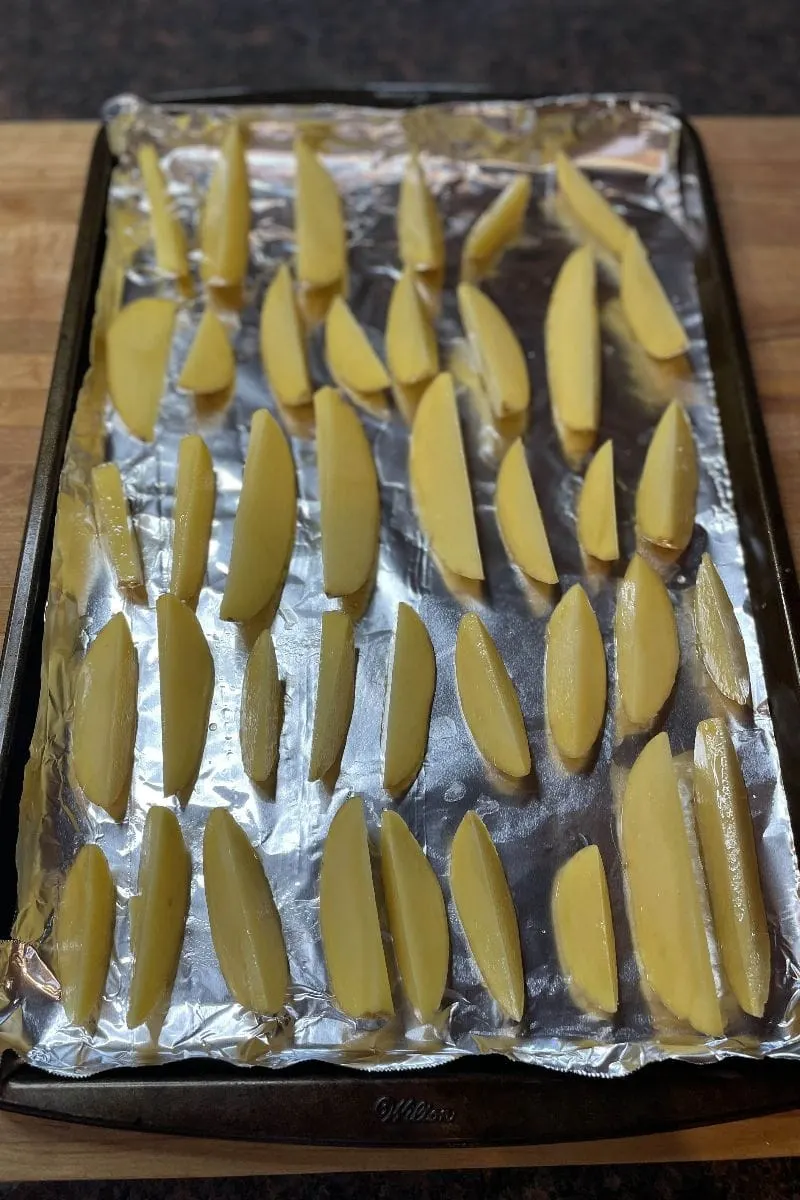 Arrange the potatoes on the sheet so they're standing up on the cut side and not touching each other. You'll get a more even cook this way and, bonus, you don't have to flip them halfway through.
Cook the potatoes for 35 to 40 minutes. You can poke one gently with a fork to test for doneness. It should be tender. The potatoes should also have some color and look slightly wrinkled on the cut edges.
2. Make the sauce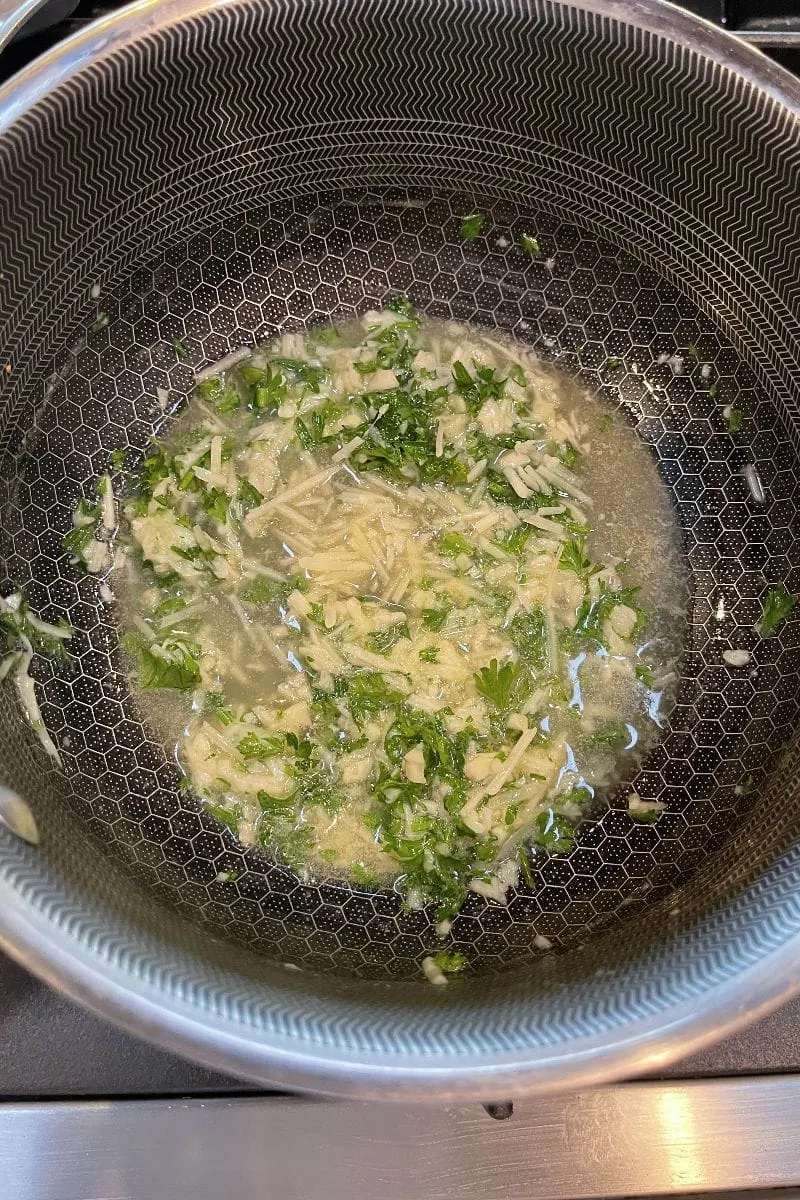 While the potatoes are baking, make your sauce:
Peel and mince 2 large garlic cloves. That should give you about 1 tablespoon of minced garlic.
Wash and mince 1 tablespoon of fresh parsley. You can use Italian or curly.
Melt 1/4 cup (1/2 a stick) of butter in a small saucepan.
Turn off the heat, then add the garlic, parsley, and 1/4 cup grated Parmesan cheese.
3. Toss potatoes in sauce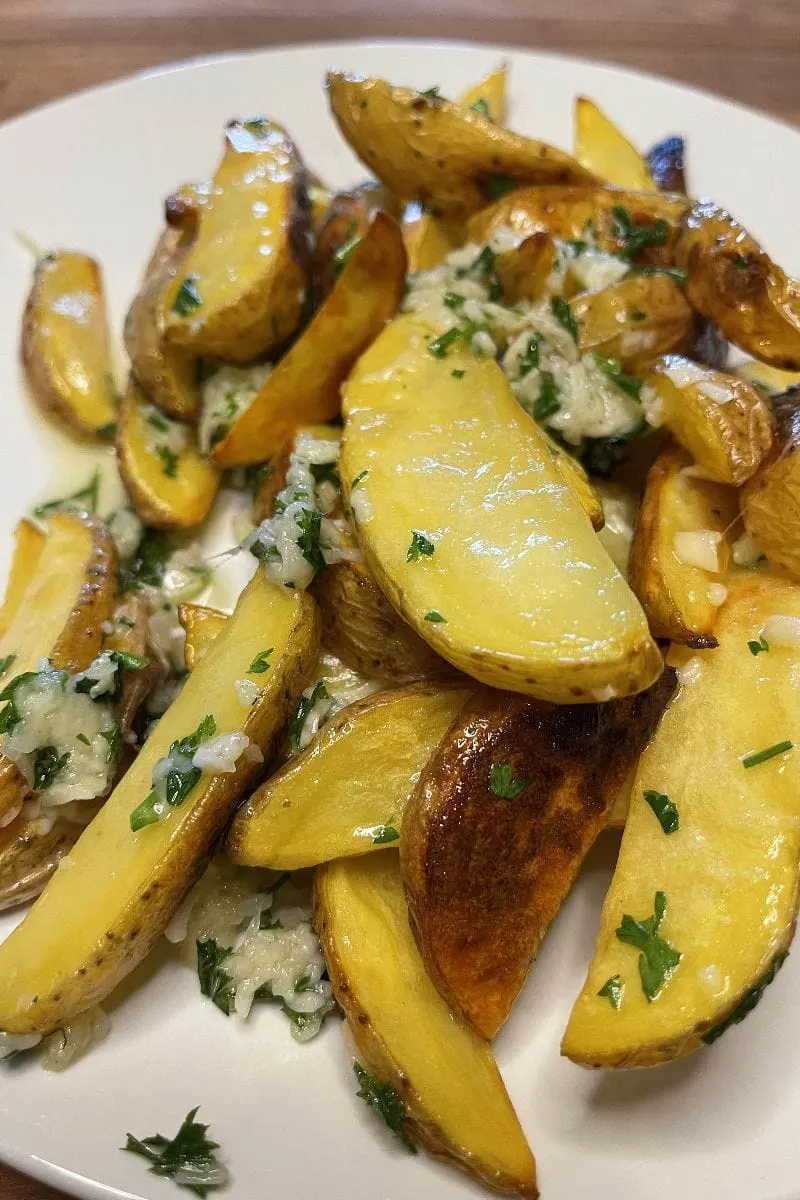 Once your potatoes are cooked to your liking, place them in a large metal bowl and pour the sauce over the top. Gently toss the potatoes so they're coated with the buttery, garlicky, cheesy sauce.
Yield: 4 services
Red Robin Garlic Parmesan Fries Recipe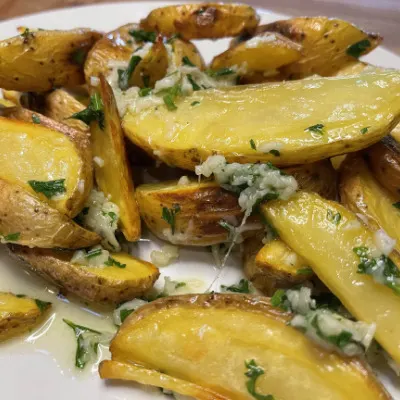 This is a copycat recipe for the garlic parmesan fries from Red Robin restaurant. You can make them with frozen steak fries or with potatoes!
Ingredients
22-oz bag steak fries OR 22 oz. raw potatoes (3-4 medium-sized potatoes) + olive oil
1/4 cup butter
1 tablespoon fresh garlic, minced
1 tablespoon minced fresh parsley
¼ cup grated Parmesan cheese
Instructions
If you are using frozen steak fries, prepare them according to package instructions, then skip to Step 4.
If you are starting with raw potatoes, preheat your oven to 400°F or 204°C. Prepare a baking sheet by covering it with foil.
Scrub your potatoes, then cut each one into 8 wedges. Toss the wedges with a bit of olive oil and a turn or two of salt. Place them on the baking sheet cut side down so they are not touching each other. Bake until they are tender and starting to develop some color and texture on the cut edges.
Melt the butter and stir in garlic, Parmesan cheese, and parsley. Place the baked fries into a bowl and toss with the garlic butter mixture. Serve and enjoy.
Notes
You can use Russet potatoes or yellow potatoes in this recipe. If you want to do part of the prep early, place your cut potato wedges into a bowl of water. They can sit there for several hours. Dry them thoroughly before tossing with oil and baking.
Nutrition Information:
Yield:
4
Serving Size:
1
Amount Per Serving:
Calories:

1996
Total Fat:

192g
Saturated Fat:

33g
Trans Fat:

1g
Unsaturated Fat:

152g
Cholesterol:

36mg
Sodium:

535mg
Carbohydrates:

66g
Fiber:

6g
Sugar:

1g
Protein:

7g
Nutrition information isn't always accurate.
More French fry recipes
Want to explore more fun French fry recipes? Here are the most popular options at Blog Chef:
Red Robin Garlic Parmesan fries FAQs
What type of potatoes should I use?
Use Russet potatoes if you're a purist. If you're willing to shake things up, try yellow potatoes, red potatoes, or even sweet potatoes.
How do I make baked fries crispy?
Soaking the cut wedges in water for 30 minutes or more can remove excess starch and produce a crispier potato wedge.
Do I need to peel the potatoes?
You don't need to peel them.
Can I fry the potatoes instead?
Yes, you can deep fry them or air fry them.
Can I add the garlic and Parmesan before I bake the potatoes?
No, add the garlic at the end so it doesn't burn in the oven and taste bitter. If the fresh garlic flavor is too potent, you can saute the minced garlic before adding it to the potatoes.
Can I save and store these potatoes?
These garlic Parmesan potatoes are best eaten right away. They don't reheat that well, so make them when you're hungry.