Hot Dogs with Onion Rings Recipe

These hot dogs with onion rings are great to serve for the upcoming NFL season and can easily be prepared on the grill. The hot dog are topped with onion rings, coleslaw and bbq sauce. This is more of an idea than a recipe and you can use whatever type of BBQ sauce you like, as well as whatever coleslaw you enjoy. I like to serve these hot dogs with French fries. Enjoy.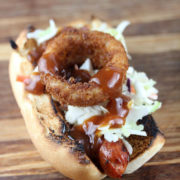 Hot Dogs with Onion Rings
Ingredients:
8 all-beef hot dogs
8 hot dog buns
1 bag frozen onion rings
8 tablespoons bbq sauce
2 cups prepared coleslaw
Directions:
Cook the onion rings according to package directions.
Heat an outdoor grill over low heat. Add the hot dog buns and toast cutside down until lightly toasted. Remove from the grill. Increase the heat on the grill to medium-high. Add the hot dogs and grill until cooked to your liking.
Place the hot dogs on the toasted buns with coleslaw, onion rings, and bbq sauce.