Prime rib is a classic dish that is enjoyed in steakhouses and homes all around the world — and for good reason. It's a flavorful, juicy cut of beef that's easy to prepare and looks amazing on a serving platter.
Do some research and you'll find various takes on the best prime rib prep steps. Our take is a straightforward prime rib reverse sear recipe. You season the meat, cook it low and slow, let it rest, and then return it to the oven at a high temperature for just a few minutes.
Prime rib vs. rib roast vs. rib eye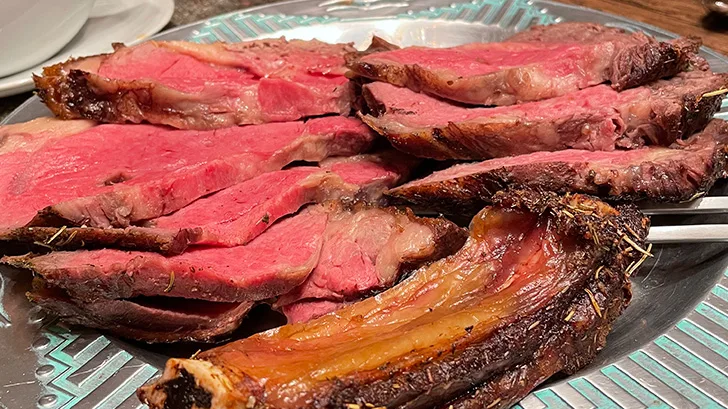 Prime rib is a section of beef taken from a cow's upper ribs. Specifically, prime rib comes from ribs 6 through 12 — it can be the whole section, meaning seven ribs, or it can be a smaller cut with as few as two ribs.
There's some confusing lingo surrounding prime rib, so let's get that straightened out:
Prime rib and standing rib roast are the same thing. This is a bone-in cut.
Rib roast or rolled rib roast is a prime rib with the bones removed.
Rib eye is sliced rib roast — essentially steaks cut from boneless prime rib.
Prime rib is sometimes confused with the USDA beef grading system — specifically USDA Prime grade beef. While the grade and cut share the word "prime" in their name, they are not related. Prime rib is a specific cut of beef, while prime grade is an assessment of quality.
Buying prime rib aka standing rib roast
So you have your choice of prime rib, rib roast, or rib eye. Which one do you need? If you're itching to impress your friends and serve a jaw-dropping, mouth-watering meal, the bone-in prime rib is a classic choice.
For an Instagram-worthy presentation, buy a prime rib with the bones "Frenched." Frenching the bones basically means cutting away the excess meat and fat, so the exposed bones look tidy and clean.
You can also optionally ask your butcher to bone and tie your prime rib. Or, learn how to do it yourself here. This involves removing the rib bones, and then tying them back on. The tied-on ribs function as a rack, elevating the roast so it cooks more evenly. Once the prime rib is done, it's easier to untie the bones, slice, and serve.
Depending on where you live, you probably have to order your prime rib ahead of time — especially if you want a prime grade prime rib. Before you invite your friends over, call around your local butchers and stores to see what they have and how soon they can get the cut you want.
As far as how much meat you need, plan for 1-2 lbs. per person of a bone-in prime rib and 1/2 to 1 lb. per person for a rib roast (no bones).
Quick tips for your best prime rib roast
Thaw your prime rib. If your prime rib is frozen, allow it to thaw in the refrigerator for three days before cooking.
Season your prime rib liberally with salt and pepper the day before you plan on cooking it. You can optionally add any other seasons you want. Let it sit in the refrigerator, uncovered, overnight.
Take the meat out of the refrigerator two hours before you put it in the oven. You want the meat to be room temperature.
Use a meat thermometer. This is critical to a successful result.
Aim for medium-rare doneness. This is when the thermometer should read 125F or 52C. You will want to remove it from the oven before the meat reaches this temperature. Aim to pull the prime rib out when the temperature reads 120F or 49C. The temperature will rise about 5 degrees while the meat rests.
Expect the prime rib to take about 30 to 35 minutes per pound to roast in a 225F or 107C oven.
Rest the prime rib for 30 minutes, then sear it in a hot oven for 5 to 10 minutes. Your hot oven should be 500F or 260C.
When it's time to serve, remove the bones from the prime rib first. Then slice.
Prime rib reverse sear: Step by step
This prime rib recipe uses the reverse sear method for a medium rare doneness with a nice crust on the outside.
Season
The first step is to season your prime rib. Do this at least the day before you plan on cooking it. A Family Feast explains why the overnight timeline is important. The salt draws the moisture out and then pulls it back in, with the seasoning. If you salt the meat just before you cook it, the moisture comes out but doesn't find its way back in.
Get it to room temperature
Next, remove the prime rib from the refrigerator and set it on the counter. You want the temperature to rise from refrigerator-cold. Give this about 2 hours.
A room-temperature roast cooks faster and more evenly. The shorter cook time allows the meat to retain more of its natural juices.
Roast in oven, low and slow
Prime rib puts its best flavor forward with low-and-slow roasting. Whether you're using an oven, grill, or smoker, shoot for a temperature of 225F or 107C, and plan on cooking for 30 to 35 minutes per pound.
Place the prime rib on a wire rack or the grill of your roasting pan, fat side up and bones down. Do not cover it.
Target temperature for prime rib roast
A perfect medium rare temperature for prime rib is 125F or 52C, but you should plan on the meat's temperature rising by 5 degrees while it rests. So take it out of the oven when your meat thermometer reads 120F or 49C.
Rest
Remove the prime rib from the oven and tent it with foil. Let it rest for 30 minutes. As noted, the meat will continue to cook during this time.
Reverse sear
Halfway through the rest time, preheat your oven to 500F or 260C. When the oven's hot, remove the foil and place the roast back in the oven on the rack. Give it about 5 minutes and no more than 10. You want to see a little crisp develop on the outside of the roast.
Alternatively, you could sear it in hot canola oil on your stovetop.
Enjoy
After the sear, your prime rib is ready to carve and serve immediately.
Prime rib roast FAQs
What do I serve with prime rib?
Mashed potatoes and salad are popular side dishes for prime rib. But you can serve it with any starch and/or vegetable. You could also get fancy and add my friend's Susannah's honey whiskey to the mix.
Do I cover my prime rib while roasting it?
No, don't cover the prime rib while it's roasting. You should cover it with foil while it's resting however.
How many minutes per pound do you cook a prime rib roast?
If you roast the prime rib at 225F or 107C, it should take about 30 to 35 minutes per pound to cook.
Do I sear the prime rib roast before cooking it or after?
There are two schools of thought here. One camp says searing the prime rib first locks in juices. The other side argues that searing first overcooks the outer layer.
If you're up for a semi-scientific analysis of the debate, see Serious Eats prime rib recipe. The conclusion is that the reverse sear method delivered a slightly juicier result.
How many hours does it take to cook a prime rib?
The total cook time will depend on the size of your prime rib. Here are some guidelines:
| | |
| --- | --- |
| Prime Rib Weight | Approx. Cook Time at 225F or 170C |
| 4 lbs. | 2 hrs to 2 hrs 20 min |
| 5 lbs. | 2 hrs 30 min to 2 hrs 55 min |
| 6 lbs. | 3 hrs to 3 hrs 30 min |
| 7 lbs. | 3 hrs 30 min to 4 hrs 5 min |
| 8 lbs. | 4 hrs to 4 hrs 40 min |
| 9 lbs. | 4 hrs 30 min to 5 hrs 15 min |
| 10 lbs. | 5 hrs to 5 hrs 50 min |
What grade of meat is prime rib?
The grades of meat you'll see most often are prime, choice, select, and standard. Prime is the highest grade, and it's reserved for the youngest beef with the best marbling. Translate that to mean these cuts are the best in terms of tenderness, juiciness, and flavor.
Can I freeze prime rib?
You can keep cooked prime rib in your freezer for up to six months. Raw prime rib can live in your freezer safely for up to one year.
If your raw prime rib is frozen, move it to the refrigerator to thaw three days before you plan on cooking it.
Yield: 5 servings
Prime Rib Reverse Sear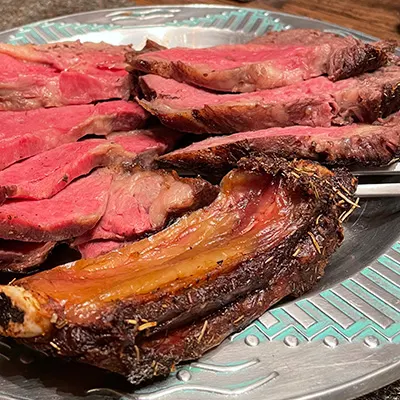 You can optionally add other seasonings along with the salt and pepper. Try fresh rosemary!
Cook Time
3 hours
5 minutes
Additional Time
1 day
3 hours
30 minutes
Total Time
1 day
6 hours
45 minutes
Ingredients
1 6-lb prime rib aka standing rib roast
Salt and pepper
Instructions
The day before you plan on roasting your prime rib, season it liberally with salt and pepper. Return it to the refrigerator uncovered and let it sit overnight.
Two hours before cook time, remove the prime rib from the refrigerator and set it on the counter.
Preheat your oven to 225F or 170C.
Once the oven is hot, place your prime rib bone-side down on a rack. If you're using a probe, insert it now. Put the rack in the oven.
When the probe reads 120F or 49C, remove the prime rib and tent it with foil. Let it rest for 30 minutes.
Turn your oven temperature up to 500F or 260C.
Once the oven's, remove the foil from your prime rib and put it back in the oven. Let it roast for 5 minutes. You want to see a nice brown develop on the outside.
Remove it from the oven, carve, and serve.
Notes
You can optionally add other seasonings along with the salt and pepper. Try fresh rosemary!
Nutrition Information:
Yield:
5
Serving Size:
1
Amount Per Serving:
Calories:

1914
Total Fat:

152g
Saturated Fat:

61g
Trans Fat:

0g
Unsaturated Fat:

71g
Cholesterol:

466mg
Sodium:

413mg
Carbohydrates:

0g
Fiber:

0g
Sugar:

0g
Protein:

127g
Nutrition information isn't always accurate.