When choosing a beef cut for the perfect slow-roasting recipe, not many excel like the spoon roast. Also known as the top sirloin, this roast is both flavorful and tender, offering incredible juiciness when done right. The spoon roast delivers a rich blend of flavor that complements its moist nature making the slow-cooking technique the best choice for preparing it.
This roast comes out fantastic when you give it time and exercise enough patience. And the reason is that the spoon roast is a lean cut of beef, and as such, won't soften as well as you need it if cooked quickly. So, consider this factor for an excellent dish that will leave your table guests craving for more. And here, you'll read about the numerous ways to make it happen.
Cooking a Spoon Roast
You can prepare the top sirloin by roasting it to a delicious texture in an oven or on a grill. And you can also infuse it with herbs and spices in a slow cooker.
Oven-Roasted Spoon Roast
Let the oven preheat to 425F and while you wait, place a rack on a foil-lined roasting pan. Mix a blend of dry spices in a bowl and generously rub it all over the roast with olive oil. You want the spice rub to cover every inch for maximum flavor. Then, roast the meat for 15 minutes, and turn down the oven's temperature to 225F. At this temperature, allow the spoon roast to slow-cook to the desired doneness. Once it's done, set it down and let it sit in a foil tent for 10 minutes before you slice and serve.
Grilled Spoon Roast
Create two heat zones on the grill- one side direct and the other side indirect-and season the spoon roast. Then grill on high heat so the surface sears for about five minutes per side. Cover the roast in foil and cook on indirect heat for about an hour until it reaches the desired doneness. Then, tent it in foil for 15 minutes before slicing and serving.
Slow Cooker Spoon Roast
Season the spoon roast with your preferred combination of spices and herbs. Then, put in the crockpot with some beef broth or any other preferred sauce or liquid. Set the cover and cook on low for eight to 10 hours, until the meat is spoon-tender. Then, allow it to rest for 15 minutes before carving.
 

View this post on Instagram

 

Doneness Temperature
The spoon roast needs to cook to an approved safety temperature of 145F. But you can also prepare it to a doneness temperature of your choosing. And below are the various measurements;
Medium-Rare= 138F
Medium= 144F
Medium-Well= 157F
Well-Done= 168F
Always check for these numbers with a quality meat thermometer.
More Spoon Roast Cooking Tips
Choose a top sirloin with a good layer of fat at the top. This fat adds more moisture as the meat slow-cooks.
You can add an array of vegetables and sauce options for the crockpot method to infuse more flavor. As such, consider onions, carrots, potatoes, Worcestershire sauce, tomato juice, and apple juice. Also, consider spices and seasonings like black pepper, garlic powder, and red pepper flakes.
You can also season the spoon roast for an hour or overnight in a rich marinade of your choosing.
Save the pot or pan drippings to make a rich gravy you can spoon over the sliced roast. Whisk cornstarch and water to the drippings in a saucepan and heat on a stove till it thickens.
If the roast has been in the fridge before cooking, let it sit at room temperature for 30 minutes before you season and cook it.
Print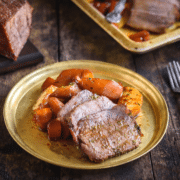 Oven-Roasted Spoon Roast (6 Servings)
---
One top sirloin roast, three pounds
Two cloves garlic, finely minced

Two teaspoons

olive oil, extra virgin

One teaspoon

kosher salt

½ teaspoon

ground cumin

½ teaspoon

black pepper, freshly ground

½ teaspoon

chili powder
A dash of cayenne pepper
---
Instructions
Allow the oven to preheat at 425F, and mix the spices to make a dry rub.  Set a roasting rack in a foil-lined baking pan and put the spoon roast on it.
Rub first with the olive oil and following with the dry spice. Make sure to cover every part of the surface. Then, place the pan in the oven.
Cook for about 15 minutes, and then reduce the temperature to 225F. Keep roasting the meat at 45 to one hour per pound or until the preferred doneness is reached. Observe the internal temperature with a probe thermometer (Find the approved doneness temperature list above).
Tent the spoon roast loosely with foil and leave it to sit for 10 minutes before carving.
And if you'd like more ideas for preparing a spoon roast, watch this video recipe.