Depending on your perspective, leftover takeout rice can either be a curse or a blessing. For us, it's unquestionably the latter, and fried rice is the foundation for a fantastic reinvented dinner. (If you're not using it right away, freeze the rice in a zip-top bag or airtight container, preferably after freezing it in a single layer on a sheet pan to avoid clumps, which speeds up thawing and cooking.)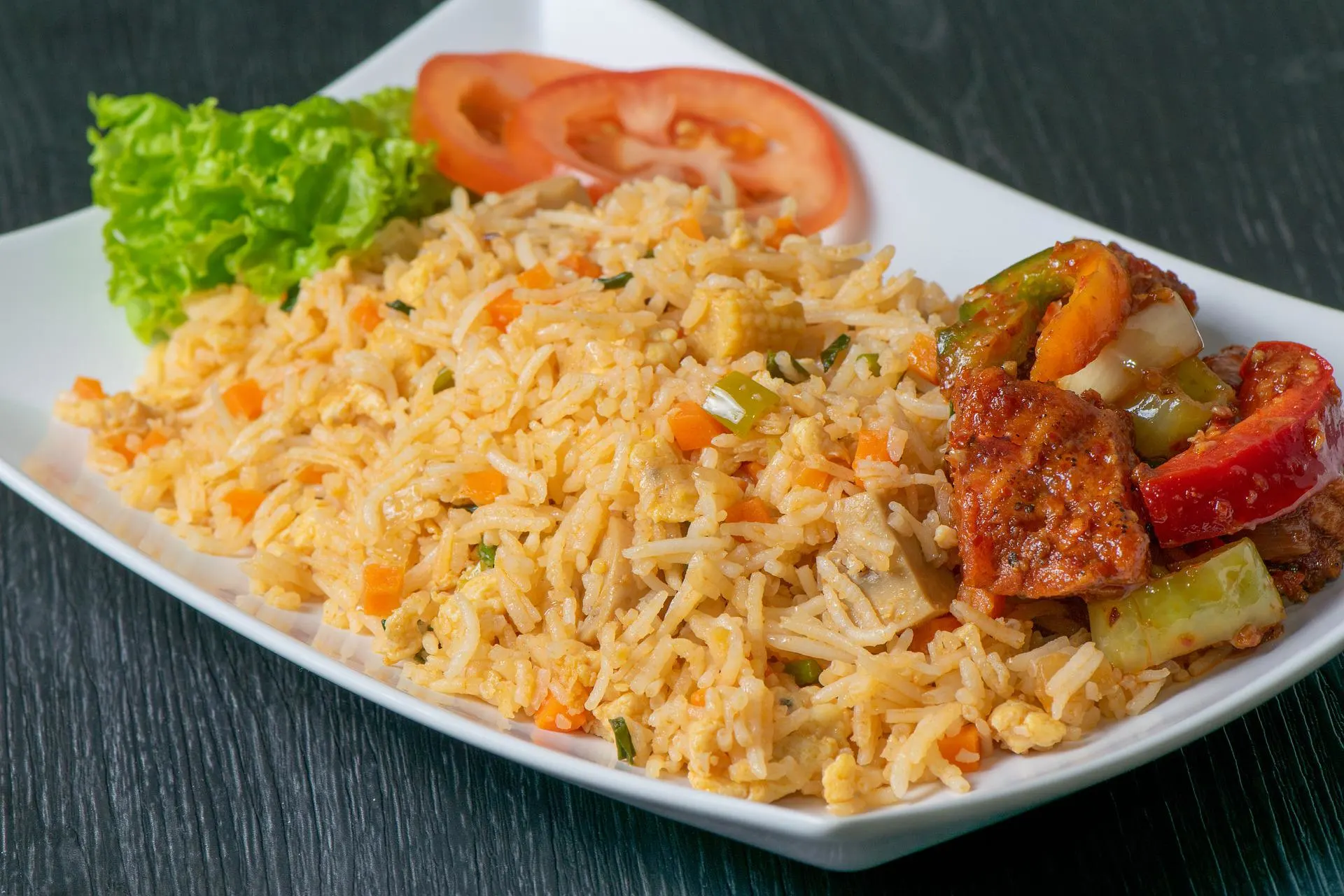 Fried rice is an excellent weeknight meal, whether you want to improvise with what you have on hand or have a specific plan. Here are some recipes from our archives that are delicious as written but simple to adapt. They're so delicious that you might end up ordering more rice to make them.

What is Fried Rice?

It is a popular and flavorful recipe with cooked rice, finely chopped vegetables, and seasoning ingredients. It is also served as street food in India, despite being a staple food in many Southeast Asian countries, and it goes well with Manchurian gravy or dal recipes.
Here is a Super Easy and Delicious Fried Rice Recipe
Fried Rice in a Hurry !
Delicious fried rice made with leftover rice and whatever else you have in the fridge! This recipe takes only 15 minutes to prepare and is ideal for a quick weeknight meal or lunch.
Prep Time5 mins

Cook Time10 mins

Course: Entree

Cuisine: Asian

Servings: 4 bowls

Calories: 380kcal
Ingredients
2 tbsp. vegetable oil

1 tsp. minced garlic

1 tsp. ginger paste

four large eggs

3 cups cooked rice (see post for fresh rice alternatives)
SEASONAL VEGETABLES
1 cup chopped crimini mushrooms (can be substituted with other mushrooms)
1/4 head cabbage, finely chopped
One jalapeno pepper, seeded and finely chopped (omit based on spice tolerance)
VEGETABLES, FROZEN
1/2 cup frozen peas 1 cup frozen broccoli
Instructions
Once the oil is hot, add the jalapeno peppers, cabbage, and mushrooms and sauté until the mushrooms are golden brown (about 5 minutes)
Sauté the minced garlic and ginger paste for 30 seconds, or until fragrant.
Whisk the eggs with a fork in a glass and then pour into the pan; cook for 1 to 2 minutes, or until they barely begin to come together.
Add the day-old rice to the pan and stir well for about 3 minutes, or until the egg sticks to the rice as it cooks (delicious – thanks to Pinch of Yum for this trick).
Finally, combine the frozen vegetables with two tablespoons of soy sauce, sesame oil, turmeric, salt, and pepper.
Remove from heat, add remaining soy sauce, garnish green onions, and serve immediately!
Notes: We've listed my vegetables on hand, but you can use almost any vegetable in this dish. Best. Weeknight. Meal. Ever.
Cook fresh vegetables for at least a minute or two (and thoroughly wash them before chopping) – frozen vegetables require less time.
If you want to experiment with different vegetables or spices, go ahead! The ingredients are listed in the following order: oil –> fresh vegetables –> ginger, garlic –> eggs –> rice –> frozen vegetables plus seasoning. Go wild!
Nutrition
Serving Size: 200g | Calories: 380kcal | Carbohydrates: 47g | Protein: 14g | Fat: 15g | Saturated Fat: 8g | Cholesterol: 164mg | Sodium: 1676mg | Potassium: 537mg | Fiber: 5g | Sugar: 5g
Why will you Enjoy this Recipe?
Prepared in 15 minutes. If you have a pot of rice on hand, this is one of the quickest and most delicious meals you can make.
Extremely adaptable. This is a "clear your fridge" meal because you can add or remove vegetables based on what's in your fridge and easily change the flavors.
Excellent with fresh or frozen vegetables. I usually combine fresh vegetables (mushrooms) with frozen vegetables (such as peas or broccoli) for this dish.
Vegan and gluten-free options are available. To make this vegan, use an egg substitute (such as Just Egg) and replace soy sauce with gluten-free tamari.
Variations and Ingredients
To make this fried rice, you'll need rice, eggs, whatever vegetables you have in the fridge, sesame oil, soy sauce, and basic seasoning. Let's look at each of them individually and some variations. I used broccoli, frozen peas, mushrooms, cabbage, and jalapenos.
What Kinds of Vegetables Should you Use?
We can make this recipe with either fresh or frozen vegetables. Frozen broccoli, peas, cauliflower, and corn are excellent fried rice ingredients. Cabbage, carrots, and mushrooms are also delicious in fried rice, especially when used fresh. Just make sure to start with fresh vegetables and then add frozen vegetables at the end.
Can you Make Fried Rice with Fresh Rice?
Day-old rice may be preferable for making quick fried rice. When you make the rice ahead of time and store it in the fridge, it dries out and becomes crisper. No worries if you just made some fresh rice. When the fresh rice is cooked, spread it out on a baking sheet. Allow some of the water to evaporate as soon as it is made. It will simply take a little longer.
How do you Prepare Vegan Fried Rice?
You can easily replace the eggs with an egg substitute such as Just Egg. This has the same texture and "purpose" as the rice (binding the rice with the vegetables and spices), but it's also vegan. The remainder is already vegan.
Tips for Making the Best-Fried Rice
Make use of cold rice! As previously stated, I prefer to make my fried rice with day-old rice. But the key is to dry and cool the rice completely, whether fresh or leftovers. When rice is warm and added to the pan, it can become soggy, which is undesirable in fried rice.

Use soy sauce, sesame oil, and a pinch of turmeric in this dish. These days, I'm all about unusual recipes. Traditional ingredients include soy sauce and sesame oil, but I've discovered that turmeric adds vibrant color and flavor to the dish that I enjoy. Add a dash of soy sauce at the end as you season and adjust for flavor.

Cook over high heat. Most of my cooking is done on medium heat, but this is an exception. Turning up the heat toasts the rice as well, and it also helps "fry" the rice rather than "steam" it and brings eggs and vegetables together beautifully.

Use only one pan (or pot). Not only is this ready in 15 minutes, but there are no dishes to wash. I begin by frying my vegetables, then add eggs, rice, and seasoning (and any frozen veggies that need to be quickly cooked at the end). I top it off with a dash of soy sauce. Wonderful one-pan meal. Oh, and I make this in my cast iron or Dutch oven.
Suggestions for Storage and Serving
This fried rice only takes 15 minutes to make, so I recommend making it fresh whenever possible. Do you need to keep it in the fridge or freeze it? Portion them, place them in airtight containers, and toss them in. It can keep in the fridge for up to 5 days! Put them in the microwave when you're ready to eat (try not to heat this fried rice more than once if possible).
You can serve this fried rice with various dishes, but my favorite way to eat it is with a curry or soup (like my Thai butternut squash soup). It's out of the ordinary, but you'll love it.
Is t Safe to Eat Leftover Rice, Whether Fried or Not?
Yes, as long as it has been properly stored and reheated. We should refrigerate any leftover rice from this recipe within a few hours of cooking. Furthermore, as long as the fried rice is cooked over high heat in a skillet, there should be no problem.
The rice should last up to 5 days. If it appears moldy, smells off, or does not appear fresh, discard it.
Which Oil is Best for Making Fried Rice?
Any oil, whether unflavored, neutral, or flavored, complements the fried rice recipe. The oil used in fried rice recipes should have a high smoke point because the vegetables and rice are stir-fried over a high flame or heat. Sesame oil, canola oil, peanut oil, and avocado oil complement fried rice recipes.
Why did My Fried Rice Become Soggy?
If you use hot cooked rice, the fried rice will become mushy because the rice will be sticky. Always allow the cooked rice to cool completely before adding it to the vegetables. Also, the flame should be high when stir-frying the vegetables and rice. For fried rice recipes, a nonstick pan is recommended.
What Foods Pair Well with Fried Rice?
Any dal recipe or Manchurian gravy, such as gobi Manchurian, veg Manchurian gravy, baby corn Manchurian gravy, gobi pakora, veg pakora, goes well with fried rice. If you want to keep it simple, just a tomato sauce will go well with this fried rice recipe, giving the fried rice a light sweet flavor.
In Fried Rice Recipes, What Kind of Rice is Used?
Always use long grain basmati rice for a nonsticky result with a fried rice recipe. However, if you don't have basmati rice, you can make some masuri rice. Short grain rice may have more starch and become sticky. For this recipe, use freshly cooked rice. However, fried rice with leftover rice is also an option. If you are using freshly cooked rice, it must be washed with cold water after cooking to avoid further cooking. After washing, spread the cooked rice on a plate to dry completely before using it in fried rice recipes. The rice should not be too soft. We can also use cold or refrigerated rice in fried rice recipes.
What Vegetables are Included in Fried Rice Recipes?
Fried rice recipes include chopped onions, spring onions, garlic, bell pepper, cabbage, chili, carrot, and beans. We can add baby corn, broccoli, snow peas, mushrooms, and peas for variety.
Can we Cook the Rice Alongside the Vegetables?
No, rice is cooked separately before being added to fried rice recipes. Cooking rice with vegetables can cause both the rice and the vegetables to become soft and mushy. When adding the rice to the vegetables, they should not be moist and completely dry.
What are the Most Common Fried Rice Recipe Variations?
Fried rice comes in a variety of flavors. Schezwan fried rice, paneer fried rice, soya fried rice, chili garlic fried rice, corn fried rice, burnt garlic fried rice, and gobi fried rice are the most popular.
What is the Best-Fried Rice Recipe?
The key to making the best-fried rice recipe is to use nonsticky rice. It is preferable to use long-grained rice rather than short-grained rice. Allow the cooked rice to cool completely before adding it to the vegetables. Also, stir fry the finely chopped vegetables over high heat, being careful not to overcook them as they will become mushy.
It must retain its crunchiness and maintain its shape. Other than soy sauce and vinegar, the only seasoning ingredients in authentic fried rice are soy sauce and vinegar. Salt can also be avoided or reduced with the help of soy sauce. We can adjust the spiciness with pepper, red, or green chili sauce. Once the cooked rice is added to the veggies, mix well on high heat to give the rice a smoky flavor.
How do you Make Perfect Nonsticky Fried Rice?
Soak the rice in water for 20 minutes to make nonsticky rice. Take a vessel after 20 minutes. Pour in the water and bring it to a boil. Fill the vessel halfway with soaked and drained rice. Mix in a teaspoon of oil. Cook until the rice is nearly done but still separated and not mushy. Allow the rice to drain and cool in a colander. You can cover and set them aside to keep them from drying out. You will now have perfect nonsticky rice.
Conclusion
As you can see, this popular and flavorful rice recipe is made with cooked rice, finely chopped vegetables, and seasoning ingredients. It is a staple food in many Southeast Asian countries, but it is served as street food in India as part of Indo-Chinese cuisine, and it goes well with Manchurian gravy and dal recipes.