Frozen meatballs are like the ace in the hole you need on hand. They're quick and easy to use, so you can whip up dinners in no time. But, of course, nothing beats a home-cooked meal. So, when you make those frozen meatballs, you might find that they aren't quite as good as Grandma's. Making meatballs from scratch takes time, especially on a hectic weekday or preparing for a party. You probably threw them in your grocery cart for just such an occasion.
You might be wondering how to improve frozen meatballs because they can be utilized in so many different ways. After all, if you overcook them, they'll become rubbery and hard when utilized in some cooking ways, and other cooking methods may cause them to disintegrate.
On the other hand, precooked frozen meatballs don't take long to cook, making them a great item to have on hand. You can let them shine now that you need to create something for supper today or a party tomorrow. Fortunately, you can do a few things to make them taste so amazing that no one will suspect they're store-bought and frozen! Continue reading to learn how to improve the flavor of frozen meatballs.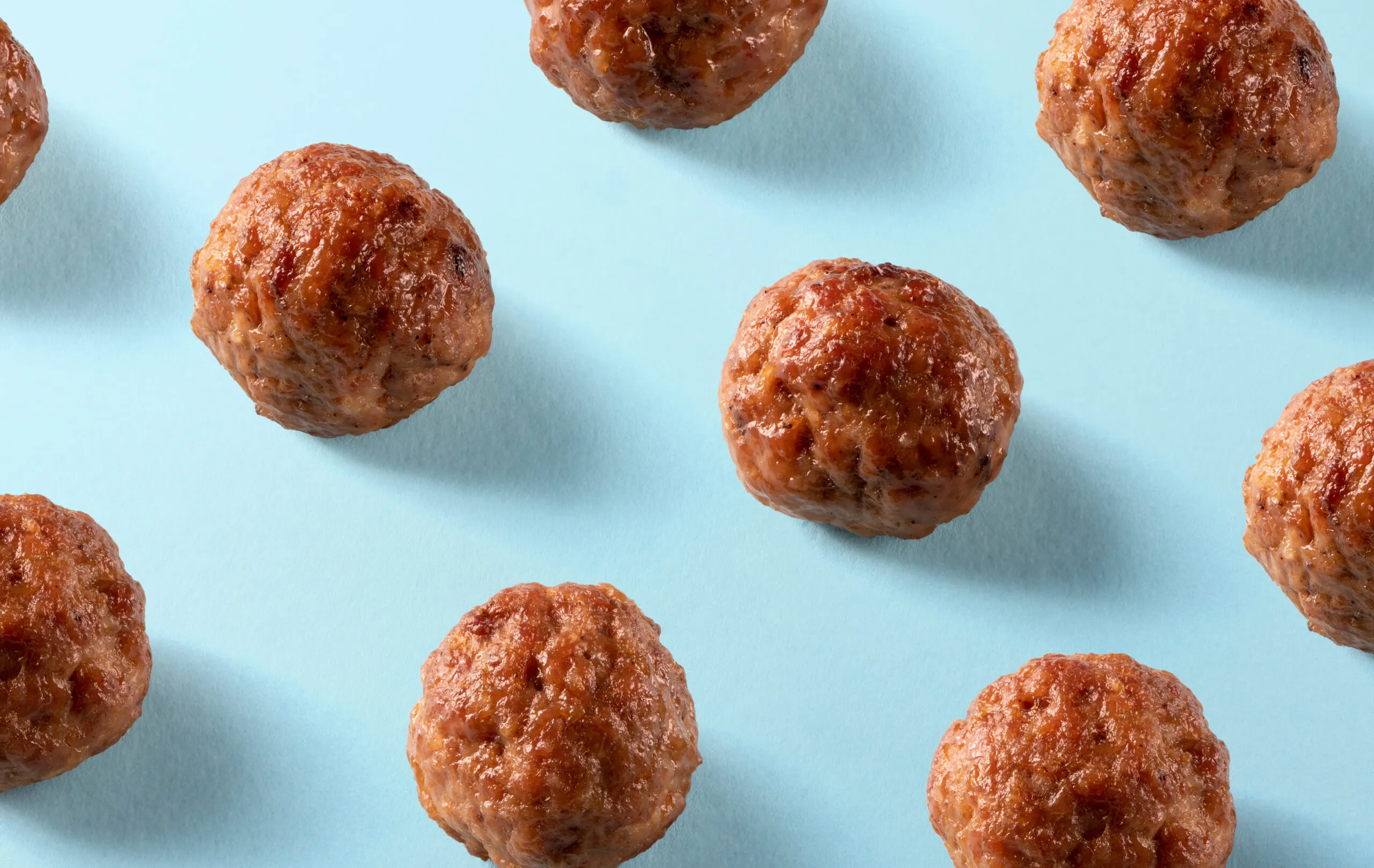 How to Improve the Flavor of Frozen Meatballs?
You must ensure that your frozen meatballs have been heated to a safe internal temperature, regardless of how you prepare them. Keep in mind that the magic number is 165 degrees Fahrenheit.
Become saucy
Cooking frozen meatballs in a decent sauce is probably one of the simplest methods to improve their flavor. Marinara sauce is a popular meatball condiment that can be used to spice them up while they're cooking.
Fill a pot with your favorite marinara sauce, just like you would for spaghetti and meatballs. If you want to increase the flavor of frozen meatballs, make your own, but if you don't have time, a jarred type will suffice. You may always add a dash of fresh lemon juice and sugar to the premade sauce and any additional flavors you choose.
Allow 20 to 30 minutes of simmering time in the sauce to warm up and heat through. Then, along with some garlic bread, serve it over spaghetti.
Take Things Slowly
Do you want to serve those frozen meatballs at a party or just have dinner ready? That's something we can relate to! Those frozen meatballs will be perfect in your slow cooker. You could also cover them in marinara or make something unusual, such as Asian-style meatballs.
The possibilities are unlimited when you make frozen meatballs in your slow cooker. You have to cook them on high for an hour, then turn it down to low for another three hours.
Lovin' the Oven
Frozen meatballs can be reheated in the oven to bring them back to life, regardless of the sauce. Begin by baking them in a single layer on a baking sheet at 350°F. At this temperature, bake them for 8 to 10 minutes before coating them with your favorite sauce, such as barbeque. This method can also cook them in the sauce at the same time.
Instantaneously
If you simply don't have the patience to wait for your frozen meatballs to cook for supper tonight, you can utilize your Instant Pot. To moisten and flavor them, add your favorite sauce or a liquid (like beef broth, for example). Your frozen meatballs will be ready in 5 minutes if you set the pressure to high release.
Some individuals use the microwave to reheat frozen meatballs. While this is a quick way to heat and consume them, it will not improve their taste, so keep that in mind!
What are the Best Flavors to Improve the Taste of Frozen Meatballs?
You're about to learn how to incorporate frozen meatballs into your dishes, so they don't taste like they came straight from the freezer now that we've covered cooking procedures for frozen meatballs. With these ideas, you'll be able to serve guests quickly while giving them the impression that they're homemade. You can even wow your guests at parties if you cook them, which will make you glad you have frozen meatballs on hand.
Sauce: Think Outside the Box
Making meatballs in marinara sauce and serving them with spaghetti is quite acceptable. In fact, it's one of the best ways to improve the flavor of frozen meatballs.
However, if you always cook your meatballs this way, you'll have a bored family on your hands. Have fun with that profusion of frozen meatballs; there's more than one way to use them.
With that very thick and creamy sauce, you may cook them Swedish-style. Make a mushroom gravy or a stroganoff. Chimichurri sauce, packed with garlicky, herby delights, can also be used to give them a South American flair. If you're planning a party or potluck, multiple saucy tastes might make a fun appetizer or buffet-style dish.
For example, Cranberry sauce, chile, grape jelly, or orange marmalade may all infuse those frozen meatballs with delicious flavors in your crockpot, giving them a homemade feel. Alternatively, you may make barbecue-style meatballs with a touch of bourbon and vinegar that everyone will enjoy while watching the big game.
They can also be used in other Italian dishes.
Frozen meatballs may add a boost of protein to any meal, transforming it from ordinary to amazing. Bake the meatballs and then slice them up to use on homemade pizzas or calzones. Alternatively, skip a step in your lasagna and use frozen meatballs instead of browning the beef. The bubbling sauce and cheese taste will penetrate them and prevent them from feeling frozen.
Additional sauces in Italian cuisine will go nicely with your frozen meatballs. Alfredo and pesto come to mind, but a spicy fra Diavolo sauce may kick things up a notch. Not a fan of the heat? Consider a vodka sauce.
Include Them in Other Cuisine Styles
Changing the cuisine is another way to improve the flavor of frozen meatballs. Even if you have a bag of frozen Italian-style meatballs, the delicate seasonings might work nicely with different cuisines.
Take, for example, Mexican cuisine. You can create burritos using your frozen meatballs and use a mole sauce or enchilada sauce for cooking them (red or green). Then combine them with rice, black beans, cheese, lettuce, sour cream, salsa, and guacamole in a flour tortilla.
What is the Frozen Meatball Recipe?
14 cups of frying oil 24 premade frozen meatballs
12 cup finely chopped onions
12 cup finely chopped tomatoes
2 minced garlic cloves
1 tablespoon coarsely chopped green chilies
1 tsp chile powder (red)
1 teaspoon powdered coriander
1.2 teaspoon powdered allspice
14 teaspoon turmeric
1 quart of water
garnish with fresh parsley
Directions:
Heat the frying oil in a big pot.
When the pan is hot enough, add the chopped onions and simmer for 3 to 4 minutes, or until golden brown.
Cook for a minute or until garlic is aromatic.
Chili powder, coriander powder, all-spice powder, and turmeric are added to the diced tomatoes. Allow for a minute of simmering after thoroughly mixing.
Cook, occasionally stirring, for 3 to 5 minutes, or until the oil separates.
Fill the kettle halfway with water and add the frozen meatballs. Cover the pot with a lid and cook for 25 to 30 minutes on low heat, or until the meatballs are cooked through.
Season with salt and pepper, then add the green chilies and finely cut parsley. Serve.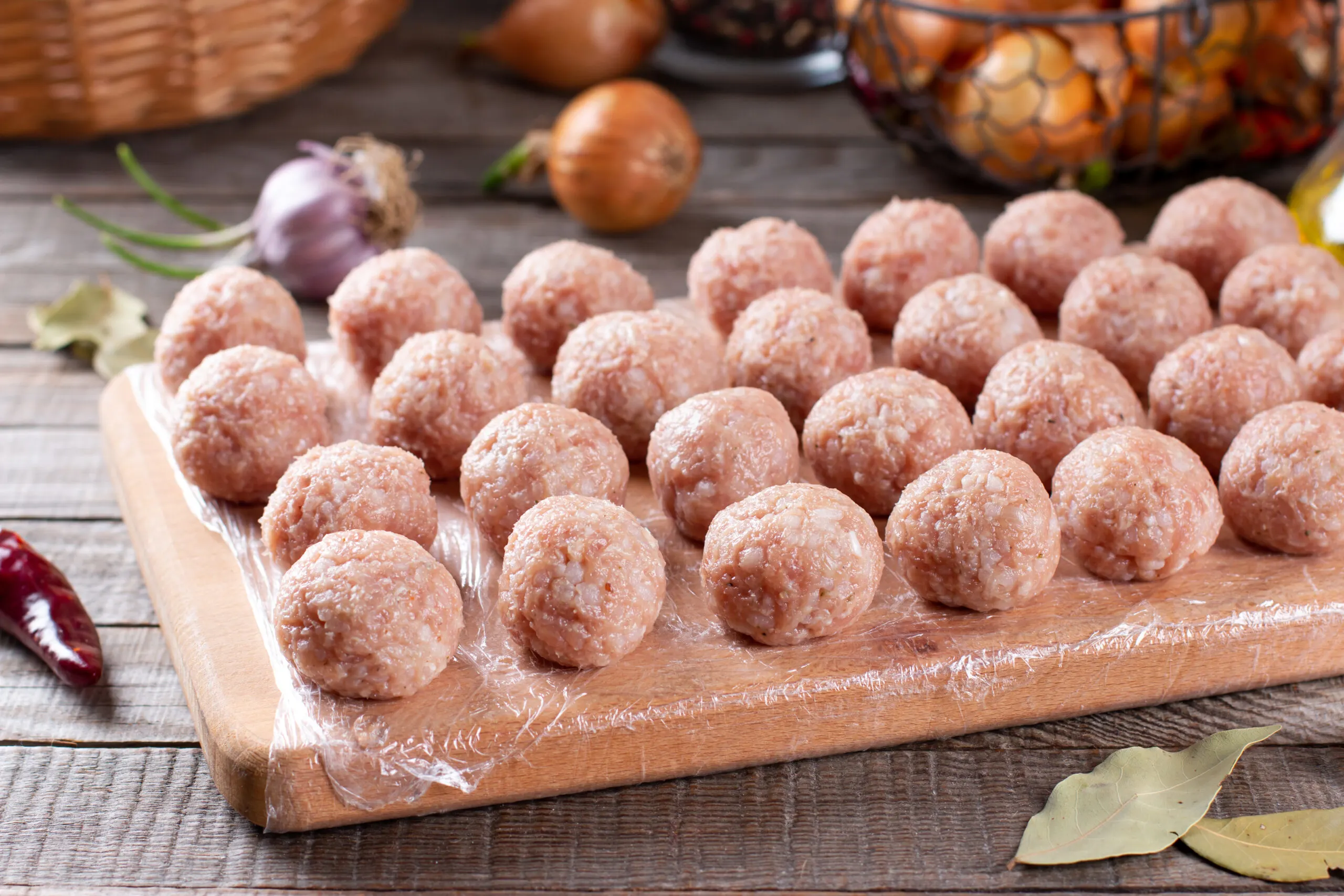 How can you Make Bland Meatballs Taste Better?
The first step is to begin adding a variety of spices! Add garlic, onion, and any herbs or seasonings that go with the meatball recipe you're making.
Garlic and onion complement Italian flavors beautifully. As I did in this recipe, I used basil, oregano, or garlic powder for a Mediterranean-style dish.
Second, when cooking the meatballs in the pan, use a thick sauce (ketchup). The more flavorful a sauce is, the wider it is! It's also ideal for cooking them uncovered to absorb the delicious flavors surrounding them.
How do you Keep Meatballs Moist?
Before cooking, add the sauce, herbs, and spices to the meatball. If you're going to fry the meatballs in a skillet, make sure they've been in the fridge for at least an hour before you start.
This will dry out the surface of the balls, resulting in a delicious crust when baked. If you're going to cook your meatballs in the oven or microwave, don't let them sit for too long; if you prefer the chewy texture that comes from frying, you should take this step either way!
Name Some Meatballs of the Highest Quality?
You can always buy frozen meatballs if you want tasty meatballs but don't want to spend the time and effort cooking them yourself. The three brands that make the greatest frozen meatballs are listed below.
Rosina Meatballs: Rosina meatballs are chicken, pork, and beef. There are three sizes of meatballs available: 12 ounces, 26 ounces, and 52 ounces.
They can be baked, microwaved, or cooked on the stove. Rosina meatballs are the way to go if you want meatballs that look as delicious as they taste.
Hormel Compleats Swedish Meatballs: Try the Hormel Compleats Swedish meatballs for a quick hunger cure. They come in a plastic jar and go well with pasta and a savory cream sauce.
Simply throw them in the microwave for 60 seconds, and you'll have meatballs and pasta dinner. Buy more bowls than you think you'll need if you have company over.
Omaha Steaks All-Beef Meatballs: Omaha Steaks is a 100-year-old food company. They make Stay Classy Transportation, a line of high-quality meat products that are tasty and simple to prepare. They've introduced Italian-style all-beef meatballs with a true Italian flavor.
The meatballs don't need to be thawed and are ready in only 4-6 minutes. So, if you have unexpected visitors, these meatballs will be the ideal quick-fix meal.
Frozen Meatballs: Tips and Tricks
Frozen meatballs are already cooked, so all you have to do now is reheat them.
Frozen meatballs can be combined with a variety of sauces. Play with BBQ sauce, mushroom gravy, spaghetti sauce, and marinara sauce.
Frozen Meatballs can be served over any starchy dish, such as spaghetti, rice, or mashed potatoes!
Meatballs can be used in various ways, including Let your imagination run wild with pasta and meatballs, meatball hoagies, meatball sliders, and meatballs and rice!!
PRO TIP: They taste best with a little char on the edges, so you'll get a better flavor if you bake them on aluminum foil first and increase the char.
What are the Ideas for Serving Frozen Meatballs?
Pasta and meatballs is an Italian-American favorite that consists of meatballs soaked in tomato sauce served with spaghetti and topped with finely grated parmesan cheese.
Meatballs are frequently served in a sauce like this; if not tomato sauce, they may be served with gravy or in a curry. However, in most circumstances, it's preferable to cook the meatballs separately before adding them to the sauce at the end. This ensures that the meatballs are cooked thoroughly, giving them a deep caramelized flavor on the outside and preventing them from dissolving in the sauce.
Why Use Breadcrumbs and an Egg in Frozen Meatballs?
If you make them with simply meat and seasoning, the meatballs may dry or fall apart while cooking. As a result, many recipes will include a binding component, such as an egg, and a filler, such as breadcrumbs. You just need a small bit of egg; it's simply there to help the cooked meatball keep its shape, and it shouldn't change the flavor or texture of the meat.
Filler components such as breadcrumbs or flour are also necessary to prevent the meatballs from drying out. As the meatball cooks, the breadcrumbs absorb the liquids and trap them within the meatball. Again, quantity is key; if you make too many, your meatball will resemble stuffing or a dumpling.
Meatballs appear in a wide variety of cuisines, which is unsurprising given their ease of preparation, consumption, and ability to stretch a very small amount of meat.
Conclusion
You now know how to improve the flavor of frozen meatballs and how to freeze meatballs properly. If you're using frozen meatballs from the shop, there's no need to worry. Simply freeze them, thaw them when ready to eat, and re-freeze the leftovers.
If you make your own meatballs, however, the quality of the ingredients will determine the shelf life and freezing time. So, to get the most out of your meatballs, make sure you buy the best ingredients. Any three brands listed above will suffice if you're looking for frozen store-bought meatballs.