Texas chili packs a big flavor punch. Even better, it's not hard to put together. Wanna know how to make Texas chili? You cube, chop, and measure your ingredients — then cook 'em all up in a pot for a couple hours.
I served this Texas chili to a group of eight family members, the day after Thanksgiving. It was a big hit and a welcome break from the turkey sandwiches that would have otherwise been on the menu. And while it does take a while to cook, this is a great dish for serving a party. If you get the chili simmering before guests arrive, you're free to socialize until the meal is done.
What is Texas chili?
Texas chili is a smoky and flavorful chili with no beans. I prefer no-bean chili, so this is right up my alley.
For this recipe, I did add sweet potatoes for added flavor and texture. It also makes the chili thicker — more like a stew and less like soup.
Texas chili ingredients and substitutions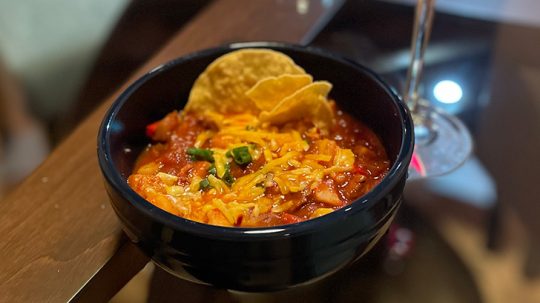 This Texas chili recipe has these ingredients:
Bacon
Cubed beef chuck roast (or any cut of beef, really)
Salt
Onion
Red bell pepper
Sweet potato
Fresh garlic
Jalapeno or chili pepper of your choice
Regular chili powder
Chipotle chili powder
Oregano
Cumin
Crushed tomatoes
Tomato paste
Beer
Water
Broth
You can substitute garlic powder for the fresh garlic if needed. You can also use a different meat — say, pork or chicken instead of the beef. You will lose some of rich flavor that Texas chili is known for, but the dish will still be tasty.
I would not leave out the bacon or the chipotle powder. These two ingredients are pretty central to the chili's flavor.
How to make Texas chili step by step
With a dish like this one that has several ingredients that cook together, I like to prep and measure my ingredients first. That way, you only need to add them to the pot at the right time.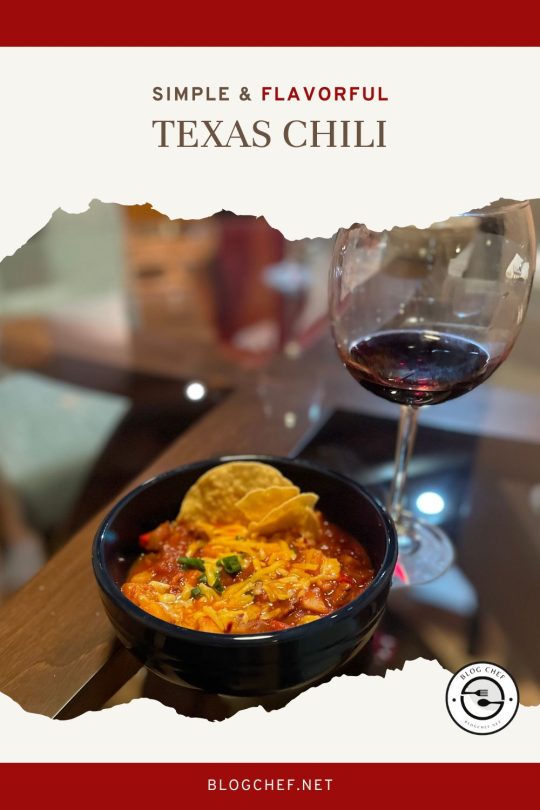 1. Measure your ingredients
Dice your onions and red bell peppers first. Then mince your garlic and jalapeno. You can then peel and cube your sweet potato. Dump all of those ingredients into one bowl, since they get added to the pot together.
Next, measure your chili powders, oregano, and cumin into a small bowl.
You can also trim and cube your beef and measure out your liquids. If needed, you can mix the broth, water, beer, and crushed tomatoes in one bowl. These also get added to your pot at the same time.
2. Fry the bacon
You can toss the bacon in whole strips right into a pot that's big enough to hold your chili, on medium-high heat. (I used an 8-quart pot.) I prefer to cut the bacon into chunks, since it's easier to stir that way. Let the bacon crisp up, then remove it from your pot and set aside. Once it cools, chop it into bite-size pieces if needed.
3. Sear the beef
Without cleaning the pot, drop your chunks of beef in. Sear them on all sides in the bacon fat. Use a slotted spoon to remove the beef. You can place it in a bowl with your bacon.
4. Add your veggies
The beef will leave behind some liquid in your pot. You're going to use that for flavor. Put your onions, garlic, jalapeno, red bell pepper, and sweet potato in the pot and cook for five minutes.
5. Add seasonings and liquids
Once the onions have softened, add in your powdered seasonings plus the tomato paste. Stir. Then mix in the water, beer, broth, and crushed tomatoes.
6. Return beef and bacon to pot and simmer
At this point, your work is nearly done. Place the beef and bacon back in the pot and bring the chili to a bowl. Reduce heat and simmer for 2 hours, or until the meat and potatoes are tender.
When and how to serve Texas chili
Learning how to make Texas chili is half the battle. The other half is knowing when and how to serve this chili. Try this chili recipe for:
Super Bowl parties
Any tailgating event — you can keep it warm in a slow cooker
Cold winter nights
New Year's Day — this is a comforting dish if you're feeling a little sluggish from too much partying
College bowl games
To serve, set out shredded cheese, sour cream, green onions, and chips so guests can customize to suit their tastes.
If you want to make accompanying dishes, see this post for 17 fun ideas:
Yield: 8 servings
How to Make Texas Chili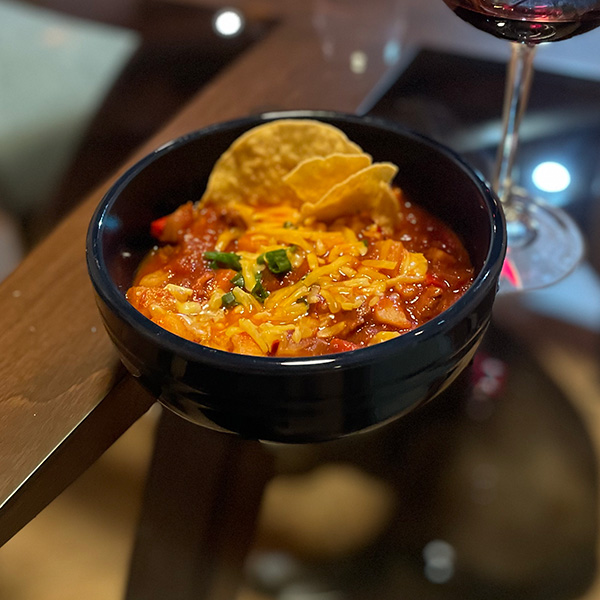 Easy and flavorful chili with no beans. A great choice for sports-watching parties.
Total Time
2 hours
15 minutes
Ingredients
8 slices bacon
1 (3 pounds) boneless beef chuck roast, trimmed of fat and cut into 1-inch cubes
Kosher salt
1 large onion (diced)
2 jalapeno peppers (minced)
2 garlic cloves (minced)
1 large red bell pepper (diced)
2 small sweet potatoes (peeled and cubed) -- optional
2 tablespoons tomato paste
1 tablespoon chili powder
1 tablespoon chipotle chili powder
½ tablespoon dried oregano
½ tablespoon ground cumin
1 (28 ounces) can crushed tomatoes
½ cup lager beer
32 ounces low-sodium beef broth
2 cups of water
Shredded cheddar (for serving)
Sour cream (for serving)
Chopped green onions (for serving)
Instructions
In a large pot cook the bacon over medium heat until crisp. Drain on a plate lined with paper towels.
Add the beef cubes to the hot bacon fat and sear until browned on all sides. Season with salt, remove from the pot and set aside.
Add the onion, red bell pepper, sweet potato, jalapeno pepper, and garlic to the pot and cook until onions are soft, about 5 minutes.
Add the tomato paste, chili powder, chipotle chili powder, oregano, and cumin. Stir until combined.
Return the beef and bacon to the pot and add crushed tomatoes, beef, beef broth and water.
Bring to a boil, reduce heat and simmer. Simmer until the meat is tender, about 2 hours.
Serve with shredded cheddar cheese, sour cream, and green onion.
Nutrition Information:
Yield:
8
Serving Size:
1
Amount Per Serving:
Calories:

153
Total Fat:

8g
Saturated Fat:

3g
Trans Fat:

0g
Unsaturated Fat:

4g
Cholesterol:

25mg
Sodium:

618mg
Carbohydrates:

11g
Fiber:

2g
Sugar:

4g
Protein:

10g