In-N-Out Burger Recipe

Here is a copycat recipe for the burger from In-N-Out Burger. We do not have In-N-Out Burger here so unfortunately I have never tried the real thing but this burger is delicious. The burger is topped with caramelized onions, lettuce, tomato, pickles, and a sauce. The best part about this recipe of course is the sauce. The sauce is a combination of mayonnaise, ketchup, pickle relish, and white vinegar. These few ingredients come together to make a delicious sauce that gives the burgers a unique flavor. The caramelized onions are a nice touch as well and are sautéed in vegetable oil for about 30 minutes. You can either make these a double burger with 2 patties each or form the meat into 4 large patties. These burgers can be cooked in the frying pan but I prefer a griddle. I like to serve these burgers with French fries. Enjoy.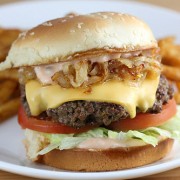 In-N-Out Burger
Ingredients:
2 tablespoons vegetable oil
2 large onions (chopped or thinly sliced)
¼ cup mayonnaise
2 tablespoons ketchup
1 tablespoon sweet pickle relish
½ teaspoon white vinegar
2 lbs ground chuck
salt and ground black pepper
4 hamburger buns
yellow mustard
dill pickle slices
1 cup shredded iceberg lettuce
8 slices tomato
8 slices American cheese
Directions:
Heat oil in a large skillet over medium heat. Add the onions to the pan. Cook the onions, covered, over medium heat for 30 minutes or until the onions begin to turn golden brown and caramelize. Be careful not burn them. Remove the lid and cook for 5 minutes more and add ½ cup of water. Allow the water to evaporate. Set aside.
In a medium bowl mix together mayonnaise, ketchup, relish, and vinegar. Set aside.
Form the meat evenly into 4 patties (or 8 smaller patties if you want a double burger). Season the patties on both sides with salt and pepper.
 Heat a griddle and brush it with vegetable oil or spray it with cooking spray. Add the buns to the griddle cut-side down. After they are golden brown on the bottom, remove them from the griddle.
Add the hamburger patties to the griddle and cook for 3-5 minutes. Spread a little bit of yellow mustard (about 1 ½ teaspoons) onto the top of each patty, and flip. Cook until the burgers are fully cooked, (the internal temperature has reached 160 degrees F.) turning as needed. During the last few minutes of cooking top each burger with cheese slices and cook until melted.
Spread a layer of the sauce onto the bottom half of each bun, place some lettuce, dill pickles, and 2 slices of tomato on top of the sauce. Add the hamburger patty on top of the tomato. Add some caramelized onions on top of the hamburger. Spread a thin layer of the sauce onto the bottom half of the top half of each bun. Place on top of the burger, sauce-side down.