Kansas City BBQ Sauce Recipe

No one does BBQ like Kansas City. This is a BBQ sauce that is Kansas City Style. This sauce consists of many ingredients and all of them come together to create a delicious sauce for the grill. The sauce is simply prepared on the stovetop and simmered for about 30 minutes. Most of the ingredients you probably already have on hand. You can use this BBQ sauce for a variety of different meats but I used boneless skinless chicken breasts. Enjoy.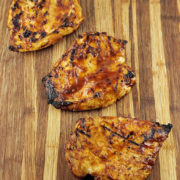 Kansas City BBQ Sauce
Ingredients:
2 tablespoons vegetable oil
6 garlic cloves (smashed)
2 tablespoons tomato paste
1 tablespoon chili powder
1 tablespoon paprika
1 teaspoon crushed red pepper flakes
¼ teaspoon ground allspice
Pinch of ground cloves
2 cups ketchup
2 cups water
½ cup cider vinegar
¼ cup dark molasses
¼ cup firmly packed brown sugar
1 tablespoon kosher salt
1 tablespoon soy sauce
1 tablespoon Worcestershire sauce
2 teaspoons dried mustard
1 teaspoon ground black pepper
1 bay leaf
Directions:
Heat oil in a medium saucepan over medium heat. Stir in garlic, tomato paste, chili powder, paprika, red pepper flakes, allspice and cloves. Cook, stirring until the paste is dark red, about 3 minutes. Add in ketchup, water, vinegar, molasses, brown sugar, salt, soy sauce, Worcestershire, black pepper, and bay leaf.
Bring to a simmer and cook for about 30 minutes. Discard the bay leaf before using.