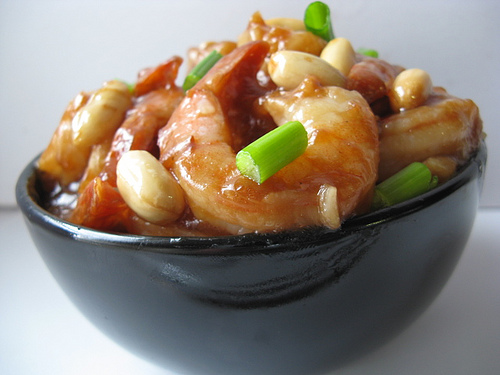 You might remember my recipe for Kung pao chicken, well here is something a little different – Kung Pao Shrimp or sometimes referred to as 'shrimp with peanuts'. Kung Pao dishes are among my all-time favorite in Chinese cuisine. The combination of shrimp and peanuts in a spicy sauce is fantastic in flavor. The sauce gets its spiciness from dried red Chile peppers. I would say the fried peppers give the sauce a mild spicy flavor so if you are someone that likes extreme heat in your Kung Pao shrimp you can chop the chilies up in the sauce. Dried chili pepper flakes can be used in place of the peppers. Just add them to your taste. The only vegetables I added to the dish was green onions but you could also add zucchini and bell peppers if you wish. This delicious and spicy stir fry takes very little time to prepare and is sure to please shrimp lovers. Kung Pao shrimp is best served with white rice. Enjoy.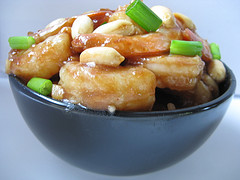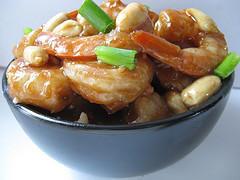 Print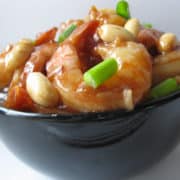 Kung Pao Shrimp Recipe
---
1 ½

lb medium peeled and deveined shrimp

1 tablespoon

dry sherry

1 tablespoon

cornstarch

½ teaspoon

salt

1/8 teaspoon

ground white pepper
oil (for frying)

4

small red dried hot chili peppers

½ cup

unsalted peanuts

1 teaspoon

garlic (minced)

1 teaspoon

ginger (minced)
2 green onions (sliced)
Sauce-

2 tablespoons

soy sauce

1 tablespoon

white wine vinegar

1 tablespoon

dry sherry

3 tablespoons

chicken broth

2 teaspoons

sugar

2 teaspoons

cornstarch
---
Instructions
In a bowl combine sherry, cornstarch salt, and pepper. Mix well. Add shrimp and stir to coat. Let marinate in the refrigerator for at least 15 minutes.
In another bowl combine all sauce ingredients, mix well, cover and refrigerate until needed.
Heat the wok to medium heat, all a tablespoon of oil and add dried chilies and stir fry until the pepper began to char (just starting to turn black but do not completely char them). Remove from pan and set aside.
Add a tiny bit more oil. Add garlic and ginger stir fry for 15 seconds. Add shrimp and stir fry until shrimp turn pink (about 2 minutes)
Add peppers, peanuts and green onions to the pan. Increase the heat and pour the sauce into the pan and stir until thickened and bubbly. Serve with white rice.