Cranberry Bread Recipe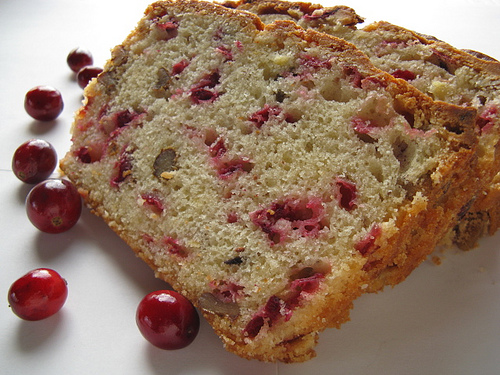 I have been enjoying making all these different types of breads lately. If you're looking for ideas for Thanksgiving I would recommend trying this recipe for cranberry bread. This bread is sure to please anyone that enjoys the taste of cranberries. The bread gets most of its flavor from lemon zest and vanilla extract. If you choose, you can also replace the lemon zest with orange zest for a different flavor. If you ask me fresh cranberries are the way to go for this recipe but you can also use frozen ones. I almost fell asleep last night with this in the oven :(. The top got a little firmer than I would prefer but otherwise it turned out amazing. Like most other breads this is very easy to make… the hardest part about it for me at least was chopping the cranberries because after that the only work that's involved is mixing the ingredients. Enjoy.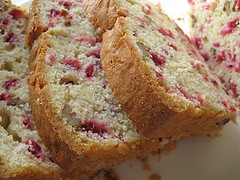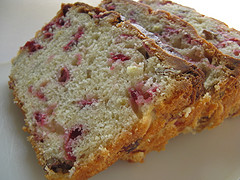 Ingredients:
2 cups fresh or frozen cranberries (chopped)
1 2/3 cups sugar
2/3 cup vegetable oil
½ cup milk
2 teaspoons lemon zest (grated)
2 teaspoons vanilla extract
4 eggs
3 cups all purpose flour
½ cup walnuts (chopped)
4 teaspoons baking powder
1 teaspoon salt

Cooking Instructions: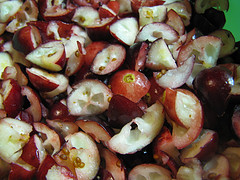 Step 1: Pre-heat the oven to 350 degrees. In a large bowl mix cranberries, sugar, eggs, lemon zest, oil, milk and vanilla extract. Stir in flour, baking powder and salt. Fold in walnuts.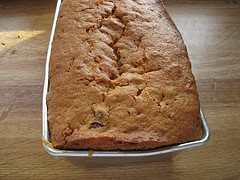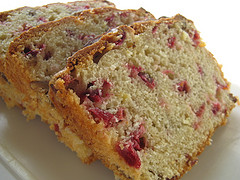 Step 2: Pour mixture evenly into two greased 9 x 5 x 3 inch loaf pans.
Step 3: Bake at 360 degrees for 50-60 minutes or until a toothpick comes out clean. Allow to cool for at least 10 minutes. Remove from loaf pans and finish cooling on a wire rack.