Lamb Gyros Recipe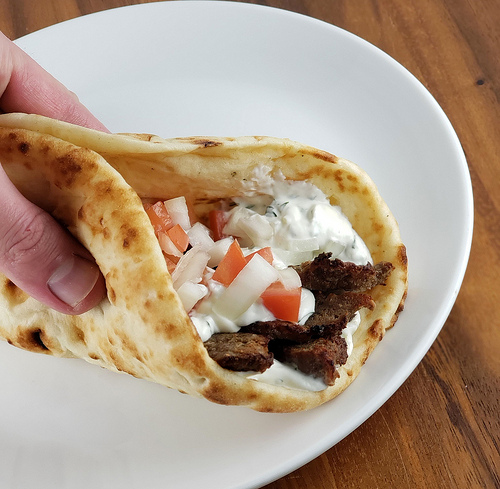 I always enjoy Gyros from my favorite restaurants and have always wanted to make them at home. You don't even need a rotisserie. This is a great recipe to make lamb gyros with no rotisserie. Instead the lamb is baked in the oven meatloaf style, sliced, and then placed under the broiler for a couple of minutes to crisp the edges. The lamb is mixed with ingredients such as garlic, onion, and fresh thyme and then processed in a blender. I found the flavor of the meat to be spot on with what I typically get from restaurants. The meat is placed into a pita bread or naan and then topped with yogurt sauce, chopped onion and diced tomato. Enjoy.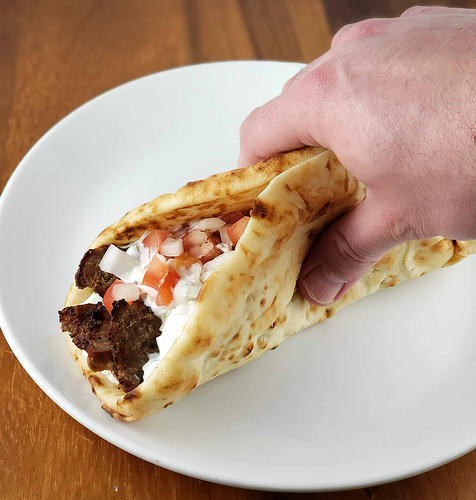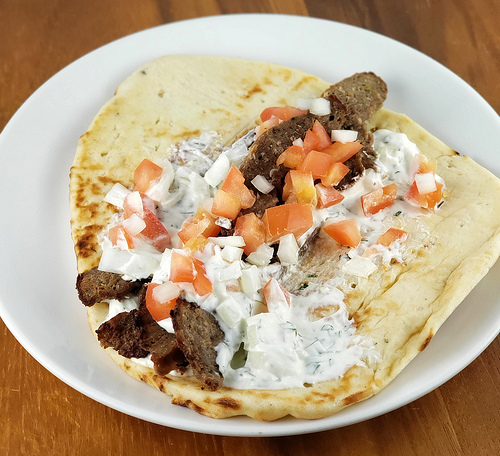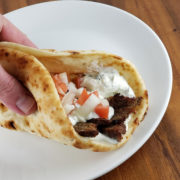 Ingredients:
1lb ground lamb
2 teaspoons kosher salt
½ teaspoon ground black pepper
2 teaspoons fresh oregano
½ onion (cut into 1-inch chunks)
1 garlic clove
5 slices bacon (cut into 1 -inch pieces)
Yogurt sauce-
¾ cup unsweetened yogurt
¼ cup mayonnaise
1 minced garlic clove
2 teaspoons lemon juice
2 teaspoons chopped fresh parsley
For serving-
4 pieces pita bread (or naan)
Chopped fresh tomato
Diced onion
Cubed peeled seeded cucumber
Directions:
In a food processor mix together lamb, bacon, salt, pepper, garlic clove, and oregano. Process until a smooth puree has formed, scraping down the sides with a rubber spatula as needed.
Preheat the oven to 300 degrees F. Line a rimed baking sheet with aluminum foil. With moist hands form the meat mixture into a rectangle about 1 ½ inches high and 8 inches long and 5 inches wide. Bake until the center of the loaf reads 155 degrees F. on a thermometer, about 30 minutes. Remove from the oven and allow the loaf to rest for 15 minutes.
Meanwhile in a small bowl combine yogurt, mayonnaise, garlic, lemon juice and parsley. Stir to combine.
Adjust the broiler to the highest position and preheat the broiler. Slice the loaf crosswise into 1/8th to 1/4th inch strips of meat. Each of the strips should be about 5-inches long and 1 ½ inches wide. Lay strips on a rimmed baking sheet lined with aluminum foil and broil until the edges are brown and crispy, about 2 minutes. Remove and tent with aluminum foil.
Warm the pita bread by placing on a rimmed baking sheet and broiling until soft, about 45 seconds per side.
Spread ¼ cup of the sauce over each piece of bread. Divide the meat evenly between sandwiches. Top with onion, cucumber, and tomato.