Meatballs with Mushroom Gravy Recipe

I love serving meatballs with gravy and mashed potatoes for dinner. The meatballs use your normal meatball ingredients like breadcrumbs and eggs and are fried in a butter and oil mixture. The mushroom gravy gets a lot of its flavor from ingredients such as Worcestershire sauce and ketchup. If you are in need of a good mashed potato recipe to serve with these meatballs, try my garlic mashed potatoes. Enjoy.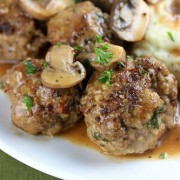 Meatballs with Mushroom Gravy
Ingredients:
Gravy-

2 tablespoons oil
1 tablespoon butter
1 small onion (finely chopped)
8 ounces fresh mushrooms (sliced)
4 tablespoons all-purpose flour
cayenne pepper (to taste)
2 cups low sodium beef broth
3 teaspoons Worcestershire sauce
3 tablespoons ketchup
¼ teaspoon ground black pepper
Meatballs-

1lb lean ground beef
1 egg
6 garlic cloves (minced)
½ cup milk
½ cup dry breadcrumbs
½ cup parmesan cheese
1 ½ teaspoons salt
½ teaspoon ground black pepper
2 teaspoons dried parsley
Directions:
Beat the egg in a large bowl. Add in garlic, milk, breadcrumbs, parmesan cheese, salt, ½ teaspoon ground black pepper, parsley and ground beef. Mix well using your hands. Form into 1 inch meatballs.
Heat oil and butter in a large deep skillet over medium-high heat. In 2 batches, cook the meatballs until well browned on all sides and are almost fully cooked. Set aside on a platter.
Add the onion to the now empty skillet and cook until the onion starts to brown and is softened. Stir while cooking to scrap up any brown bits from the bottom of the pan. Add the mushrooms and continue to cook until they are tender. Stir in flour until the vegetables are thoroughly coated. Gradually stir in the beef broth. Bring the mixture to a boil, and continue to cook stirring constantly until the mixture is smooth and thick. Stir in ketchup, Worcestershire sauce, black pepper, and then add cayenne pepper to taste.
Add the meatballs to the gravy, reduce heat and simmer for 20-25 minutes uncovered.