Orange Chicken Recipe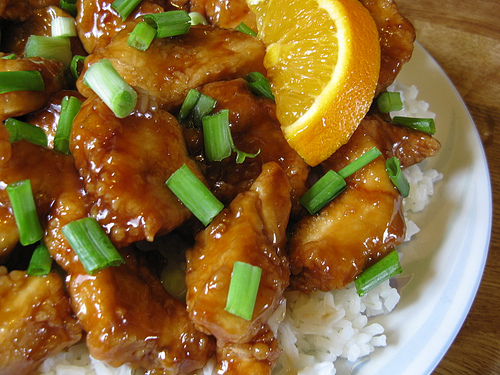 Today I'm back with yet another Chinese-American dish – Orange Chicken. It seems as though you can find orange chicken almost anywhere you want to eat these days. It is most commonly found at fast food restaurants, but don't worry, this is so much better than anything you will find there. What really makes this recipe stand out is the combination of both orange and lemon juice. Once again we are also using the deep dryer for cooking the battered chicken. Now I get a lot of questions from people wondering if they can use a wok instead. The answer is yes; a wok would work just about as good as a deep fryer and can be used without a problem. Just be sure to add enough oil.  Great oil for frying this battered chicken would be peanut oil. Using peanut oil will give you the most flavorful chicken. If you're looking for a simple Chinese dish for dinner this evening be sure to give this recipe for orange chicken a try.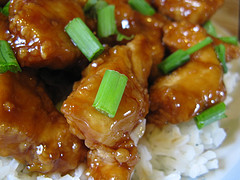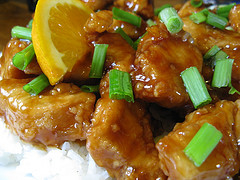 Ingredients:
Chicken-
2 lbs boneless skinless chicken breasts (cut into 1-1/2" cubes)
1 ½ cups all purpose flour
1 eggs (beaten)
¼ teaspoon salt
¼ teaspoon pepper
Oil (for frying)
Orange Sauce-
1 ½ cups water
2 tablespoons orange juice
¼ cup lemon juice
1/3 cup rice vinegar
2 ½ tablespoons soy sauce
1 tablespoon orange zest (grated)
1 cup packed brown sugar
½ teaspoon ginger root (minced)
½ teaspoon garlic (minced)
2 tablespoons green onion (chopped)
¼ teaspoon red pepper flakes
3 tablespoons cornstarch
2 tablespoons water
Cooking Instructions: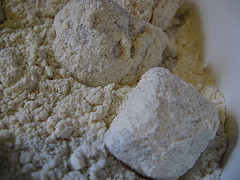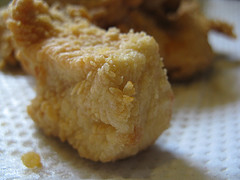 Step 1: Combine flour, salt, and pepper. Dip chicken in egg mixture and shake in flour mixture to coat. Deep fry chicken in batches at 375 degrees in a deep fryer (or use a wok) until completely cooked.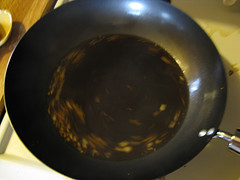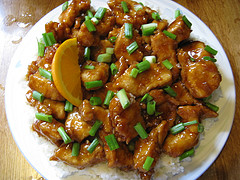 Step 2: Meanwhile, in a large saucepan combine 1 ½ cups water, lemon juice, orange juice, rice vinegar, and soy sauce. Blend well over medium heat for a few minutes. Stir in brown sugar, orange zest, ginger garlic, and onion. Bring to a boil.
Step 3: Combine 3 tablespoons of cornstarch with 1/4 cup of water and mix thoroughly. Slowly stir cornstarch mixture into sauce until it thickens. Pour sauce over breaded chicken, and if desired add red pepper flakes and garnish with green onions. Enjoy.
Tags: cooking, recipes, food and drink, recipe