Pizza Meatballs Recipe

Pizza meatballs are stuffed with mozzarella cheese and coated with pizza sauce. The meatballs get a lot of flavor from ingredients such as garlic salt, dried onion, and seasoned breadcrumbs. For this recipe I used small pieces of fresh mozzarella. The meatballs are baked in the oven so no cooking on the stovetop is required. The sauce is just a simple combination of jarred pizza sauce and diced pepperoni. You can serve this recipe with whatever type of pasta you like, I used thin spaghetti. Enjoy.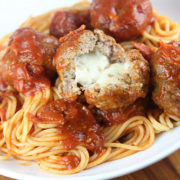 Pizza Meatballs
Ingredients:
2lbs ground beef
2 cups seasoned breadcrumbs
1 cup milk
¼ cup dried minced onion
2 teaspoons garlic salt
¼ teaspoon ground black pepper
1 (8 ounce) block mozzarella cheese (cut into ½ inch cubes)
28 ounces pizza sauce
1 cup diced pepperoni
Directions:
Preheat the oven to 350 degrees F.
In a large bowl combine ground beef, breadcrumbs, milk, minced onion, garlic salt and ground black pepper. Mix well using your hands until well combined. Shape the mixture into 48 small meatballs. Push a mozzarella cube into the center of each meatball, covering the cheese completely with the meat. Place onto a lightly greased baking sheet. Place into the oven and bake for about 25 minutes or until the meatballs are fully cooked (the internal temperature has reached 160 degrees F.).
Pour the pizza sauce into a medium sauce pan and add the pepperoni. Cook until heated through over medium heat.
Toss the meatballs with the pizza sauce.