Puppy Chow Recipe

Puppy chow or also called monkey munch makes for a delicious and sweet snack that is great for the holidays. This recipe is called puppy chow but it is not for animals, these snacks should never be given to dogs. If you are not familiar with this snack, you may be wondering, what is puppy chow? This recipe is basically chex cereal that is coated with a chocolate, peanut butter and powdered sugar mixture. You can easily prepare this recipe in large batches if you want to make it for many people. Enjoy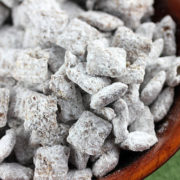 Puppy Chow
Ingredients:
9 cups Chex cereal
1 cup semi-sweet chocolate chips
½ cup smooth peanut butter (melted)
¼ cup butter (melted)
1 teaspoon vanilla extract
1 ½ cups powdered sugar
Directions:
Add the cereal to a large bowl and set aside.
In a microwave safe bowl, microwave the chocolate chips, peanut butter, and butter for 1 minute on high. Stir. Microwave for 30 seconds longer or until smooth. Stir in the vanilla extract.
Pour the mixture over the cereal. Stirring until the cereal is coated. Pour the mixture into a large ziplock bag and add the powdered sugar. Shake until well coated. Spread the coated cereal pieces on wax paper to cool. Store in ziplock bags or a large sealable bowl.