Popeyes Popcorn Shrimp Recipe

Unfortunately, I don't have a Popeye's restaurant around here but I have always wanted to try their food, so I decided to prepare this copycat recipe for popcorn shrimp. This recipe is very easy to prepare. Raw shrimp is dipped in egg and then rolled in a seasoned flour mixture and fried. You should remove the tails from the shrimp before breading them that way they are easy to eat. I used a deep-fryer for this recipe but a deep skillet with an inch or two of oil will work great as well. Enjoy.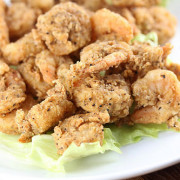 Popeyes Popcorn Shrimp
Ingredients:
1lb raw shrimp (peeled, deveined and tails removed)
1 1/3 cups flour
1 tablespoon onion powder
1 tablespoon garlic powder
1 1/2 tablespoons sea salt
1 1/2 tablespoons ground black pepper
1 tablespoons ground white pepper
2 teaspoons cayenne pepper
2 teaspoons paprika
2 teaspoons oregano
2 teaspoons thyme
6 eggs
Vegetable oil (for frying)
Directions:
In a large bowl combine flour, onion powder, garlic powder, salt, black pepper, white pepper, cayenne pepper, paprika, oregano and thyme. Mix well. In another bowl whisk together the eggs.
Dip each shrimp first in the egg and then coat in the flour mixture. Heat about 1-2 inches of oil in a deep frying pan to 350 degrees F.
Fry the shrimp in batches for about 2-3 minutes per batch or until golden brown in color. Drain on a plate lined with paper towels.