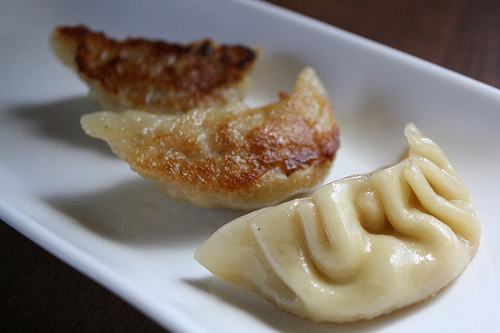 Potstickers are Chinese dumplings, also called 'gyoza' in Japan. Potstickers have become very popular in the United States. These dumplings are filled with a shrimp, pork and cabbage mixture and then steamed. I had wanted to make these for a long time but I had trouble finding the dumpling wrappers. This article also includes a recipe for the dipping sauce, although, in my opinion, it is not required. The sauce is just a simple mixture of soy sauce, vinegar, and ginger. I found the pot stickers to have amazing flavor even without the sauce. Crimping the pot stickers in the traditional way is probably the biggest challenge here. I will try and explain it the best way I can. I feel it is important to slightly freeze the pot stickers before cooking them. This will help the skins become tougher so they don't fall apart when you are steaming them. Now you can make your own pot stickers at home! Enjoy.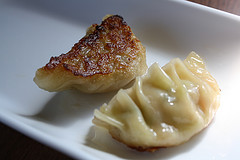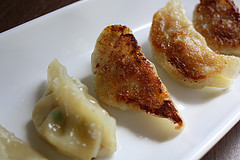 Print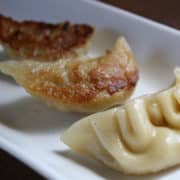 Pot Stickers Recipe
---
1

package dumpling wrappers (also called gyoza or pot sticker wraps)

2 cups

cabbage (finely chopped)

1 teaspoon

salt

½

lb shrimp (peeled, deveined, cooked, and chopped)

1

lb ground pork (cooked)

2 tablespoons

soy sauce

2 tablespoons

of rice wine

1 tablespoon

green onion (chopped)

1 tablespoon

sesame oil

2 teaspoons

fresh ginger (minced)

2

garlic cloves (minced)

¼ cup

oil

1 cup

chicken stock
water (for sealing)
Dipping Sauce-


2 tablespoons

soy sauce

1 tablespoon

rice vinegar

1 teaspoon

ginger (minced)
---
Instructions
In a bowl add shredded cabbage and sprinkle 1 teaspoon of salt over the cabbage. Let sit for 5 minutes and then squeeze the juice out of the cabbage. Squeeze out any liquid from the shrimp.
In the same bowl combine cabbage, shrimp, pork, soy sauce, rice wine, green onions, sesame oil, ginger, and garlic.
One by one layout a dumpling wrapper and add about 2 teaspoons of the cabbage mixture in the center.
Lightly wet the other edges of the wrapper with your finger. Bring up both ends and pinch together the top in the middle. What we are doing here is sealing the upper half of the pot sticker. Start at one side and pinch that end closed. In small sections fold the dumpling wrapper skin over on itself until it is fully sealed (or you can just fold it into a half circle).
Place pot stickers on a cookie sheet and put in the freezer for 30 minutes to an hour.
In a large skillet, heat 1 tablespoon of oil. Add enough dumplings to fill the bottom of the pan and fry for 1 minute or until golden brown on the bottom. Pour a ¼ cup of chicken stock into the pan, reduce heat to low, cover and simmer for 7 minutes or until the dumplings are translucent.
Uncover and cook on higher heat for about 5 more minutes or until the bottoms are dark brown.
Remove from the pan, put on a platter and keep warm. Repeat until all the dumplings are cooked.
To make the dipping sauce- Mix all of the dipping sauce ingredients in a bowl and serve with the pot stickers.