Pumpkin Cheesecake Recipe

This year our Thanksgiving dessert was none other than pumpkin cheesecake. Not only does this go great for Thanksgiving but it also goes great for Christmas or just about any day of the year. This is a combination of cheesecake and pumpkin pie. Those who love pumpkin pie are sure to enjoy this cheesecake. The crust is mostly like any other cheesecake crust with melted butter and graham crackers, but in this recipe cinnamon and brown sugar are added as well. The filling uses spices such a cinnamon, nut mug and ground cloves to give it that classic pumpkin pie flavor. The cheesecake is then topped with a sour cream and sugar mixture. If you are looking for an excellent cheesecake recipe for the Holidays, this is the one! Enjoy.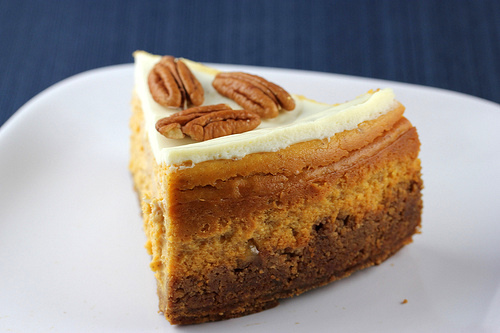 Ingredients:
Crust-
1 ¾ cups graham cracker crumbs
3 tablespoons light brown sugar
½ teaspoon ground cinnamon
1 stick salted butter (melted)
Filling-
3 (8 ounce) packages of cream cheese (at room temperature)
1 (15 ounce) can pumpkin puree
3 eggs plus 1 egg yolk (at room temperature)
¼ cup sour cream
1 ½ cups sugar
½ teaspoon ground cinnamon
1/8 teaspoon ground nutmeg
1/8 teaspoon ground cloves
2 tablespoons all purpose flour
1 teaspoon vanilla extract
Topping-
2 cups sour cream
2 tablespoons granulated sugar
pecan halves (optional)
Cooking Instructions: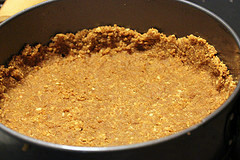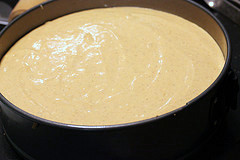 Step 1: Pre-heat the oven to 350 degrees. In a medium bowl combine the crushed graham cracker crumbs, brown sugar, and cinnamon. Add melted butter. Mix well and press the crumb mixture down flat onto the bottom and part way up the sides of a greased 9 inch spring form pan.
Step 2: In a large bowl beat cream cheese until smooth. Add pumpkin puree, eggs, egg yolk, sour cream, sugar, cinnamon, nutmeg, and cloves. Add flour and vanilla extract. Beat until well combined.
Step 3: Pour the batter over the crust. Spread out evenly with a spatula. Place into the oven and bake for 1 hour. Remove from the oven (but leave the oven on) and in a small bowl whisk together 2 cups of sour cream and 2 tablespoons of granulated sugar. Spread the mixture over the top of the cheesecake. Place the cheesecake back into the oven and bake for 5 minutes.
Step 4: Remove from the oven and allow the cheesecake for sit for about 30 minutes. Cover with plastic wrap and refrigerate for at least 4 hours. When the cheesecake is ready to serve top with pecan halves if desired.