Pumpkin French Toast Recipe

Pumpkin French toast makes a great breakfast for the colder months and the holidays. This is very similar to classic French toast but uses ingredients such as pumpkin puree and pumpkin pie seasoning to make the French toast taste like a pumpkin pie! I like to use Texas toast for this recipe but you could use sliced French bread as well. You can use either a nonstick skillet or a griddle for this recipe. I prefer a griddle because I can cook several pieces of the toast at ounce. Once the French toast is cooked I like to top it off with a little maple syrup and whipped cream. Enjoy.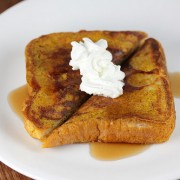 Pumpkin French Toast
Ingredients:
3 large eggs
½ cup half-and-half cream
¼ cup canned pumpkin puree
1 teaspoon ground cinnamon
1 teaspoon vanilla extract
¼ teaspoon pumpkin pie spice
¼ cup finely chopped walnuts
8 slices Texas toast
Directions:
In a large bowl whisk the eggs, half and half, pumpkin puree, cinnamon, vanilla extract, pumpkin pie spice, and walnuts.
Heat a lightly oiled non-stick skillet or griddle to medium heat.
Soak one slice of bread at a time in the pumpkin mixture, then place in the prepared skillet. Stir the mixture between dips to keep the walnuts from settling on the bottom. Cook the bread until golden brown on one side (about 3 minutes), flip and cook until golden brown on the other side for about 3 minutes. Repeat with the remaining slices of bread.