Ranch Chicken Nachos Recipe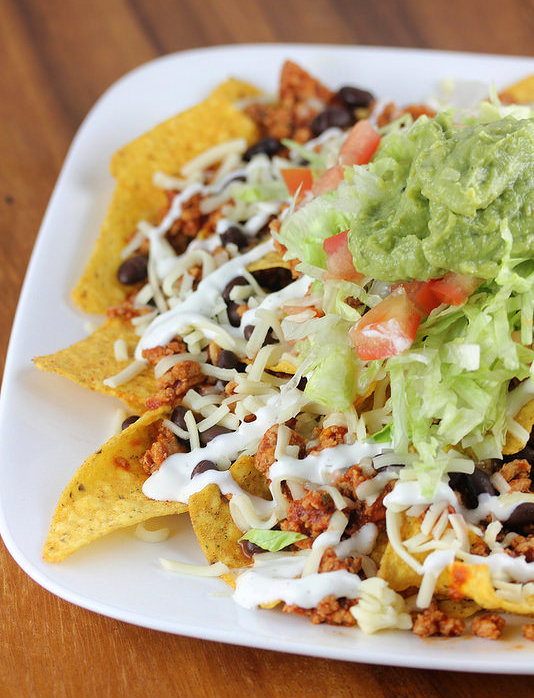 Using ground chicken for taco meat is a healthier alternative to using ground beef. These nachos use ranch flavored doritos, ranch dressing, cheese, lettuce, tomato and guacamole. This is a perfect recipe to prepare for game day and can easily be double if you want to feed several people. The taco meat is prepared in the pan with ground chicken, homemade taco seasoning, tomato sauce and cilantro. For the nachos, you can use the oven to melt the cheese or place individual plates in the microwave. Enjoy.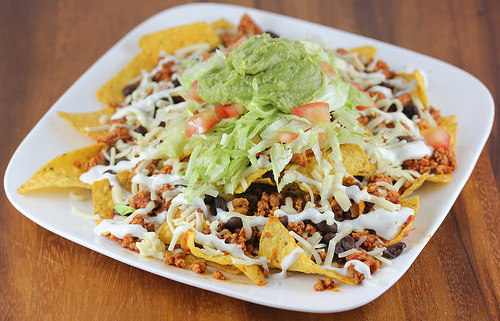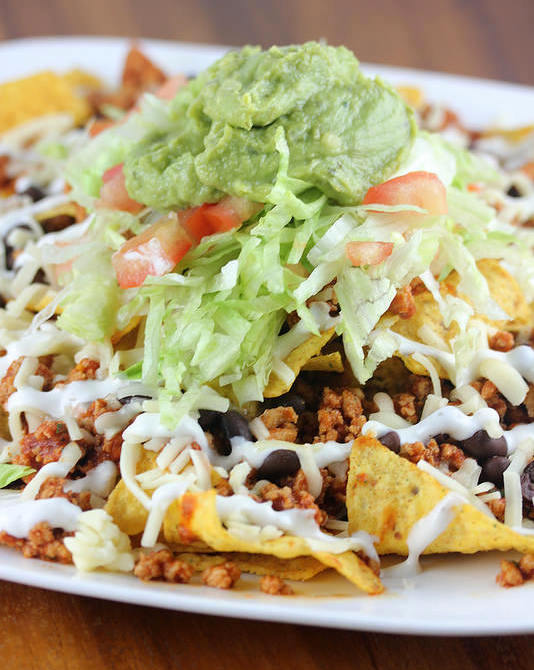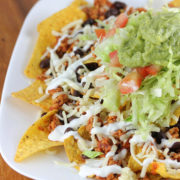 Ranch Chicken Nachos
Ingredients:
Taco Meat-
2 tablespoons olive oil
1 medium onion (finely diced)
4 garlic cloves (minced)
2lbs ground chicken
1 tablespoon paprika
2 teaspoons chili powder
1 ½ teaspoons ground cumin
½ teaspoon dried oregano
1/8 teaspoon cayenne pepper
1 ¾ teaspoon salt
1 (8 ounce) can tomato sauce
½ cup chopped fresh cilantro
Other-
2 cups shredded Mexican cheese blend
1 bag cool ranch Doritos
prepared ranch dressing
2 cups shredded lettuce
2 roma tomatoes (diced)
guacamole
Directions:
Heat olive oil in a large skillet over medium heat. Add onions and sauté until starting to brown (about 10 minutes). Add the garlic and cook for one more minute.
Add the chicken, paprika, chili powder, cumin, oregano, cayenne and salt. Turn the heat to high and use a wooden spoon or spatula to stir and break up the chicken into small chunks until the chicken is partially cooked (about 5 minutes). Stir in tomato sauce, reduce heat to low and simmer, stirring occasionally for about 10-15 minutes or until the chicken is cooked through. Sprinkle with fresh cilantro.
On individual plates pile some Doritos and top with some of the taco and a layer of shredded cheese. Microwave until the cheese has melted and top with ranch dressing, lettuce, tomato and gaucamole. You can also place the Doritos onto a baking sheet and top them with the taco meat and cheese and then bake at 350 degrees F. until the cheese has melted.