Ranch Chicken Wraps Recipe

These ranch chicken wraps make a perfect lunch or dinner. The wraps are loaded with provolone cheese, spinach, ham, chicken, and a homemade ranch dressing. The dressing is easily prepared in a blender and gets a lot of its flavor from garlic and chives. I like to use multigrain or wheat wraps for this recipe but you could use flour or spinach wraps as well. The chicken is seasoned, baked in the oven and then sliced into strips. If you want to make this recipe a little easier you could use slices of roast deli chicken instead. Another modification you could make to this recipe if you do not like spinach is to use romaine lettuce instead. I like to serve these delicious wraps with potato chips on the side. Enjoy.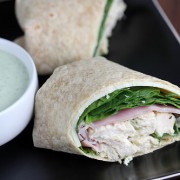 Ranch Chicken Wraps
Ingredients:
2 boneless skinless chicken breasts
salt and pepper (to taste)
1 teaspoon garlic powder
8 slices black forest ham
1 cup baby spinach leaves
8 slices provolone cheese
4 (10 inch wraps)
ranch dressing-
¼ cup Greek yogurt
½ cup mayonnaise
½ cup milk
2 tablespoons apple cider vinegar
1 teaspoon salt
½ teaspoon ground black pepper
¼ teaspoon dried dill
1 tablespoon flat leaf parsley
1 tablespoon chives
1 teaspoon minced garlic
Directions:
Preheat the oven to 350 degrees F. Season the chicken breasts on both sides with salt, pepper, and garlic powder. Place the chicken breasts onto a baking sheet lined with aluminum foil. Place into the oven and bake at 350 degrees F. for 30-45 minutes or until the chicken is fully cooked. Remove from the oven. Allow the chicken to cool to the point where it can be handled and slice into thin strips.
In a blender add yogurt, mayonnaise, milk, cider vinegar, 1 teaspoon salt, ½ teaspoon pepper, dried dill, parsley, chives and garlic. Pulse for 30-60 seconds until smooth and creamy. Cover and chill until ready to use.
Lay out each wrap onto a flat surface. Place 2 slices of provolone cheese onto each wrap. Top with some spinach, some of the sliced chicken, and 2 slices of black forest ham. Drizzle 2-3 tablespoons of the ranch dressing over the fillings. Carefully roll the wraps.