Chili powder is a pantry staple that adds heat and flavor to various dishes. It is a signature ingredient in Mexican and Tex-Mex cuisines, stews, enchiladas, and this delectable chili recipe. It's only a matter of time before you run out of this space due to its numerous applications. But don't be concerned! It turns out that there are chili powder substitute options you can use instead. Consider other types of ground chili pepper in your pantry, such as cayenne pepper and Paprika.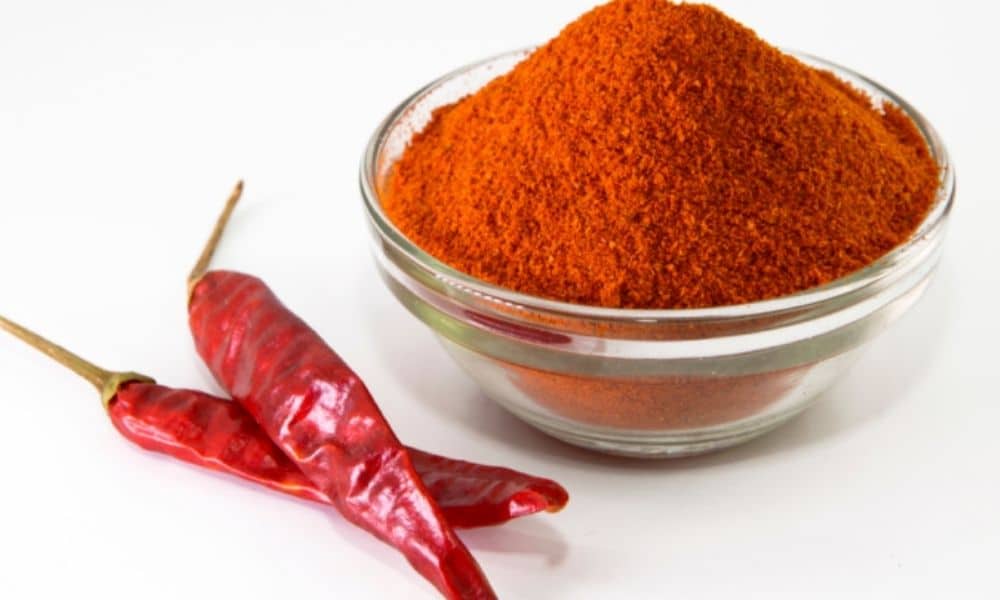 According to Spruce Eats, one of these ingredients is ground cayenne pepper. Cayenne pepper adds heat and color to chili powder. Cumin and garlic powder are two other key ingredients in chili powder, contributing to the savory flavor found in many Latin American dishes. Other ingredients that You may include in different chili powders include Paprika (for an even deeper red color), coriander, Mexican oregano, and salt. (Note: the label should read chili powder with an I at the end.) A spice labeled chile powder with an "e" is distinct because it contains a single pepper rather than a blend.)
Before scouring your pantry for chili powder substitutes, let us show you how to use them and what kinds of recipes pair well. Continue scrolling to see what you can use in its place!
What do We Call Chilli Powder?
Chili powder, also known as powdered Chili, is a spice blend made from dried and pulverized red chili peppers and other seasonings and spices. The spices used in each version differ depending on the brand and homemade chili recipe. However, red chilies, such as cayenne pepper, should be used because they provide more spice and heat than green chilies. Garlic powder, onion powder, oregano, and cumin are all ingredients in some brands.
Because each spice blend is unique in terms of ingredients and flavor profiles, they also tend to have varying heat. Some brands with seasonings will have a mild to medium heat, and those without added seasoning, on the other hand, are usually hotter. The same is true for homemade versions.
Here are Some Best Substitutes for Chilli Powder
1. Chili Pepper
Looking for the best chili powder substitute? Cayenne pepper should be near the top of your list. Why? It is, after all, one of the basic ingredients in chili powder. However, when comparing chili powder to cayenne pepper, cayenne is easily eight times hotter than powdered Chili. As a result, using it as a replacement on its own may not be a good idea. The fiery heat of cayenne pepper is easily subdued when combined with other spices and seasonings such as garlic and onion powder. We recommend sticking to the milder version of cayenne.
Aside from combining cayenne with other spices, you can reduce the cayenne pepper used. You can begin with 18 teaspoons and then gradually increase the spice level to your liking.
2. Paprika
Paprika and chili powder share two characteristics: both are made from ground chilis and have a smoky flavor. The heat level of Paprika can also range from mild and sweet to very hot. The only difference is that Paprika is made from red peppers, whereas chili powder is made from chili peppers plus spices. So it makes sense to use the former as a substitute for the latter.
If you want an excellent substitute that mimics the smoky flavor of chili powder, try smoked Paprika, which is dried by smoking. You can use it in a 1:1 ratio on its own. What if you don't have any smoked paprika? You can also use hot Paprika, and remember to cut the amount in half because it is hotter than the other types. Whichever you choose, both are good replacements because they are the same color.
3. Chile Ancho Powder
Although ancho powder is made from dried and ground poblano peppers (a type of green chile), it can provide just as much heat to your dishes. Ancho chile has a mild heat level, fruity notes, and a light smoky flavor. On the other hand, Ancho powder is significantly spicier than chili powder because it is not mixed with other spices.
As a substitute, start with half the recipe and add more as needed. This backup ingredient is better suited for adobo, chili pastes, and spice rubs, and it's a good substitute for any dish with a smoky flavor and aroma.
4. Powdered Chipotle
Without a doubt, Paprika is the best substitute for this fiery condiment. However, this does not preclude using other chili powders, such as chipotle chili powder. This substitution, made with chipotle and jalapeo peppers, has a mildly spicy flavor with a smoky finish. Its smoked flavor goes well with barbecue recipes and Mexican-inspired dishes, so you might want to use it for those. Because it has a mild spicy kick, you can use a 1:1 chipotle to powdered chili ratio instead.
5. Red Pepper Crush
Where else do you typically find crushed red peppers? Yes, round shakers in pizza parlors! Although it may not appear so, crushed red pepper flakes or simply red pepper flakes provide the necessary heat because it is made with dried cayenne peppers. The seeds, however, distinguish this condiment from other ground chili peppers, and the seeds are what make this mixture extra spicy. Grind the spices before adding them to your dishes to disguise the texture. Then, use the chili powder exactly as directed in the recipe.
6. Hot Sauce
Tabasco and Frank's RedHot hot sauces add heat to your dishes. On the other hand, most hot sauces are made with chili peppers and vinegar, and they're also fermented to increase shelf life and add sour flavors. As a result, while the sauce adds spice and heat, it lacks the smokiness required for spice rubs and barbecue recipes. As a result, this substitute works best in sauces, soups, and stews with a subtle sour flavor.
A teaspoon of hot sauce should be enough to replace the spiciness you seek. Still, if you're going to use this substitute, you should go slowly. We recommend starting with small amounts because the hot sauce may change the dish's flavor profile.
7. Chili Sauce
Chili sauces are made from salt, vinegar, and sometimes sugar and are cooked until they reach a sauce-like consistency, almost like a paste but not quite. Sriracha is a prime example and it is not a hot sauce, and hot sauces are thinner in texture.
Chili sauces vary in spice and heat depending on the chili pepper used. With that in mind, it's best to experiment with it before incorporating it into your dishes. Use this replacement like you would hot sauce, starting slowly and gradually increasing the amount until you reach your desired taste.
8. Seasoning Peri-Peri
Some people call this spice "Piri-Piri," while others call it "peri-peri." Whatever you call it, it will always be a delectable blend of savory and spicy spices — all in one bottle! Peri-peri seasoning combines paprika and ground Piri-Piri pepper with other spices to create an incredibly complex and versatile seasoning. Its signature flavor, savory, spicy, sweet, and slightly sour, is prominent in Tex Mex dishes such as burritos, tacos, and quesadillas. It also gives soups, stews, and sauces a nice spicy kick. That being said, you can use this ingredient in recipes just like you would chili powder.
9. Seasoning Blend
Use pepper-based seasoning mixes such as taco, creole, and Cajun seasoning mix as a last resort. The key to using this substitute is knowing what spices are in it. Taco seasoning is the best choice for chili con Carne because it contains the same peppers as chili powder. On the other hand, Cajun and creole seasoning mixes are smoky and garlicky with a slightly spicy kick that's better suited for barbecue recipes.
10. Cumin
Cumin is the spice that gives most Mexican dishes their delicious aroma. As a result, it's a good backup.
Kashmiri chili powder is made from dried, ground Kashmiri chilies and is commonly used in Indian cuisine. It is one of the milder, dried chilies, with a Scoville Heat Unit (SHU) range of 1000 to 2000. This powder is used in Indian cooking for its deep red color rather than the heat it provides. Nonetheless, it does not deny that it also adds a mild spicy flavor. As a result, even though you must double the amount used, you can use this as a good substitute, if only in a pinch.
11. Peppercorns or Black Pepper
These small beads are indigenous to India and widely used in almost all Asian countries. However, this does not limit their application, as they are effective in all parts of the world. They are excellent for relieving insomnia, coughing, diarrhea, indigestion, and other symptoms. The flavor is spicy! It is used in soups, stews, marinades, salads, and other dishes.
What are Some Flavorful Recipes to Use Chilli Powder?
George's Chili is similar to Culver's.
Cook up this Culver's chili con Carne recipe with kidney beans, pinto beans, green bell pepper, and flavorful spices like cumin and oregano using your homemade chili powder.
Prawn Etouffee
This traditional Louisiana stew uses a creole seasoning blend to create a seafood dish with umami and spicy flavors.
Chicken Tortilla Soup
Season with diced tomatoes, fresh herbs, and spices like cumin, coriander, and chili powder for a delicious hearty tortilla soup.
Poblano White Chicken Chili
In addition to chicken stock and poblano peppers, herbs and spices like chili powder make this white chicken chili irresistible.
Jackfruit Tacos
This vegan version of traditional pork carnitas tacos is made with jackfruit. Delicious spicy cumin chipotle sauce.
How can you Prepare Homemade Chilli Powder?
Homemade chili powder seasoning, simply a combination of dried peppers and spices that you may already have in your pantry, is the best substitute for powdered Chili.
All you need:
¼ cup paprika.
One teaspoon of cayenne pepper.
Two teaspoons of dried oregano.
One tablespoon of garlic powder.
One tablespoon of onion powder.
Two teaspoons of ground cumin.
If you don't have Paprika or prefer a spice blend with more heat, you can replace it with ancho chile powder. Then, instead of the first one teaspoon, use 14 teaspoons of cayenne pepper. Combine all ingredients in a mixing bowl and store in an airtight jar. For six months, you can store this blend properly and in a cool, dry place.
What are Some Poor Substitutes to Avoid?
Now, it's just as important to find the right substitute to avoid the bad ones. The first two ingredients are black pepper and white pepper. Adding black pepper to a dish takes on a smoky flavor, but that's all there is. This backup will not provide you with the heat you seek.
Curry powder is another spice to avoid. Although some curry powders contain cayenne or ground chilies, you cannot simply swap one for another. Curry powders have a distinct flavor profile that shines through in recipes, and using it in some recipes will change the dish's flavor profile.
Is Red Chili Powder the Same as Paprika?
Chili powder is a seasoning spice made from a chili pepper base and cumin and garlic powder. On the other hand, Paprika is made entirely of chilies or a combination of chilies and has a sweet flavor, and chili powder is typically hotter in flavor than Paprika.
Conclusion
Chili powder is a versatile spice found in spice rubs, marinades, chilis, and many other dishes. It's no longer surprising that you occasionally run out of this spice, and you can't tell right away that some of these spices are excellent substitutes for chili powder. If you know how to use them, you'll discover that they're capable of much more than just adding heat and flavor to your dishes.