Sausage Stuffed Manicotti Recipe

Sausage stuffed manicotti are delicious served for dinner with garlic bread. The sausage mixture is a combination if Italian sausage, breadcrumbs, egg, and parmesan, provolone and mozzarella cheeses. Stuffing the manicotti does require a little bit of effort but it is worth it. You can use whatever type of spaghetti sauce you want for this recipe or even make your own. You can even make your own sausage if you want, give this cudighi recipe a try! Enjoy.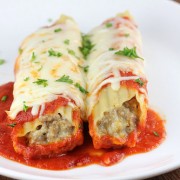 Sausage stuffed manicotti
Ingredients:
8 ounces manicotti
1 lb hot Italian sausage
1 1⁄2 cups shredded mozzarella cheese
1 1⁄2 cups shredded provolone cheese
1⁄3 cup Italian seasoned breadcrumbs
2 whole eggs, slightly beaten
2 cups spaghetti sauce (your favorite or homemade)
1⁄4 cup freshly grated parmesan cheese
Directions:
Boil the manicotti for 8 minutes and drain. Set aside.
Meanwhile, in a large skillet brown the Italian sausage over medium-high heat until fully cooked. Drain any excess grease. Allow the sausage to cool slightly.
Combine the sausage, 1 cup mozzarella, 1 cup provolone, breadcrumbs and eggs. Mix until well combined. Stuff the manicotti shells with the filling.
Spread a thin layer of the pasta sauce on the bottom of a 9x13 inch baking dish. Arrange the stuffed manicotti in a single layer over the sauce in the baking dish. Top the manicotti with the remaining spaghetti sauce.
Cover with foil and bake at 375 degrees F. for about 25 minutes. Uncover and sprinkle with the remaining mozzarella, provolone, and parmesan cheese. Bake for another 5-10 minutes until the cheese is melted and bubbly.