Seafood Bake Recipe

This seafood bake is a great recipe for Lent. This recipe uses an alfredo sauce that is mixed with pasta, shrimp and crab. The shrimp are sautéed in a garlic, wine and butter sauce and then finished off with a squeeze of fresh lemon juice for even more flavor. The alfredo sauce is just a simple combination of heavy cream, butter and parmesan cheese. This recipe calls for penne pasta but several other types of pasta will work as well. Everything is mixed together and then placed into a casserole dish and topped with cheese. The cheese is browned using the broiler and it is ready to serve. I like to serve this recipe with garlic bread on the side. Enjoy.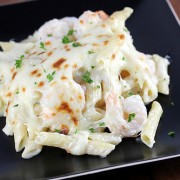 Seafood Bake
Ingredients:
12 ounces uncooked shrimp (peeled, deveined and tails removed)
6 ounces lump crab meat (drained)
½ lemon
2 tablespoons butter
1 shallot (minced)
¼ cup white wine
¼ cup Italian parsley (chopped)
Olive oil
2 garlic cloves (minced)
1lb penne pasta
1 ½ cups shredded mozzarella cheese
Alfredo Sauce-

2 cups heavy cream
½ cup butter
2 garlic cloves (minced)
5 ounces shredded parmesan cheese
Directions:
Cook the pasta according to package directions. Drain and set aside.
Meanwhile melt the butter in a large skillet and drizzle in a little bit of olive oil. Add the minced shallot and cook until tender. Deglaze the pan with white wine and cook for a couple of minutes to reduce. Add in the shrimp, crabmeat, parsley and garlic. Cook until the shrimp is pink and cooked through (about 3-4 minutes). Season with salt and pepper. Squeeze the lemon just over the seafood and remove from the heat.
To prepare the alfredo sauce—melt butter in a saucepan. Add in the cream and garlic and bring to a boil while whisking. Remove from the heat and whisk in the parmesan cheese, a little at a time, until melted and the sauce has thickened.
Preheat the broiler on an oven. Mix the seafood with the sauce and pasta. Spread the mixture into a casserole dish and sprinkle mozzarella cheese over the top. Broil for a couple of minutes to melt and brown the cheese.