Shrimp Cold Salad Recipe

Shrimp cold salad is an excellent option to prepare as a side dish for summer cookouts. This cold salad combines shrimp, pasta, green onion, tomato, green pepper and a dressing. The dressing is a combination of mayonnaise, Italian dressing and parmesan cheese. You can either use regular Italian or the creamy Italian for this recipe. If you would prefer you can also substitute imitation crab for the shrimp. Pre-cooked shrimp is the best option for this recipe, you can even use the little salad shrimps if you would prefer. Enjoy.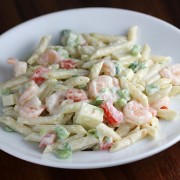 Shrimp Cold Salad
Ingredients:
2 cups cooked penne pasta
½ cup mayonnaise
¼ cup Italian salad dressing
2 tablespoons grated parmesan cheese
12 ounces small precooked shrimp (thawed)
¼ cup chopped green onion
½ cup chopped green pepper
½ cup chopped tomato
Directions:
In a large bowl whisk together mayonnaise, Italian salad dressing and parmesan cheese. Add in the pasta, shrimp, green onion, green pepper, and tomato, Mix well. Cover and chill in the refrigerator before serving.