Apple Cider Glazed Pork Chops Recipe

There are several different ways to prepare pork chops on the grill but a delicious apple cider glaze is always a good option. These pork chops on bone-in but you can also use boneless if you would prefer. The pork chops are first rubbed with a spice mixture, placed onto the grill and brushed with an apple cider glaze. The apple cider glaze is nothing more than a simple combination of apple cider, maple syrup, Dijon mustard, crushed red pepper flakes, and salt. These pork chops are perfect for summer cookouts. I like to serve this recipe with a cold salad on the side. Enjoy.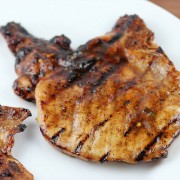 Apple Cider Glazed Pork Chops
Ingredients:
1 1/2lbs bone-in pork chops
Spice Rub-
2 tablespoons brown sugar
2 teaspoons chili powder
1 teaspoon garlic powder
1 teaspoon salt
½ teaspoon ground black pepper
1 tablespoon olive oil
Apple Cider Glaze-
1 ½ cups apple cider
¼ cup maple syrup
1 tablespoon Dijon mustard
½ teaspoon crushed red pepper flakes
½ teaspoon salt
Directions:
In a small sauce pan add apple cider, maple syrup, Dijon mustard, red pepper flakes, and salt. Mix well. Bring to a simmer. Allow the mixture to simmer for about 10 minutes. Remove from the heat.
In a small bowl combine brown sugar, chili powder, garlic powder, salt, and black pepper. Add the oil to the spice mixture and mix well.
Pat the pork chops with paper towels to dry. Rub the pork chops on both sides with the spice mixture.
Lightly grease the grates of an outdoor grill. Heat the grill to medium-high heat. Place the pork chops onto the grill and brush thoroughly with the apple cider glaze. Grill for about 6 minutes, flip the pork chops and thoroughly brush with the glaze on the other side. Grill for about 2 more minutes, flip and brush again. Repeat this process until the pork chops are fully cooked (the internal temperature has reached 145 degrees F.).