Sloppy Joe Grilled Cheese Recipe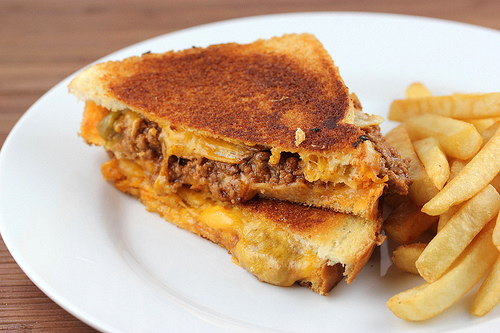 The combination of a sloppy joe and a grilled cheese is perfect. It makes for a delicious and easy dinner for the entire family and these would also go great for any lunch. What I find interesting about this recipe is dill pickle chips are piled onto the grilled cheese before it is fried in the pan. I prefer shredded cheddar cheese but you can use any type of cheese you like. In this recipe we are making our own sloppy joe sauce but I suppose if you want to save time you can buy a can of it from the store.  Enjoy. Adapted from Grilled Cheese Social.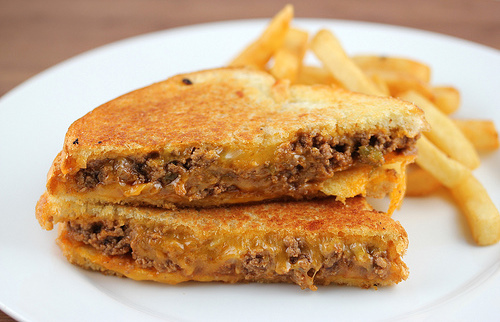 Ingredients:
8 slices white bread
2-3 cups shredded cheddar cheese
dill pickle chips
butter
1lb ground beef
¼ cup onion (chopped)
¼ cup green bell pepper (chopped)
½ teaspoon garlic powder
1 teaspoon prepared yellow mustard
¾ cup ketchup
3 teaspoons brown sugar
salt (to taste)
ground black pepper (to taste)
Cooking Instructions: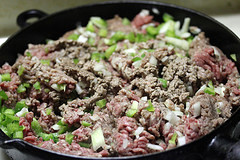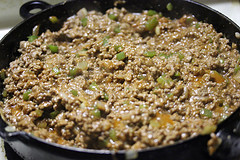 Step 1: In a medium skillet over medium high heat, brown ground beef, onion, and green pepper. Drain off any excess liquid. Stir in garlic powder, mustard, ketchup, and brown sugar. Mix well. Reduce heat and simmer for 30 minutes. Season with salt and pepper.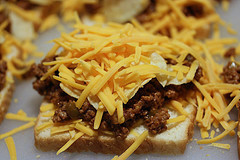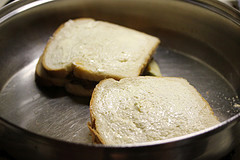 Step 2: Pre-heat a skillet to medium heat. Spread butter over one side of a slice of bread. Place butter side down into the skillet. Top with a little cheddar cheese, sloppy joe mix, dill pickle chips and additional cheddar cheese. Butter an additional slice of bread on one side and place butter side up on top the sandwich.
Step 3: Cook in the skillet until lightly browned on the bottom and flip over. Continue cooking until the other side has browned and the cheese has melted. Repeat with remaining sandwiches.
(Makes 6 Servings)