Spinach Dip Stuffed Chicken Recipe

These chicken breasts are stuffed with spinach dip. The dip is just a simple combination of cream cheese, spinach, mozzarella cheese and garlic powder. The chicken breasts are sliced in half and then stuff with the dip mixture and then coated with breadcrumbs and fried in the pan. The chicken is then baked in the oven to finish the cooking process. If you want you could skip the pan-frying and just bake it in the oven but it may take a few minutes longer to cook. I like to serve this chicken with wild rice. Enjoy.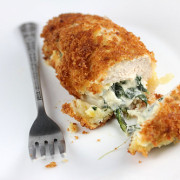 Spinach Dip Stuffed Chicken
Ingredients:
1 tablespoon olive oil
5 ounces baby spinach
Salt and pepper
8 ounces cream cheese
1 cup shredded mozzarella cheese
1 teaspoon garlic powder
4 boneless skinless chicken breasts
1 cup all-purpose flour
3 large eggs (beaten)
2 cups panko breadcrumbs
¼ cup canola oil (for frying)
Directions:
Preheat the oven to 350 degrees F. Heat olive oil in a large skillet over medium-high heat. Add the spinach, season with salt and pepper. Cook stirring often until spinach has wilted, 2-3 minutes. Remove from heat.
In a medium bowl combine the cooked spinach, cream cheese, mozzarella and garlic powder. Stir to combine.
Slice the chicken breasts in half crosswise. Cut a slit into the center of each half to make a pocket. Take a heaping spoonful of the spinach dip mixture and pack it into the pocket. Pinch the edges of the chicken closed.
Place flour, beaten eggs and breadcrumbs into separate bowls. Take a piece of the stuffed chicken and roll it first in the flour, then dip it in the egg, and then dredge in the breadcrumb until all sides are coated evenly. Repeat with the remaining chicken.
Heat the canola oil in a skillet over medium-high heat. Add the chicken and fry until browned on both sides. Remove from the pan and drain on a plate lined with paper towels.
Place the browned chicken onto a baking sheet. Place into the oven and bake for 20-25 minutes or until the chicken is fully cooked (the internal temperature has reached 165 degrees F.).