Steak and Mushroom Skewers Recipe

These steak and mushrooms skewers are so easy to make and delicious when prepared on an outdoor grill. This recipe uses ribeye steaks that are cut into chunks and marinated along with button mushrooms and threaded onto wooden or metal skewers before grilling. The steak and mushrooms are marinated with balsamic vinegar, olive oil, garlic, and fresh thyme. You will only need to marinade the steak and mushrooms for about 30 minutes to get a decent amount of flavor. You can use either wooden or metal skewers for this recipe. If you are using wooden skewers make sure you soak them in cold water first. Enjoy.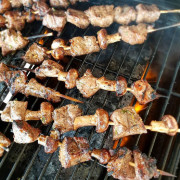 Steak and Mushroom Skewers
Ingredients:
2lbs rib eye steak (cut into chunks)
16 ounces button mushrooms
1/3 cup extra virgin olive oil
1/3 cup balsamic vinegar
2 tablespoons fresh thyme (minced)
3 garlic cloves (minced)
Salt and ground black pepper to taste
Wooden or metal skewers
Directions:
Season the steak cubes on both sides with salt and pepper. In a large bowl combine olive oil, balsamic vinegar, garlic and fresh thyme. Add the steak and mushrooms and toss with the marinade gently to coat well. Cover and marinate for 30 minutes
Preheat the grill to medium-high heat. Thread the beef and mushrooms alternatively onto skewers. Place skewers on the grill and cook for 10 to 12 minutes, flipping every 2-3 minutes.