Another Mexican inspired recipe here today – steak quesadilla. I have made a few different types of quesadillas; chicken, bean and now steak. I would say out of the three the steak is my favorite. This steak quesadilla consists of grilled steak, mozzarella cheese, and vegetables such as tomatoes, mushrooms, green peppers, and onions. The steak, cheese, and mushrooms alone were enough to know this would be an instant hit around here, and it was. If you have ever made quesadillas before you probably know there is nothing hard about making them. Just a little prep work, preparing the quesadilla and then heating. I heated them in a skillet but if you want you can also bake them in the oven at 425 degrees for 5-10 minutes on a baking sheet. If you are looking for a good side dish for this recipe, Spanish rice would go great with it. Enjoy.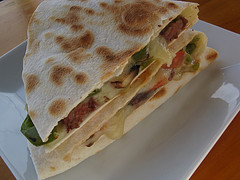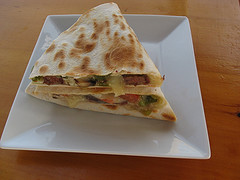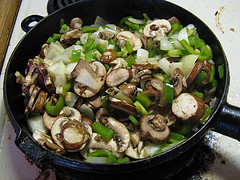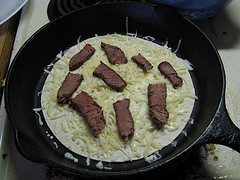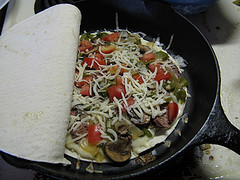 Print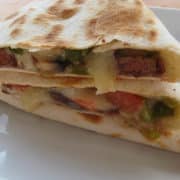 Steak Quesadilla Recipe
---
½ lb sirloin steak

1 green pepper (diced)

1 onion (chopped)

1 garlic clove (minced)

1 tablespoon cilantro (minced)

¼ teaspoon dried rosemary (crushed)

4 (6 inches) flour tortillas

1 Roma tomato (diced)

¼ cup fresh sliced mushrooms

1 ½ cups mozzarella cheese


oil (for cooking)
---
Instructions
Put the steak on the grill and cook until the steak reaches desired doneness (I usually like mine about med-rare). Remove from grill and allow the steak to cool a little. Slice steak into thin strips.
Add a tiny bit of oil to a large pan. Sauté peppers, onion, garlic, and mushrooms until tender. Sprinkle top of the vegetables with cilantro and rosemary.
Place 1 tortilla onto the bottom of the pan. Lay out a layer of cheese (about a ¼ cup), then about half of the sliced steak. Then with a slotted spoon add a layer of the pepper mixture.
Top with tomatoes and another layer of cheese. Add another tortilla on top.
When the bottom tortilla is lightly browned and cheese has started to melt, flip and cook on the opposite side. Cut into wedges and serve.