Thai Peanut Chicken Recipe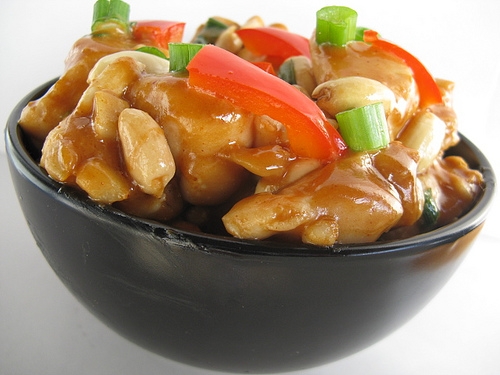 What's the ultimate combination of chicken and peanut butter? Thai Peanut Chicken of course! If you have ever wondered what chicken and peanut butter would taste like together give this recipe a try. They actually have a dish very similar to this at a local Chinese buffet here in Michigan. Although not necessarily authentic, this Asian inspired dish is absolutely delicious. The highlight of this recipe is the creamy peanut sauce. The sauce which is basically a combination of peanut butter, soy sauce and cayenne pepper is sweet and has just the right amount of kick to put this dish at the top of my list. The cayenne pepper can be adjusted to your taste, if you like a lot of spice, add more, if not add less.  For the garnishes, to add even more peanut flavor we are adding roasted peanuts, green onions and red bell pepper. Some people like to add broccoli to the recipe, I left it out but if you desire add some broccoli florets into the mix. Serving this dish with rice is a must. 
Also, I know there were a few people that wanted to know if they could print my recipes without the pictures. Sorry guys for making you waste all your ink for so long L. The good news is you can now print the recipes without pictures. To do this, simply click on 'Print This Post' which is located right above the first photo on the right. Now lets get onto the recipe…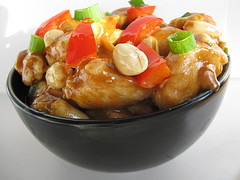 Ingredients:
1lb boneless skinless chicken breasts (cut into 1" chunks)
3 tablespoons fresh garlic (minced)
1 ½ tablespoons fresh ginger (minced)
oil (for cooking)
¾ cup green onions (chopped)
1 red bell pepper (sliced)
1/3 cup dry roasted peanuts
Sauce-
3 tablespoons soy sauce
2 tablespoons creamy peanut butter
2 teaspoons white wine vinegar
1 teaspoon sesame oil
1 teaspoons brown sugar
¼ teaspoons cayenne pepper (or more to your taste)
¼ cup water
Cooking Instructions: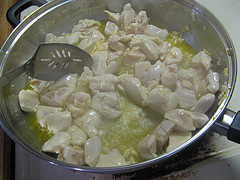 Step 1:
to make the peanut sauce – In a bowl mix soy sauce, peanut butter. Add white wine vinegar, sesame oil, brown sugar and cayenne pepper. Mix well and set aside.
Step 2:
in large skillet heat oil. Add garlic, ginger and chicken.
Cook until chicken is no longer pink inside (about 5 minutes). Remove from pan and set aside.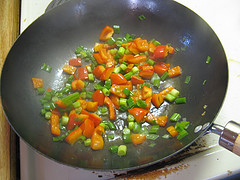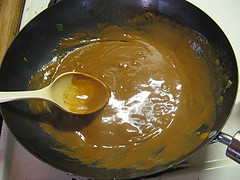 Step 3:
Add a tiny bit more oil to the pan and stir fry red bell peppers and green onions for about 2 minutes or until they have reached desired tenderness. Remove from pan and set aside.
Step 4:
Over medium heat add the peanut sauce mixture to the pan. Heat while stirring constantly. When sauce mixture starts to bubble add ¼ cup of water and mix well to thin it out a bit.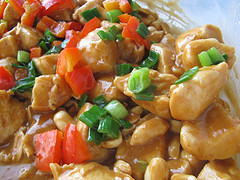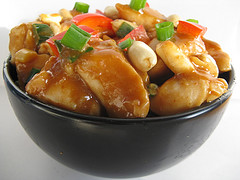 Step 5:
In a large serving dish add chicken, green onions, red bell pepper, and roasted peanuts. Add sauce and mix well. Serve with white rice.