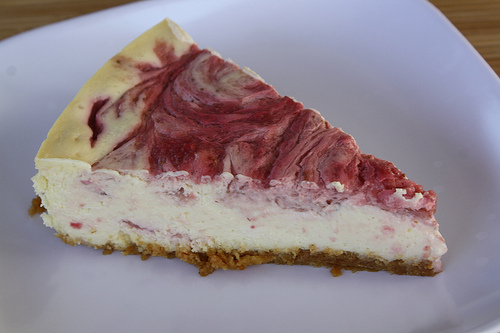 I haven't posted a dessert recipe for awhile and strawberry cheesecake is the perfect recipe to pick things back up. I found this cheesecake had great flavor but I was a little disappointed on how the strawberry swirls turned out. Oh well, I guess I need some practice. I feel the lemon juice adds a nice touch to the flavor of the cheesecake and goes well with the strawberries. The crust is just your classic graham cracker crust. This cheesecake is sure to please almost anyone and is very easy to make. Enjoy.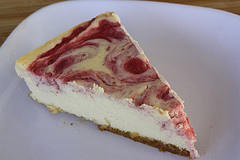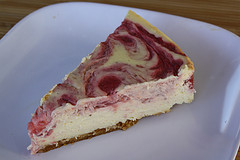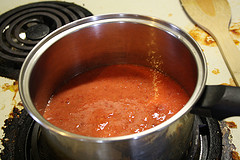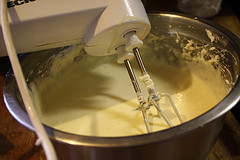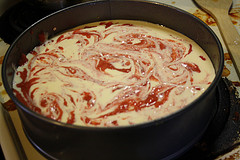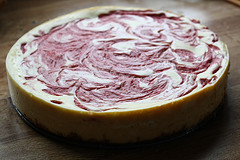 Print
Strawberry Cheesecake Recipe
---
1 ¼ cups

graham cracker crumbs
A

¼ cup

of sugar

1/3 cup

butter (melted)

2

(10 ounces) packages frozen sweetened strawberries (thawed)

1 tablespoon

cornstarch

3

(8 ounce) packages cream cheese (softened)

1

(14 ounces) can sweeten condensed milk

¼ cup

lemon juice

3

eggs
---
Instructions
In a medium bowl combine graham cracker crumbs, sugar, and butter. Press the mixture onto the bottom of a 9-inch springform pan. Refrigerate for 30 minutes.
In a blender combine strawberries and cornstarch. Cover and blend until smooth. Pour the mixture into a saucepan and bring to a boil. Boil and stir for 2 minutes. Set aside 1/3 cup of the strawberry sauce, allow to cool. Cover and refrigerate the remaining sauce before serving.
In a large mixing bowl beat cream cheese until light and fluffy. Gradually beat in the sweetened condensed milk. Add lemon juice and mix well. Add eggs one at a time, beating on low speed after each addition. Pour half of the cream cheese mixture over the crust. Drop half of the reserved strawberry mixture over the cream cheese mixture by ½ teaspoonfuls. Carefully spoon the remaining cream cheese mixture on top of that. Drop the remaining strawberry sauce by ½ teaspoonfuls over the top. With a knife cut through the top layer to swirl the strawberry sauce.
Place into the oven and bake at 300 degrees for 45-50 minutes or until the center is almost set. Cool on a wire rack for 10 minutes. Refrigerate overnight. Serve the cheesecake with the leftover strawberry sauce.