In recent times in America, when the cheesecake is mentioned, it is often associated with a product that has a cream cheese base; cream cheese came into being in 1872 by diary man William Lawrence of Chester, in New York. Cream cheese is one of those ingredients that are super versatile and easy to use when it comes to desserts and baking. It is rich, indulgent, and tasty. You can use it in almost anything from creamy cheesecakes to fluffy cake frosting. Cream cheese is especially useful in whipping up no-bake desserts, too.
Cream cheese is made from cows' milk, either whole or skimmed. It has a soft and smooth feel. It is creamy, white, slightly salty, and slightly sweet. Can have spreadable stabilizers like carob bean gum and carrageenan added to it for industrial production. The American FDA describes cream cheese containing at least 33% milkfat with a moisture content of not more than 55%, with a pH of about 4.4 to 4.9(slightly acidic). In some other countries, the content is defined quite differently and may need an added fat content.
While other dairy products like yogurt or buttermilk can be used within a cake batter, cream cheese is best reserved as a topping. If you don't have enough to make a full batch of frosting, dollop a small amount onto cupcakes before baking, which results in deliciously soft, embedded icing.
It can be further likened in taste, texture, and production methods to Boursin and mascarpone. Cream cheese comes in handy to make in the home, and many other recipes and styles are used to make them. Inaccurate timing of the heating can produce inferior cheese because of variations in flavor and texture.
Cream cheese can be spread on bread, bagels, and crackers. It is also used as a dip for potato chips and similar snacks, including salads. It can also be mixed with other ingredients such as yogurt or pepper jelly to spread for snacks.
Furthermore, cream cheese can be used for many other sweet and savory cooking, as it is in the same family of ingredients as other milk products like cream, milk, butter, and yogurt. It is used in cooking to make cheesecakes and also to thicken sauces and make them very creamy. Cream cheese is sometimes implored in place of butter when making cakes or cookies and cream cheese frosting. It can also be used in place of or together with butter or olive oil mashed potatoes and some Western sushi rolls.
Cream cheese in cheesecake has a sweet, mild taste with a pleasant slight tang. It is spreadable and smooth at room temperature which also comes in various flavors, including those with herbs and fruits blended in.
Nutrition Facts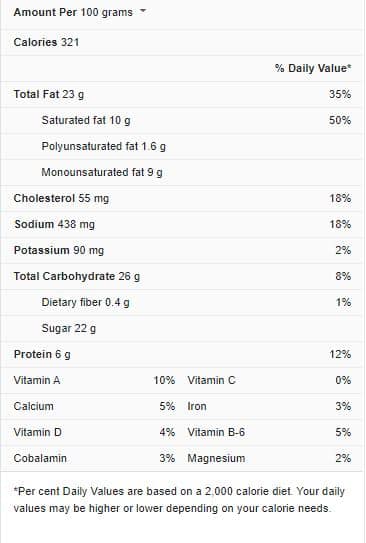 Use in Different Types of Recipes
Cream cheese is a unique tasting condiment in recipes and cannot be missed when you prepare your cheesecake with it. Some of the other recipes you can prepare with them includes:
As spread on a cracker
Polenta
Mac and cheese
As a dip
Scrambled eggs
French toast
Frostings
For Baking
Substitutes for Cream Cheese in Cheese Cake
Cream cheese is distinct as an ingredient in any recipe. But in its absence, there are a number of other ingredients that can readily serve as a substitute for it. Take a look:

Cottage cheese is soft and smooth unripened cheese, just like cream cheese. The only difference has been the fat content. It is a good substitute for cream cheese as it has less fat than cream cheese. So, if you are looking for a less fat content cheese, this is just it. To use this as a substitute, you will need an equal amount of heavy cream.

One of the best substitutes for cream cheese in cheesecake is mascarpone. It is soft and quite richer and creamier than cream cheese. If you need the tangy flavor of cream cheese, then when substituting with mascarpone, add a little bit of lemon juice to get that.


Hung curd is made by hanging fresh cheese curd. A good reason for using hung curd as a substitute for cream cheese is that it has a lower fat content. It is a healthier option for cream cheese, and it is also versatile.
Substitute for Cream Cheese in Japanese Cheese Cake
Japanese cheesecakes leave that sweet taste in your mouth after eating, so it is important to use the right ingredients for them. To replace cream cheese in this recipe, mascarpone is ideal as it still gives the tang and soft feel of cream cheese.
Diary free Substitute for Cream Cheese in Cheese Cake
This can definitely be tofu which is soft bean curd. It is quite nutritious and can serve as a worthy replacement for cream cheese in cheesecake. Tofu has a creamy feel as well as a healthy plant-based protein great for cooking.
Frequently Asked Questions [FAQs]
Can I use milk instead of cream cheese?
You can use just milk, but if you want to use cream and half of milk, then keep to an equal ratio.
Can I use sour cream instead of cream cheese?
Although tangier than usual cream cheese, sour cream makes for a perfect substitute for cream cheese in all recipes except desserts.
What is a healthy substitute for cream cheese?
Cottage cheese can be a healthy substitute for cream cheese if you're looking for something that can replicate the texture of cream cheese. It is also lower in fat when you're cooking or baking.
Conclusion
This is a wrap on the various substitutes of cream cheese in cheesecake. Feel free to explore the option that works best for your cooking.