Sugar Cookies Recipe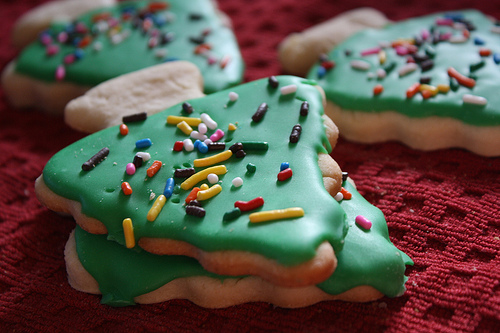 With Christmas less than a couple days away here is a fantastic recipe for sugar cookies. These are nearly the perfect sugar cookies and they have the icing that hardens. The cookies get a lot of flavor from a combination of vanilla and almond extracts. They also have a nice buttery flavor to them. The dough in this recipe is very easy to roll out and work with; they also bake up extremely nice. For the frosting you can separate it into multiple bowls to make different colors, and put any additional decorations on the cookies. If you are looking for the perfect sugar cookie recipe for the Holidays, you have found it. Enjoy.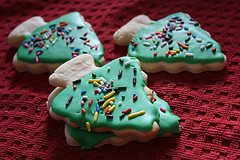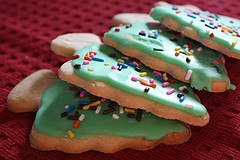 Ingredients:
1 cup butter (softened)
1 cup sugar
2 eggs
½ teaspoon vanilla extract
½ teaspoon almond extract
3 ¼ cups all purpose flour
½ teaspoon baking soda
½ teaspoon baking powder
½ teaspoon salt
Frosting-
2 cups confectioners' sugar (sifted)
1-3 tablespoons milk (more or less as needed to achieve spreading consitancy)
1 tablespoon light corn syrup
¼ teaspoon almond extract
food coloring (optional)
Cooking Instructions: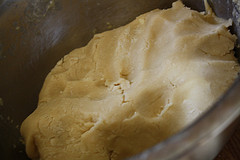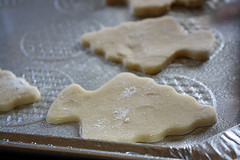 Step 1: In a large mixing bowl combine butter with sugar, eggs, almond and vanilla extract. Beat until lightly and fluffy. In a separate bowl combine flour, baking powder, baking soda, and salt. Gradually mix flour mixture into butter mixture until well blended. Cover with plastic wrap and refrigerate for 2 hours.
Step 2: Pre-heat the oven to 400 degrees. Line cookie sheets with parchment paper. On a lightly flowered surface roll out dough to ¼" thickness. Cut into desires shapes with cookie cutters. Place cookies 2 inches apartment on cookie sheets. Place into the oven and bake 4-6 minutes. Remove cookies and cool on wire racks.
Step 3: To make frosting- in a small bowl mix confectioners' sugar with milk, start with 1-2 tablespoons of milk and add more as needed. Beat in corn syrup and almond extract until the icing is smooth. Add food coloring if desired.  
Step 4: Paint the cookies with the frosting and allow to set on wax paper.