Taco Bell Cheesy Fiesta Potatoes Recipe

Here is a copycat recipe for the cheesy fiesta potatoes from Taco Bell. This recipe consists of roast potatoes that are topped with sour cream and nacho cheese. The potatoes are seasoned with cumin, garlic powder, salt and pepper and then fried in the pan until golden brown. The cooking process is finished in the oven and these potatoes are ready to serve. The flavor is so good that you could eat these without the nacho cheese and sour cream if desired. You can also top these potatoes with additional ingredients such as green onion and hot sauce. Enjoy.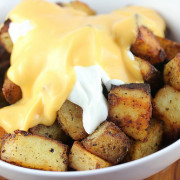 Taco Bell Cheesy Fiesta Potatoes
Ingredients:
¼ teaspoon garlic powder
¼ teaspoon ground cumin
2 lbs russet potatoes (peeled and cut into 1 inch cubes)
2 tablespoons butter
2 tablespoons olive oil
Salt and pepper (to taste)
1 cup nacho cheese (warmed)
½ cup sour cream
Directions:
Preheat the oven to 475 degrees F. In ziplock bag add the cumin, garlic powder, salt and pepper. Add the cubed potatoes, seal the bag and shake until the potatoes are coated evenly.
Heat butter and olive oil in a large skillet over medium heat. Add the seasoned potatoes and cook, stirring frequently, until they are golden brown on all sides, about 10 minutes. Cover and cook for an additional 10 minutes or until the potatoes are tender.
Transfer the potatoes to a non-stick baking sheet and bake at 475 degrees F for 10 minutes, turning occasionally until the potatoes are nice and crisp.
Remove from the oven and place into separate bowls and top with some nacho cheese and sour cream.