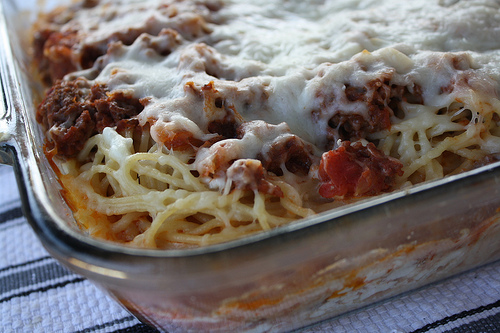 Baked spaghetti is one of my favorite casserole dishes in the winter time. It can be a nice change from your classic spaghetti recipe. I would say this dish is very similar to that of lasagna, only without the lasagna noodles. This dish is preparing by first cooking the noodles, then cooking the burger with onions and adding the sauce. The noodles are then tossed with an egg and parmesan cheese mixture and layered into a casserole dish with the meat sauce and cottage cheese. You could add other ingredients to this recipe as well such as mushrooms, green pepper, pepperoni, ect. You can also use homemade spaghetti sauce, such as my spaghetti sauce recipe. If you decide to use my spaghetti sauce recipe, you can exclude the hamburger from this recipe. Enjoy.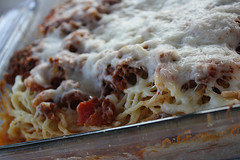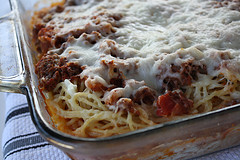 Ingredients:
1 (16 ounce) package spaghetti noodles
1lb ground beef
1 medium onion (chopped)
1 (26 ounce) jar meatless spaghetti sauce
½ teaspoon seasoned salt
2 eggs
1/3 cup grated parmesan cheese
5 tablespoons butter (melted)
2 cups small curd cottage cheese
4 cups shredded mozzarella cheese

Cooking Instructions: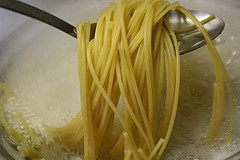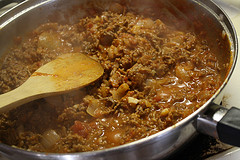 Step 1: Cook spaghetti noodles according to package directions. While noodles are cooking in a large skillet brown ground beef with the onion until the beef is no longer pink. Drain. Stir in spaghetti sauce and seasoning salt. Set aside.
Step 2: In a large bowl mix egg, parmesan cheese and butter. Drain spaghetti noodles and toss with the egg mixture until they are coated thoroughly.
Step 3: Place half of the spaghetti noodles in a greased 13 x 9 inch baking dish. Top with half of the cottage cheese, half of the meat sauce, and half of the mozzarella cheese. Repeat layers, cover and bake at 350 degrees for 40 minutes. After 40 minutes uncover and top with the remaining mozzarella cheese. Return to the oven and bake for 20 minutes or until the cheese has melted.  
(Makes 6 Servings)
If you enjoyed this article Subscribe to my RSS Feed.