Chicken in Garlic Sauce Recipe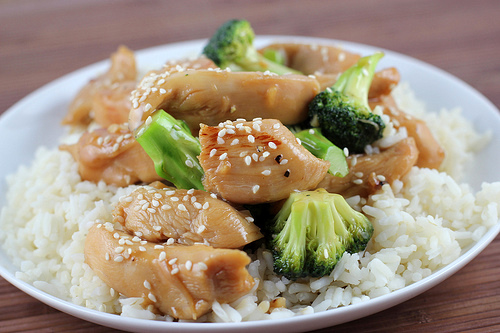 Chinese chicken in garlic sauce is a dish that is perfect for those who do not have a deep fryer. All of the cooking can be done in a wok or fry pan. This is nothing more than a basic stir-fry dish. Also, unlike many other Chinese chicken recipes on this website, this recipe uses no breading. The chicken is first placed into a marinade and then fried in the wok with broccoli and sauce. The sauce, which is also the marinade, gets most of its flavor from garlic, soy sauce, and honey. It is a very interesting combination that gives this dish a rather unique flavor for Chinese.  Serve with white rice. Enjoy.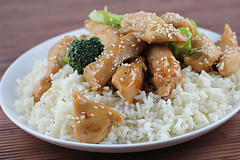 Chicken in Garlic Sauce
Prep time: 15 minutes Cook time: 15 minutes
Ingredients:
1lb boneless skinless chicken breasts (cut into 1" chunks)
2 garlic cloves (minced)
¼ cup soy sauce
¼ cup water
¼ cup honey
2 tablespoons vegetable oil (divided)
1 tablespoon cornstarch
¼ teaspoon black pepper
¼ teaspoon crushed red pepper flakes
1 head fresh broccoli (cut into florets)
Cooking Instructions: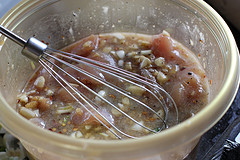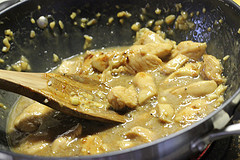 Step 1: In a bowl combine garlic, soy sauce, water, honey,  1 tablespoon vegetable oil, cornstarch, black pepper, and crushed red pepper flakes. Mix well. Stir chicken into the marinade. Cover and refrigerate for at least 2 hours.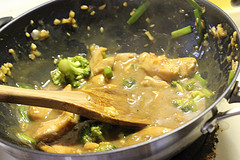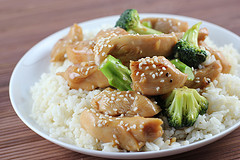 Step 2: In a large wok or skillet, heat remaining tablespoon of oil over medium high heat. With a slotted spoon remove the chicken from the marinade and add to the wok or fry pan (reserve the marinade). Stir fry chicken for 3 minutes. Add broccoli and stir fry for an addition 2 minutes or until the chicken is fully cooked.
Step 3: Add the reserved marinade to the wok or fry pan and cook until thickened.
Yield: (4 Servings)